Roger Bruton's bucket list trip
He lost 7kgs, travelled almost 30,000 miles and visited 11 countries—so why did Staysure customer Roger Bruton decide to gallivant around the globe for a two month trip o a lifetime?
It all started as a rather generous 65th birthday present to himself last December. From 2006 to 2013 the former computer consultant would celebrate his birthday driving second-hand cars across the Sahara Desert with his friend over a couple of months, but this year he fancied doing something a little more momentous to mark his 'big birthday'. So from the comfort of his home in France, where he has lived for the past eight years, the dad of two started making a bucket list of all the places he wanted to visit, simply by sticking pins in a map of the world.
"I normally take a couple of cars and drive across the Sahara with my friend Richard," said Roger.
"We would end up in Banjul in the Gambia, where we would sell the cars and then spend three weeks lazing around on the beach. But we got a bit bored with that and it started to get a bit dangerous. So I thought I'd do something a bit different. But my friend didn't get permission from his wife, so I decided to do it on my own. It started off simply wanting to go on a train ride and developed from there really."
After spending several months organising visas, choosing where he would stay and for how long, Roger was all set for his two month trip from April 1st to June 1st, which would see him visit 11 countries by plane, train, car and ferry. His bucket list included the Great Wall of China, Monument Valley and filming locations from his favourite movies including Ferris Bueller's Day Off, Forest Gump and Bullet.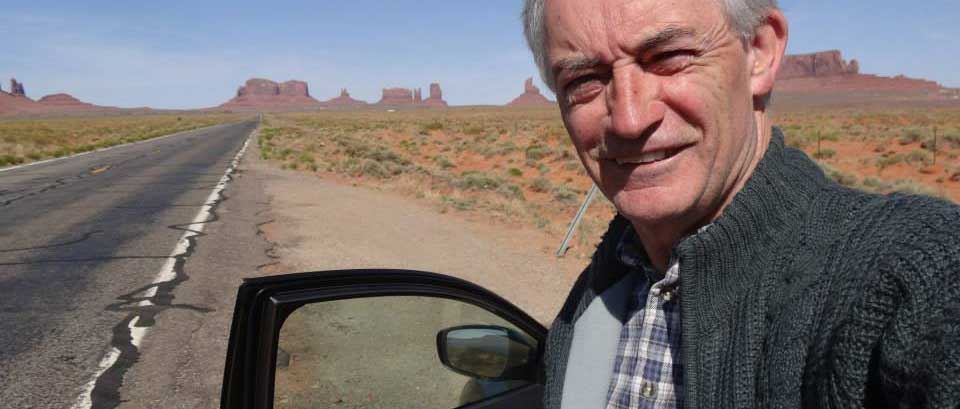 As for his family's reaction to his travel plans, the granddad of eight, said: "Open mouthed was probably the best way to describe their reaction when I told them. They were probably all talking about how the old fool is going around the world on his own and probably taking bets on where I was going to get arrested, mugged or shot."
In total he spent around 6,000 euros on tickets, visas, hotels and flights, and then took a further 4,000 euros for spending money. He also managed to keep costs down by staying with friends, family and an ex-girlfriend along his way.
"But it was money well spent," added the hotel owner, who runs the Ferme de Candeloup Hotel in Monein, near Pau.
"You can spend 2,000 euros on a holiday to Thailand, so doing all of this for 10,000 euros was not too bad. I was comfortable and didn't go for the five star stuff. I spent on average around 50 euros a night, but I didn't slum it."
Roger's globetrotting started in his adopted home in the French city of Pau, before he escaped to Paris, Cologne, Copenhagen, Stockholm, Helsinki, St Petersburg, Moscow, Nizhny Novgorod, Yekaterinburg, Irkutsk, Ulaanbaatar, Beijing, Shanghai, Osaka, Kobe, Hiroshima, Tokyo, Honolulu, San Francisco, Los Angeles, Las Vegas, Flagstaff, Los Alamos, Amarillo, Oklahoma City, Memphis, Nashville, Knoxville, Washington, New York, Boston, Reykjavik and London—before finally heading back to France.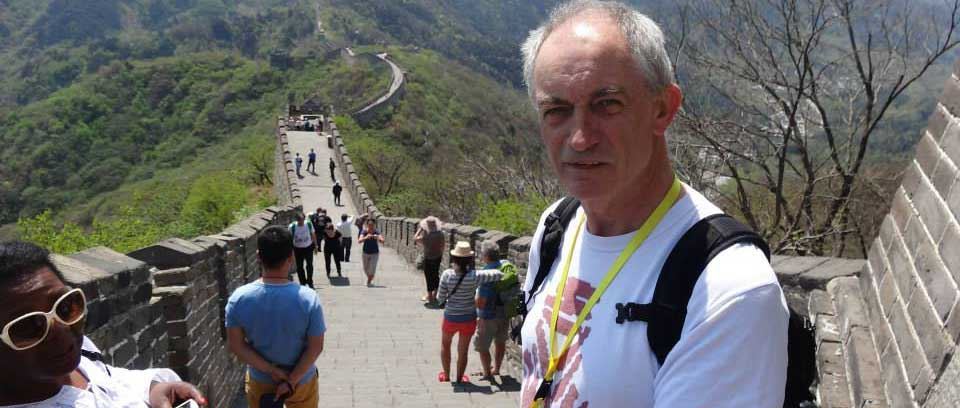 Along the way he saw the Great Wall of China, drove more than 5,000 miles from San Francisco to Boston, soaked his weary legs in the Blue Lagoon geothermal spa in Iceland and travelled from Moscow to Beijing by train, on board the Trans-Mongolian Express. The sprightly 65-year-old, whose wife passed away three years ago, documented his entire journey on Facebook, under the header Roger Bruton's Bucket List Trip.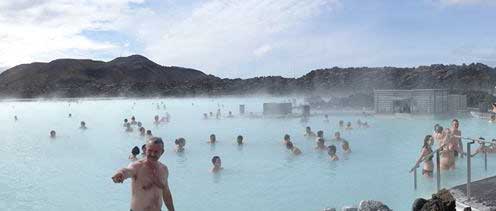 Roger explained: "My favourite location was Shanghai. It was just so exotic and different and far away from anything I have ever seen before. It was just a really good experience and I wish I could have spent more time there.
"I've seen all these films on TV about what it's like but it was really quite surprising. I met up with a friend and we did an all-day pub crawl, which was something else. We went all around the French Quarter and places like that. It was probably the best memory of the trip—but there was so much it's difficult to nail it down to one experience.
"I also liked Japan a lot, I just really liked the feel of it. It was very orderly and civilised and everyone was friendly and polite. It was a nice place to relax. I also would have liked to have spent more time in St Petersburg and New York. I've been to New York before and done all the tourist stuff, but I don't think I've got a good feel for it yet. I spent too much time in Las Vegas, it was not my scene at all. I was bored silly as I'm not a gambler, so two nights were too many for me.
"South and North Carolina were also fabulous. I spent a lot of time cruising around there, it was beautiful."
Other highlights of the trip included a five night stay aboard the Trans-Mongolian Express heading to Mongolia, which shares the same track as the world famous Trans-Siberian Express.
"It was amazing and quite an experience," said Roger. "The trains are not exactly luxurious—there was no bathroom in the compartment. I was sharing with two guys from Spain and Argentina, who were on their way back to New Zealand. If you were sharing with people who were good fun, it's a great experience, as these two spoke good English. But one night I shared with a Russian who I couldn't communicate with and that wasn't so much fun. He woke me up very early one morning by switching the TV on and turning the volume up very loudly.
"I had a nasty experience on that train. I had food poisoning in Russia and passed out on board. I woke up with the Spanish and Argentinian guys pulling at my arms trying to wake me up. Luckily it was just a bug so I didn't have to call Staysure. But I spent a long time in the bathroom after that."
Another memorable moment included a visit to a big Texan steakhouse in Amarillo, where the food portions were enormous.
Roger said: "I had a crazy night in there. There was a 48oz steak and if you ate it all you didn't have to pay for it. They put you on a table on a raised platform and everyone watches you. The record was eight minutes, which I found unbelievable."
He also got to see the Enola Gay in Washington, before travelling to Hiroshima in Japan to see where the plane dropped the atomic bomb 'Little Boy'.
"It was quite spooky but interesting to hear both sides of the story," said Roger.
"In Japan it was almost like the Japanese were saying that they brought it on themselves."
On the other hand there were a few places that Roger didn't enjoy so much, such as Beijing, which was 'too big and too dirty'. One of his least favourite destinations was Moscow.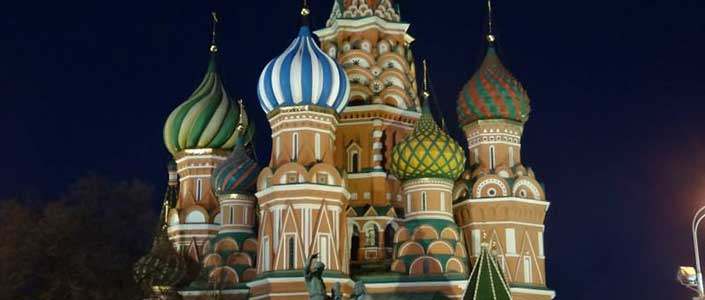 "I picked a really bad hotel here," he said. "It was gruesome and the worst thing of the whole trip. I didn't think much of the city either to be honest. I obviously liked the Kremlin, but there's nothing that would tempt me back. But on the other hand, St Petersburg would definitely tempt me back."
However, for seasoned globetrotter Roger, the biggest disappointment was Hawaii.
"It was like going to Málaga or Ibiza," explained Roger. "It was just a big tourist trap. I was disappointed that I was not allowed to smoke or drink on the beaches and there wasn't much outside of Honolulu. I expected to see beach bars along the coast but I couldn't find any. Maybe I was looking in the wrong place, but it was a disappointment."
He also described Elvis's home in Graceland, Memphis, as a big let-down, claiming it "was so tacky it wasn't true."
"But it had to be done," he said.
As for the Great Wall of China…it was also a 'tourist trap', according to Roger. "It was worth going to, but it was expensive. You thought it was going to cost so much but then you found out it cost 50 per cent more because of a cable car you had to catch and a meal you didn't know about. But if you resigned yourself to the fact it was going to happen, then by the time you got there, you just didn't care."
As for travelling solo, Roger took it in his stride, describing the experience as 'no problem at all.'
"Generally speaking, I found people were nice and not trying to rob you or dupe you. I found meeting people very interesting. And travelling on your own means you can do things on a whim, which you can't do if you're travelling with someone. As for language barriers, the most difficult country to communicate in was Mongolia, as there were not many English speakers there. It was no problem in the big cities in China. There's normally an English speaker or if not, there's a guy next door whose brother's cousin speaks English.
"The most difficult thing was getting the visas for Russia, China and Mongolia. I had to use an agency, which doubled the price of the visas instantly, as all of the embassies are in the capital (Paris), and it took a month to get th
em."
Following his epic adventure, Roger is now halfway through writing an E-book about his trip, called 'Planes, Trains, Automobiles and a Ferry', which will be available through his Facebook page.
The long-time Staysure customer bought a Single Trip Comprehensive policy, as every country he visited was covered.
"I would not dream of doing something like this without getting insured properly," he added.
As for his future globetrotting plans, Roger is currently taking motorbike lessons for a trip across India, and he is also planning to visit South America too.
"I'm a nomad—travelling is my thing."
Win a Kindle Paperwhite
It's a great feeling to help our customers achieve their dreams and travel the world knowing that their medical conditions can be fully covered. However, it's even better to hear about the wonderful things our cover allows them to get up to whilst they're away! A lot of our customers do amazing things on their holidays — so if you have a story about one of your trips that you'd like to share, we'd love to hear all about it!
For every story we receive we'll enter you into a free prize draw to win a Kindle Paperwhite!
Terms and Conditions apply.