Spring clean and garden tips
It's time to arm yourself with a mop, pruning shears and rubber gloves, as this month we've got some helpful advice on spring cleaning your home and garden!
As the old wives' tale goes, 'a clean house is a misspent life'. Whilst spring cleaning isn't always fun, it's the perfect way to brush off the winter cobwebs and get your home ready for warmer weather.
History of the spring clean
Legend has it that the origins of the mighty spring clean date back to a time of great untidiness in Persia. Back then homeowners would 'shake the house' from top to bottom just before the New Year. During this cleaning frenzy no space was left unturned and no dirty dish escaped – everything in the house was mercilessly cleaned.
Other history buffs believe the innocuous ritual can be traced back to the ancient Jewish practice of thoroughly cleansing the home before Passover. But whatever its origin, over the centuries the spring clean gained popularity in North America and Northern Europe, thanks to our wonderfully wet climates.
Before the advent of electricity, people kept their homes in a state of lock-down throughout the winter as they struggled to keep their households warm with coal, oil and wood. So when spring arrived, rugs would be beaten with sticks, linen would be washed and the whole house would be cleaned from head to toe.
So if you are looking to get your home and garden neat and tidy, why not take a look at our top tips?
Spring clean – top tips
Spring cleaning is no easy task. So make a list of all the things you need to do and keep it somewhere like the fridge where you can tick off the jobs as you go. And for an indispensable guide to cleaning, click here for Martha Stewart's checklist.
Make sure you have plenty of supplies as the last thing you want to do is run out halfway through a big spring clean.
This is an ideal time for de-cluttering. Get yourself a cardboard box and take anything you won't miss to the charity shop.
Clean and disinfect the sink! Believe it or not your kitchen sink has more bacteria than your toilet seat.
Kill sponge bacteria by disinfecting your sponge in the microwave for 30 seconds.
Clean from top to bottom so if anything falls on the floor you can sweep it up later.
Don't try and do everything at once. Split the work over a week if needs be to avoid exhaustion.
If the task is bigger than you thought, why not recruit family members, friends or even neighbours for the job? Consider bribing them with dinner or a bottle of wine as a thank you. There's no shame in asking for help.
Alternatively, you could hire some help if the task is too overwhelming. Try the British Cleaners Association for a list of reputable cleaners.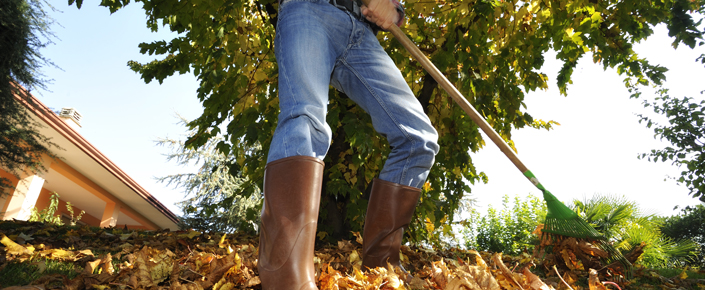 So you've been suspiciously eyeing your garden through the kitchen window all winter, waiting for the moment to launch a counter attack against the ravages of nature – and now's your chance. Although it may be a jungle out there, spring is the perfect time to perk up the patio, tame that unruly lawn and make your garden look gorgeous again. So to help our green-fingered Staysure readers & home insurers on their way, we've compiled a few top tips to get your garden smelling of roses again.
Tidy garden – top tips
Give your patio, balcony or terrace a thorough sweep and use a penknife to remove any weeds growing in between the slabs. Then give the patio a scrub with hot, soapy water. If that doesn't do the trick, consider buying or hiring a pressure washer. Not only will it make it look like new, it is also a lot of fun.
Remove plants that have died over the winter and replace them with eye-catching blooms.
Rake dead leaves and twigs off the lawn as they stop the grass from absorbing sunlight.
Then give garden furniture a good spring clean with warm, soapy water or specialist cleaning products.
Prune overgrown shrubs and dead stems on plants. Climbers such as honeysuckle and jasmine should be trimmed too.
Weeds grow fast in the spring so nip them in the bud now with weed killer.
Churn up the top couple of inches of your soil. While doing this make sure you remove any leaves, weeds or stones. This is the garden equivalent of vacuuming your carpet.
Wooden fences are susceptible to damage from the winter weather, so give them the once over now and repair any damage.
Top up any water features and remove debris such as leaves from ponds.
If all this seems like too much hard work then you might want to consider hiring some professionals. The British Association of Landscape Industries are a good place to find gardeners, landscapers, garden designers and much more.
If you have any spring cleaning tips that we've missed, why not let us know on our Facebook page? We'd love to hear from you!