Discover the best sun-kissed beaches in Santorini
Did you know that Santorini is both a Greek municipality and an island in its own right? It's part of Thira, an archipelago dotted in the deep blue Aegean waters about 200 km off the south eastern shores of mainland Greece. This colourful archipelago was born from remnants of long past volcanic eruptions and the island of Santorini itself is famed for its multicoloured and black sandy beaches, along with spectacular white, orange and red cliffs, which glow resplendently at sun down.
Most of the accessible beaches tend to concentrate on the southern and eastern shores of Santorini. To help you decide which to visit, here's a selection of some of our favourite sun-kissed beaches on this picturesque island.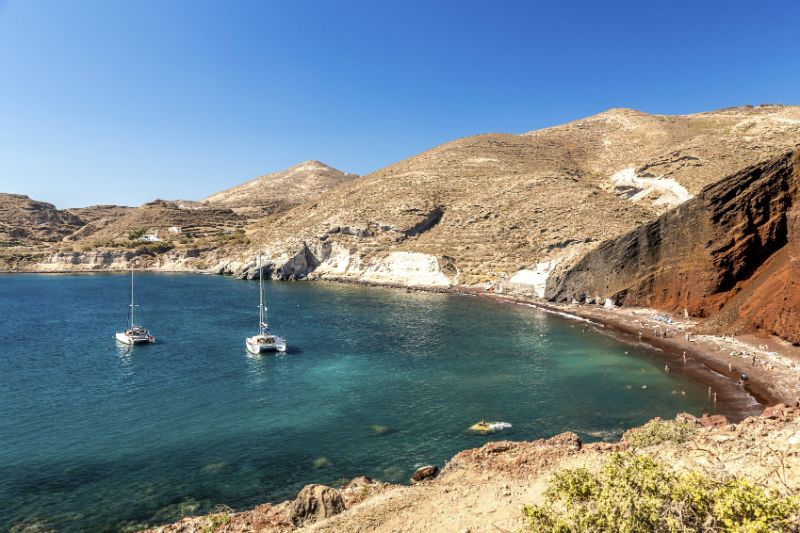 Red Beach
Red Beach is one of the most famous beaches in Santorini, thanks to its stunning red sands as well as the impressive red and black cliffs that spill down to the beach. The beach is small yet impressive and if you don't mind the two minute walk from the chapel of Agios Nikolaos and the crowds in peak season, this could be ideal for you, especially if you enjoy snorkelling and exploring the interesting rocks.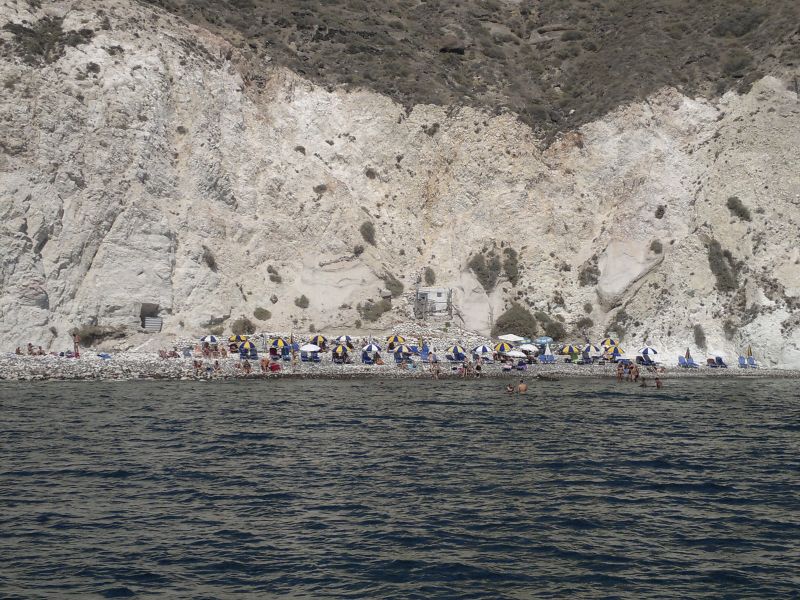 White Beach 
White Beach is distinguishable mainly by its striking white cliffs. Its black sands and white and grey pebbles can be found around the corner from Red Beach. You can get there either on foot or by boat or, if you're feeling energetic, by swimming from Red Beach. The beach's isolation keeps the crowds down to a minimum and you won't find any of the restaurants, bars and amenities to be found on other beaches.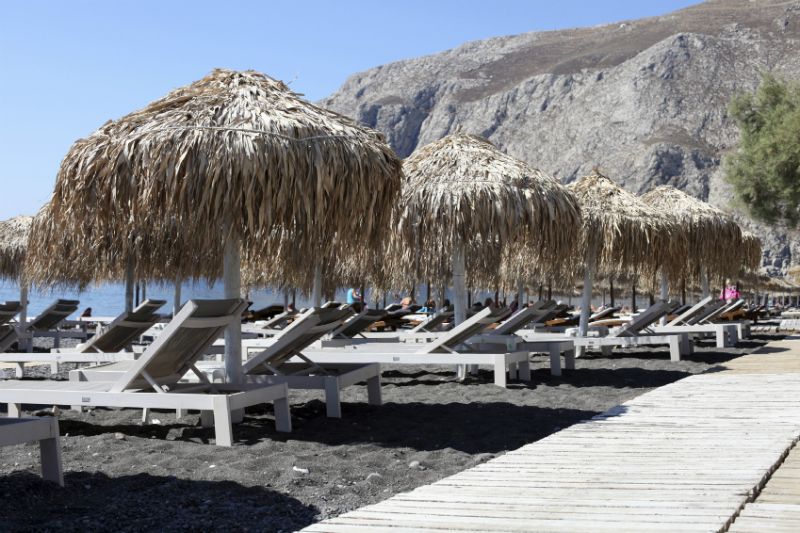 Kamari
At just 10 km southeast of Fira, the island's capital, Kamiri Beach is one of the most easily accessible beaches in Santorini and, as such, it attracts the crowds. In addition to the fabulous black sands stretching some 5 km, you'll find modern hotels and amenities here, along with restaurants, bars and night clubs to keep you entertained. This is a well-organised Blue Flag beach with a lifeguard and plenty of room to enjoy the sands. On one side of the beach, Mesa Vouno, an enormous rock rises dramatically from the sea. The village of Kamari retains its local charm with traditional houses adding to the natural beauty of the place – once you've explored Kamari village, walk along the seafront to take in the beautiful views.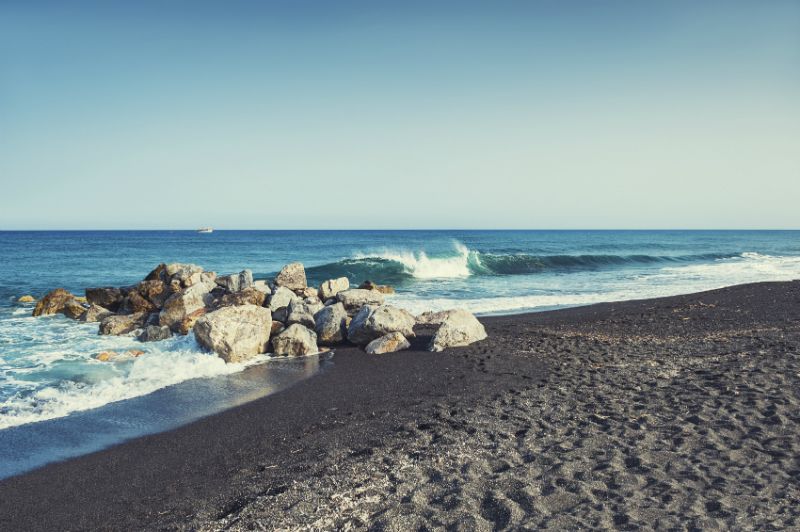 Perissa
Sitting on the south-eastern side of Santorini around 15 km from Fira, Perissa Beach is known as one of the island's most outstanding beaches. Stretching a vast 7 km, this beach offers particularly good conditions for snorkelers. You'll be spoilt for choice when it comes to traditional, beachfront tavernas where you can enjoy the local cuisine or a cool drink as the sun goes down. There's also a nearby campsite and plenty of trees to provide welcome respite from the heat of the day. The beach features black, volcanic sand and is relatively close to the impressive Ancient Thera ruins, which are open to visitors.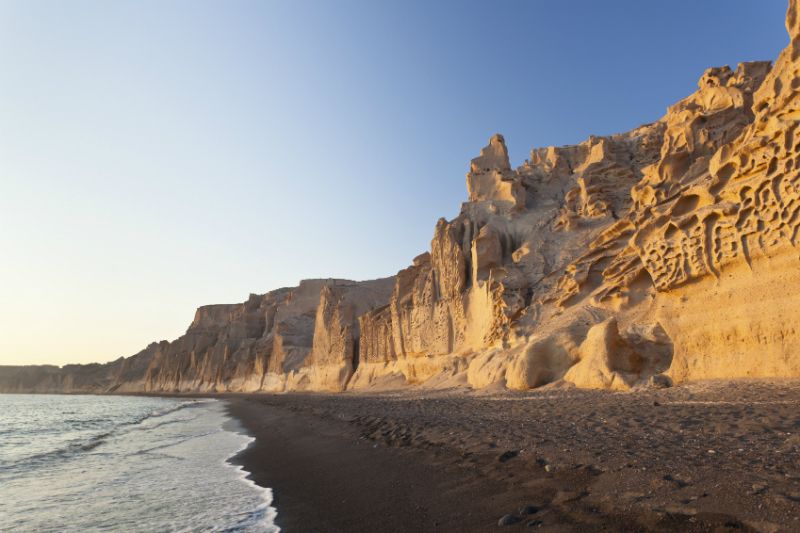 Vlychada
Between Fira and Akrotiri and in front of the two large brick chimneys of a now disused factory, this beach is reachable by car only and the absence of bus services discourages crowds of tourists. Its long stretch of dark grey sands is impressive as are the rock formations behind the beach: Vlyhada's volcanic white rocks are almost extraterrestrial in appearance. If you are looking to avoid the hubbub of crowded beaches and water sports in favour of the simple pleasures of swimming and soaking up the sun, this could be the ideal spot for you. Recently a large, modern marina, home to the Sailing and Yacht Club of Santorini, was constructed here.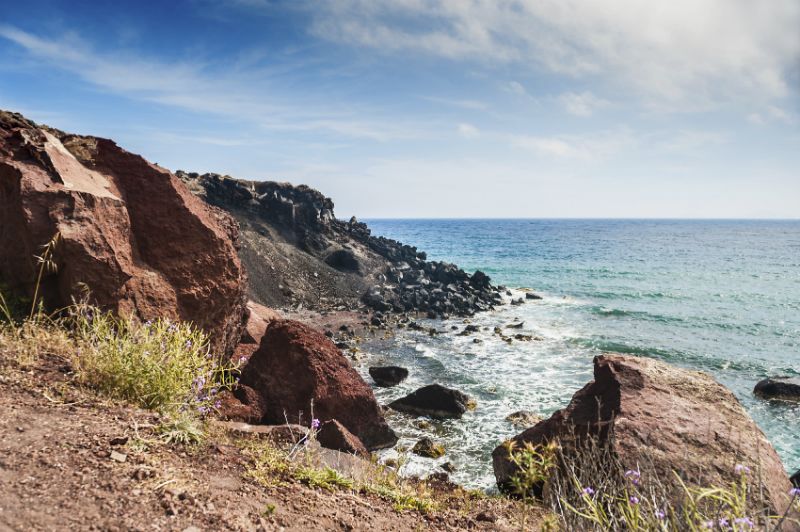 Cape Columbo
Perhaps the most isolated spot in Santorini, this peaceful and dramatic beach can be reached on foot via a narrow, rocky path. The beach features dark sands and ample shade under its enormous red cliffs while the area's proximity to the most active crater on the island means the waters can get hot. Cape Columbo has no sun beds or other amenities, which helps to keep it quiet. It's also a popular place for nudism.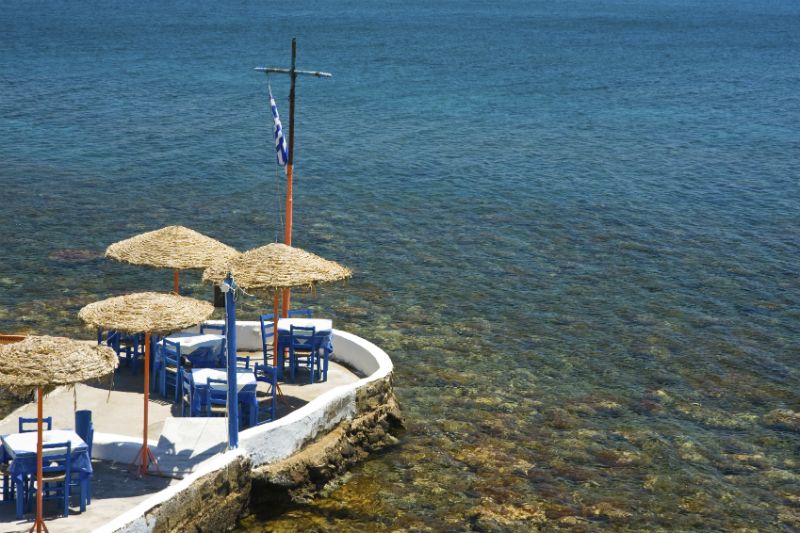 Santorini beaches at a glance
Beaches in the south: Perissa, Perivolos, Agios Georgios, Vlihada, Red Beach and White beach.
If you prefer to get away from the crowds, busy bars and hotels, try White Beach which is accessible by boat only.
Beaches in the east: Kamari, Monolithos, Pori, Vourvoulos, Colombo. Kamari is the most developed of these beaches while the others are idyllically tranquil, often with shallow waters, great for children.
For scuba diving: Cape of Tripití at Thirassiá, Paliá Kaméni (the shipwreck), Mésa Pigádia, Ammoúdi, Arménis (wall dive), Asproníssi. Dive centres are based at: Ammoúdi, Kamári, Períssa and Oia.
For windsurfing/jet ski equipment: Kamari, Períssa, Avis.