Ovarian and Prostate Cancer Awareness
March is a key point in the calendar when it comes to charity awareness months as it is dedicated to both prostate and ovarian cancer.
There's plenty going on this year and more than one charity involved in the fight against these diseases so Staysure has put together a guide to some of the campaigns you can get involved in.
Ovarian Cancer Awareness
Ovarian Cancer Awareness Month runs throughout March and charities are gearing up to draw attention to the disease while raising vital funds for research and support services.
Over 7,000 women are diagnosed with ovarian cancer every year in the UK, around 135 a week. If diagnosed early, the five year survival rate doubles from just 46 per cent to more than 90 per cent. Raising awareness of symptom and early detection is high on the agenda for all charities as a result.
There is a host of events that people can get involved with in order to spread the word about the condition:
Target Ovarian Cancer
Target is organising several events as part of its #StartMakingNoise campaign which encourages everyone across the UK to shout about the symptoms on social media.
There's several collection events taking place across the London Underground and the Adidas Silverstone Half Marathon will also be run on 13 March in aid of several charities including Target.
For those looking for a more sedate way to get involved you can join in with the Dress Louder Day on Friday 11 March and get colleagues involved in order to raise funds at work by wearing their brightest clothes.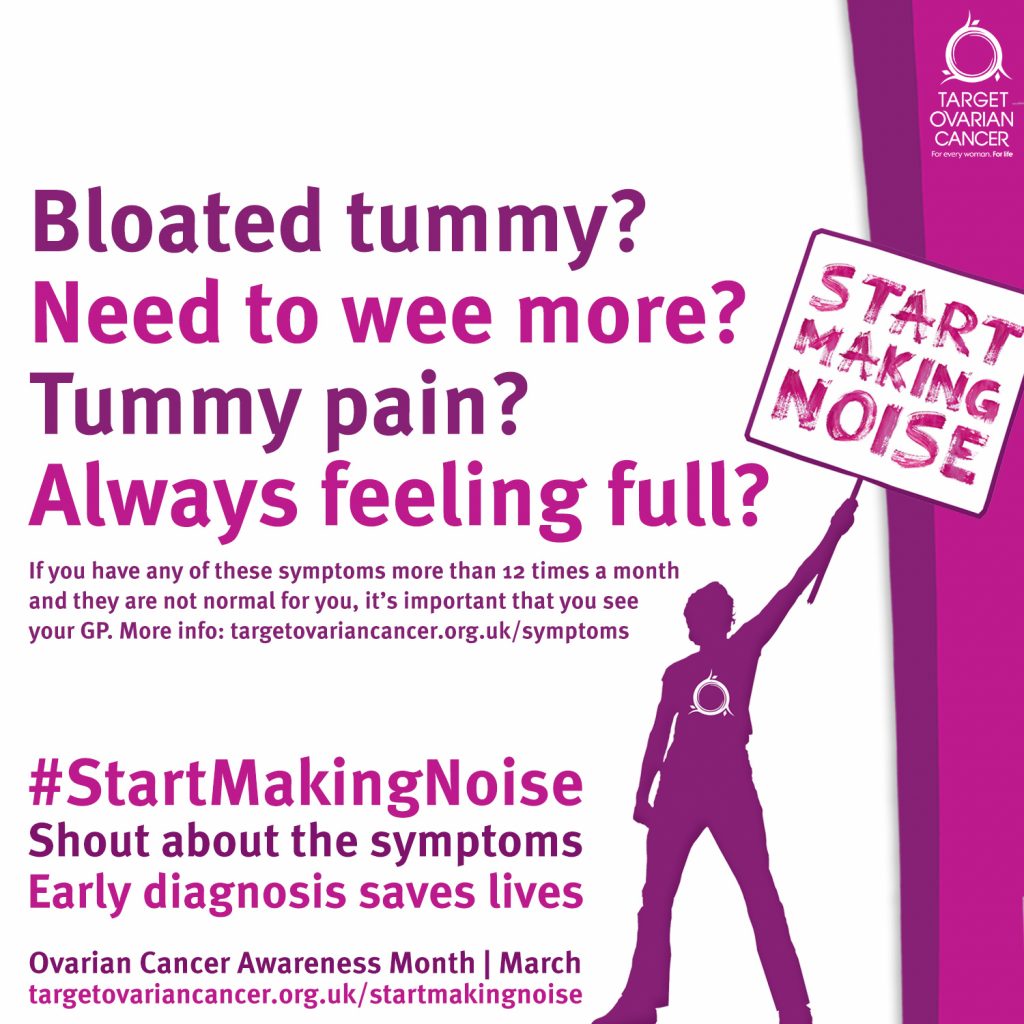 Ovarian Cancer Action
Ovarian Cancer Action is helping qualified boxercise instructors coordinate three-hour classes across the country to raise funds as part of its 'Box2Beat Cancer' campaign. Find your nearest event here.
Ovacome
Ovacome is providing new leaflets and posters, and asking the public to distribute them wherever possible as well as  posting a link to the BEAT symptom checker on social media. The campaign materials can be downloaded here.
The Eve Appeal
The Eve Appeal is sending out free fundraising packs to help people across the UK to arrange awareness tea parties throughout March for its Make Time for Tea campaign. To get your pack, register here.
Prostate Cancer Awareness
You can also to get involved with Prostate Cancer UK's Men United campaign which aims to secure more funding, raise awareness and improve both treatment and recovery rates for the condition.
According to the Prostate Cancer UK, one man loses their fight against the disease every hour in the UK and there are over 330,000 living with the disease with 40,000 new cases every year.
This year, television presenter Jeff Stelling will be taking on an epic charity walk in aid of the charity. Mr Stelling will aim to complete 10 walking marathons in 10 days, setting off from his hometown Hartlepool on 21st and arriving at Wembley on the 30th.
Covering more than 250 miles, Jeff's Men United March will see the 60-year-old check in on 31 football clubs and he will be joined by Hartlepool United Chief Executive, Russ Green.
People wanting to help Jeff reach his fundraising target of £1,000 can do so here.
Prostate Cancer UK aims to address Prostate Cancer by encouraging fundraising activities throughout the year. The charity has a dedicated section on its website with plenty of downloadable material to help people create, set up and promote their own events. Take a look here.
Looking for Travel Insurance for Cancer?
If you pass the medical screening and your doctor has declared you fit enough to travel, Staysure can offer many types of travel insurance for cancer. Policies cover emergency medical treatment and much more while you are away.
Get a quote online in a matter of minutes or talk to our travel insurance team on 0800 033 4902 who will be happy to help.