4 hidden gems in the Canary Islands
You may have heard all about Tenerife, Gran Canaria and Lanzarote, famous for their bountiful beaches, boisterous nightlife and tourist hot spots, but what if you're looking to escape the madding crowds?
The Canaries' less talked about siblings offer an entirely different type of holiday, away from the hustle and bustle of the bigger islands. We've put the spotlight on four unique Canary Islands to show you a world far removed from the usual offerings.
El Hierro
A stark volcanic landscape, lunar-like backdrops, lush vegetation and gin-clear waters make El Hierro fascinating to explore as a nature-rich outdoor playground for cyclists and walkers. It was also designated a Biosphere Reserve by UNESCO in 2000, meaning 60 per cent of the island is protected from development, keeping it largely untouched by mass tourism.
El Hierro is home to just over 10,000 people living in small towns and villages making it an ideal place for getting away from it all. Often referred to as the archipelago's best kept secret, El Hierro also boasts some delicious local cuisine especially in the capital, Valverde.
What to do
Visit the holy tree El Garoé, a long-time symbol of the island where the original inhabitants used to painstakingly collect drinking water created by condensation from the trade winds
Treat your taste buds at the Mirador de la Pena restaurant, which also offers breath-taking views of the island's rugged coastline
Pull on your walking boots for a walk along the Path of the Virgin, the only long-distance path on the island. It stretches for 23 miles and takes around 10 hours to complete in full
Go scuba diving from the coastal town of La Caleta which also boasts rock carvings etched by the original settlers of the island
La Gomera
La Gomera is the second smallest of the Canary Islands after El Hierro, with a population of around 24,000. This modest island is sought after by discerning holidaymakers looking for unadulterated rest and relaxation.
The island often referred to as the Columbian Island, as it was Christopher Columbus's last port of call in 1492 before discovering the Americas and is home to the fascinating whistling language: Silbo Gomero, which is still taught in schools and sometimes used on the island. The island is rich with valleys, ravines, sheer cliffs and dense forest – hence the locals' whistling language which was once used in order to communicate between these vast areas of land.
What to do
La Gomera is not known for its hedonistic nightlife or multitude of busy beaches, but it does offer a wealth of activities that complement its quieter character.
Play a few rounds of golf on Tecina's immaculate greens
Explore the stunning Garajonay National Park which covers a large percentage of La Gomera and hosts much of the island's beauty and serenity
For sheer relaxation, decamp to one of the resort's spas, where you can be massaged, pampered and spoilt
Immerse yourself in the local culture by learning how to weave your own clothes and make traditional pottery
Keep an eye out for the giant lizard of Gomera, one of the world's most endangered species. It was previously thought to be extinct for 500 years, until scientists discovered the half-metre long reptile hiding in the island's cliffs in 2000
La Palma
Known as the greenest of all the Canary Islands, it's no surprise that La Palma's nickname is 'Pretty Island'. Looking like the set for Jurassic Park in places, you'll be treated to peaks, ravines, volcanoes and the otherworldly petrified lava flows that pepper the island's dramatic, fertile landscapes.
What to do
You'll find many picturesque towns, villages and banana plantations dotted around the national park in the centre of the island, also home to the striking, crater shaped Caldera de Taburiente
La Palma is also renowned for its stargazing tourism, thanks to its pollution-free skies, and location near the Equator and away from tropical storms. In fact, in 2013, it was designated the first Starlight Reserve in the world and is boasts the biggest optical telescope on Earth
Here you'll find some of the finest hiking routes on the planet. The Volcano Route runs along La Palma's mineral stained, multi-coloured backbone contrasting beautifully with the lush greenery of Canary pine trees
Take a stroll through the historic part of the island's capital, Santa Cruz de la Palma with its colonial history, cobbled streets and colourful houses
Visit a cigar workshop, where you can try your hand at making your own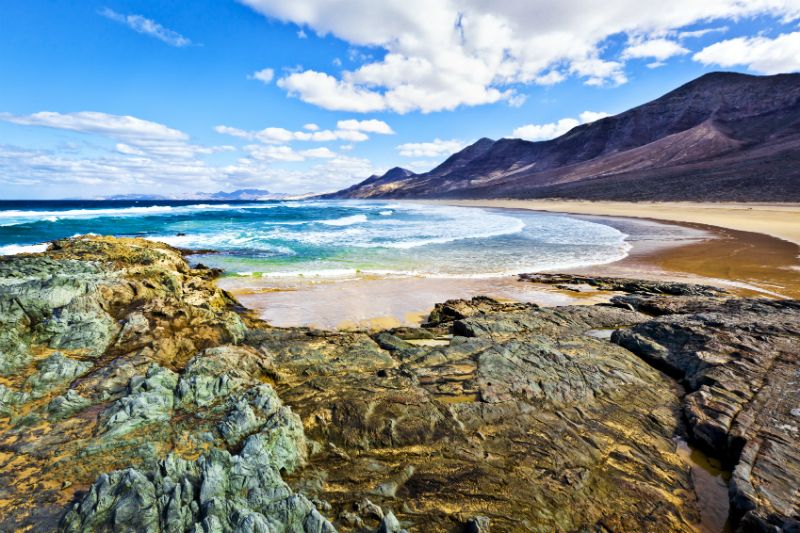 Fuerteventura
Aside from the main three Canary Islands, Fuerteventura is probably the best known of the other islands. Its name literally means 'strong winds' reflecting its importance as a windsurfing and sailing mecca. The main tourist resorts lie at the northern and southern ends of the island.
Fuerteventura boasts some of the biggest and best beaches in Europe and, due to its close proximity to Africa, it has the longest hours of sunshine per year in all of the Canary Islands. This helps make it a great winter destination; in fact, you can enjoy the island pretty much all year round.
What to do
Go windsurfing or kite surfing. Conditions are perfect along much of the coast but particularly in the straits between Corralejo and Lanzarote – an area known as the Estrecho de la Bocaina. Whether you are an experienced surfer or a novice looking to learn at any of the island's many windsurfing and kite surfing schools, there's a lot of fun to be had off Fuerteventura's shores.
There is an abundance of boat tours available, from tours across the turquoise waters to Lobos Island stopping off for snorkelling or fishing to sunset sails for couples from Corralejo.
Take a close look at the lay of the land on a Volcano Twizy dune buggy and camel tour from Corralejo. Traverse some of the island's lunar-style wilderness by buggy and onwards by camel across powdery, white sand dunes for an adventure to remember.