Bodrum's top 10 best beaches
The Bodrum Peninsula in south-western Turkey is a superb place for a relaxing beach holiday. With idyllic vistas, luxurious seaside towns and a quiet beauty, the region has a lot to offer.
Tourists are well catered for and there's a great choice of hotels, but the natural beauty remains largely unspoilt, and you will be inundated with great choices when it comes to picturesque beaches in the area. Here is a selection of our favourites: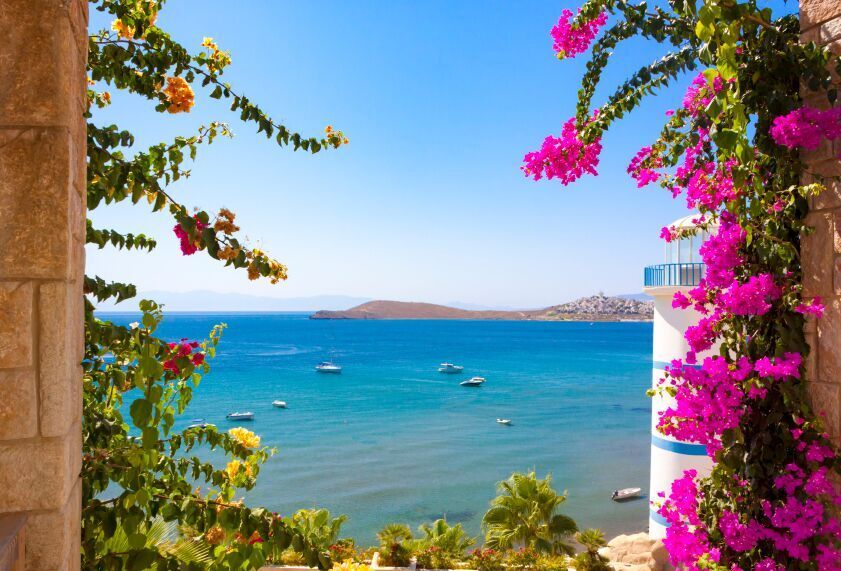 1. Bitez Beach
Bitez is a small resort with a pretty harbour full of brightly painted sailing boats. Relaxing daily boat trips run from here around the coastline. The beach is spacious and clean and there's a café next to the waterfront; it's the perfect spot to enjoy a coffee and watch the world go by.
The beach is quiet, despite its proximity to the town and its shopping and nightlife. The farmers' market held there on Thursdays is worth a visit, offering everything from tempting local produce to gifts and clothing.
2. Yalikavak Beach
This beautiful beach resort is perhaps the classiest tourist destination in the whole area; a picture-postcard fishing village with a host of fine restaurants to choose from. The beach more than holds its own too, as a spacious, spick-and-span, sandy expanse with sublime views to sea. Pretty and luxurious, quiet yet full of great amenities, Yalikavak has just about everything you could want from a seaside resort.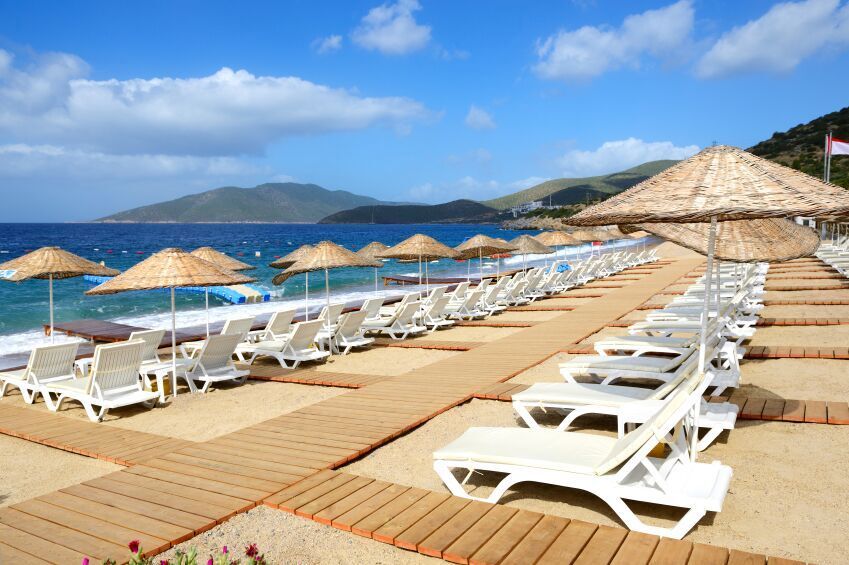 3. Güvercinlik Beach
This secluded cove is not on the usual tourist itinerary. This is all well and good, as it means not only that your beach relaxation remains uninterrupted, but also that the surrounding natural splendour is left gloriously untouched. Lie back in the perfect golden sand and fill your eyes with the azure sea and the heavenly green of the surrounding countryside.
4. Aspat Beach
Aspat has laid back, barefoot beach elegance by the spade-full. This is the perfect spot to recline with a cool drink while relaxing on a bean bag under a palm-tree in one of the beach cabanas. The surrounding manicured gardens dotted with attractive sculptures add to the overall serenity of the locale.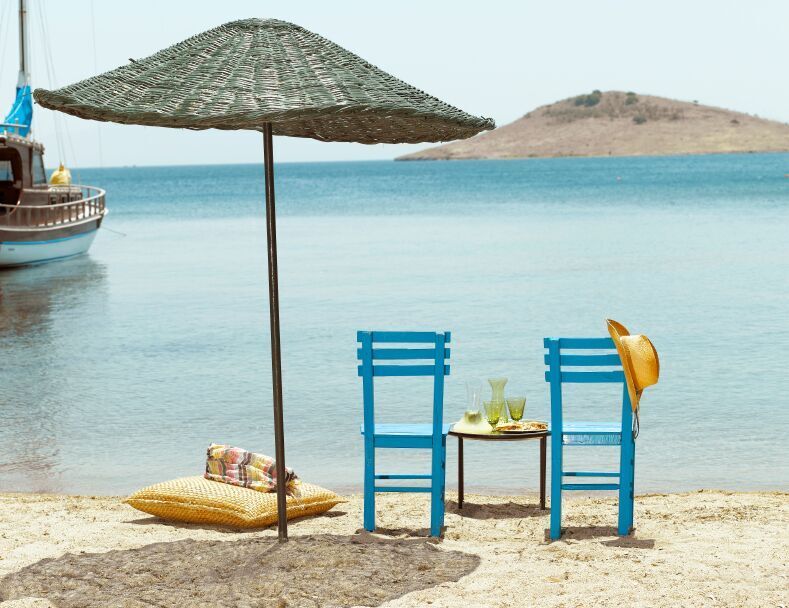 5. Gündoğan
Fishing boats still regularly roll in and out of Gündoğan, adding to the pleasing character of this quaint seaside town. You can lie back on sun-kissed sands and watch coracles bob up and down on the ocean, before your gaze drifts across to the surrounding hillsides covered with pines and olive groves.
6. Kadikalesi
This unspoilt little hamlet is crowned by an ancient, ruined castle and a mosque with an ornate minaret bordered by wisteria.
The pretty beach is the ideal spot for a quiet sunbathe. Eucalyptus and orange groves border the quaint fishing village and a small string of shops and cafés lines the seafront, with outdoor tables where you can tuck into a plate of delicious freshly caught fish after a day on the beach.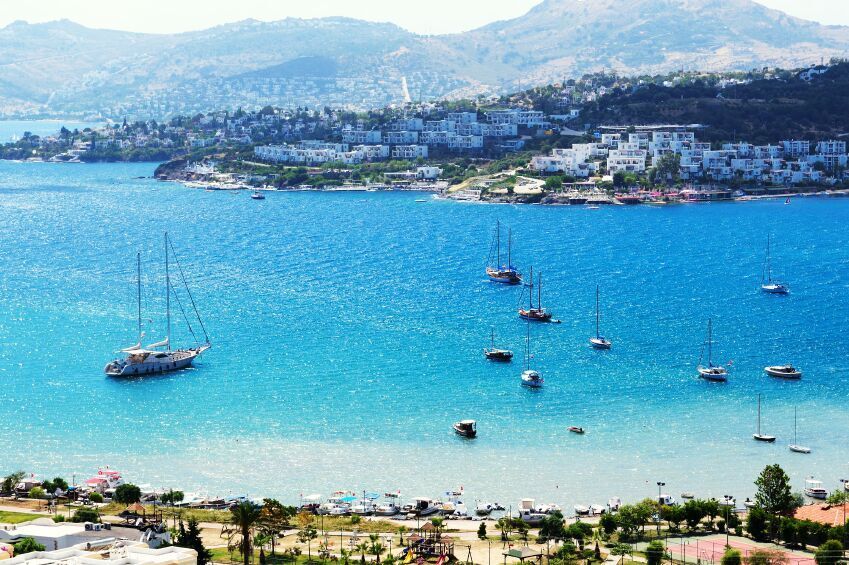 7. Akyarlar Cove
Located at the eastern end of the peninsula, this former fishermen's haunt is now a popular spot for windsurfing and sailing (though the winds mostly blow out from the land seawards). It's a lovely spot overlooked by a dramatic rocky outcrop and the sweet Huseyin Point Lighthouse, which dates back to 1931.
Fener Beach, just around from the lighthouse, is a favourite spot for windsurfing and kite-surfing. The position of the beach on an exposed part of the coastline makes it perfect for this activity and there's even a windsurfing school here. Windsurfing aside, this is still a good sandy beach and it also attracts visitors who simply want to relax and swim in the clear blue sea – sun loungers and shades are available on the sands.
8. Turgutreis Beach
Turgutreis is Bodrum's largest bay, and this beach close to Turgutreis town is known for its crystal-clear waters, making it a must-visit for avid sea-swimmers. Nearby, there's a variety of appealing cafés and restaurants for a drink and a bite to eat.
There are more secluded sands further around the bay that are also worth visiting, but the main stretch can't be beaten in terms of convenience.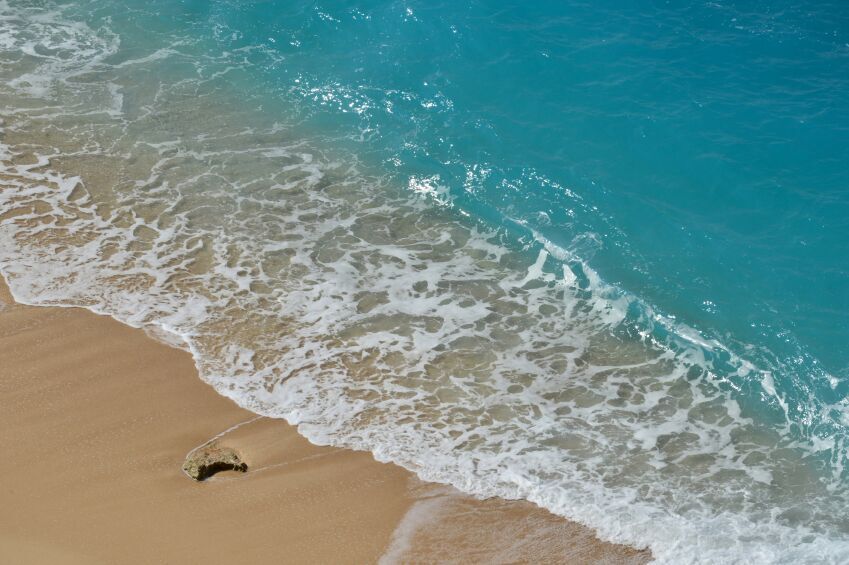 9. Ortakent Beach
This cove, flanked by market gardens outside the pleasantly bustling Ortakent village, is rightly well-known for its coastal views and has one of the longest uninterrupted stretches of beach on the whole peninsula. The cooling, gentle breeze that wafts across the beach is just what's needed when the heat reaches its zenith.
If you're feeling adventurous, there are boats available to hire from the beach for a quick exploratory jaunt around the verdant headland.
10. Gümüşlük
The sands curve elegantly around this sandy bay, where the beach is a lovely place to relax. There's a choice of excellent fish restaurants in the nearby fishing port, built on the remains of the ancient city of Myndos ruins, some of which are still discernible.
Gümüşlük hosts an international festival of classical music every year between July and September, visited internationally renowned players. There is a good selection of quality hotels here too.