10 Reasons to Visit the French Basque Country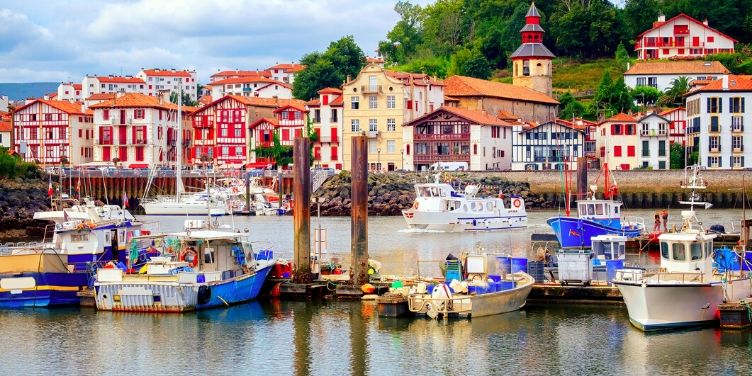 Before you visit the attractions mentioned below, it's important to check their website information. Even if the attraction is open, you might need to pre-book and follow local guidelines on social distancing. Check if you need to wear a face covering during your visit.
Tucked in the south-west corner of France, in the angle formed by the Atlantic and the Pyrenees, you'll find the stunning French Basque Country.
Here are ten reasons why you should discover it for yourself.
1. A country without borders
Basque Country straddles two official countries with four large provinces in Spain and three smaller ones in France.
The French provinces together make up just half of Pyrénées-Atlantiques – French département 64 – but share a culture with their Spanish neighbours that includes language, architecture, symbolic colours, and sports.
2. A language like no other
The ethnic identity of Basque Country is believed to date from pre-Celtic times and their language is like no other. French is the principle language here, but Euskara is still widely spoken and taught in schools. Expect dual language street signs and place names, liberally peppered with letters like x, k and z!
3. A palette of red, white and green
Traditional Basque Country houses are white with 'ox blood' red or dark green timbering, while flags and traditional costumes are also red and white. But there's the blue ocean too and the lush green valleys beneath the foothills of the Pyrenees.
Take the rack railway to the summit of La Rhune for colourful views of coast and country and enjoy a palette of underground colours at the spectacular caverns of La Sare and Isturitz & Oxocelhaya.
4. Be Basque in Bayonne
Part Basque and part Gascon, the city of Bayonne is known as the capital of French Basque Country. Strategically located at the confluence of the Nive and Adour rivers, Bayonne is just a short way inland from the Basque Coast.
Wander the historic quaysides, visit the UNESCO-listed cathedral, and discover all things Basque at the Musée Basque.
5. Elegant Biarritz
Jewel of the Basque Coast is stylish Biarritz, a popular seaside resort, made fashionable in the mid-19th century by Napoleon III and his wife Eugénie who built a summer palace here overlooking the main bay (today the Hôtel du Palais.)
Take in the bays, headlands and harbours on the undulating promenade; visit the excellent aquarium with its Art Deco façade; and walk over the waves on the high-level walkway to the statue of the Virgin for panoramic coastal views.
6. Beach Life
Surf culture arrived in Biarritz in the late 1950s and today ensures that the town remains young at heart. Anglet to the north offers a wealth of ways to chill out beside the water or get active in it and on it, as do resorts like Hendaye and Bidart en route to the Spanish Border. Louis XIV married his Spanish bride at pretty Saint-Jean-de-Luz, a big favourite of mine with its beaches and bays, colourful streets, and wealth of tempting boutiques and restaurants.
7. Beautiful Villages
French Basque Country has four bijou communities belonging to the prestigious band of Plus Beaux Villages de France. Enjoy traditional Basque architecture at La Bastide Clairance, Ainhoa, Sare, and – last French stop on the Compostela pilgrims' trail – Saint-Jean-Pied-de-Port.
8. Sporting Passions
Rugby is a major passion across south-west France, but in Basque Country you will also find various versions of pelota, a high-speed game played outdoors against a single high wall or fronton, or on indoor courts called trinquets. A tad too energetic? Play a leisurely round of golf on one of the area's wonderful scenic courses.
9. Food and Wine
Cured ham from Bayonne is world-famous, the rind rubbed with crushed pimentos from nearby Espelette and with salt from Salies-de-Béarn in the easterm half of Dept 64. But you'll find all kinds of scrumptious charcuterie, as well as delicious sheep's milk cheese, and fine wines from the Irouleguy vineyards. Ask at any tourist office about visits to producers and boutiques for edible souvenirs.
10. New for 2020
Launching in April, the Euskal Pass will encourage visitors to explore major natural, cultural and heritage sites. Choose from a Weekend pass, valid for 48 hours from your first visit, or a Séjour version, valid 7 consecutive days.
If you're planning a trip to the French Basque Country, don't forget your travel insurance for France, so you can travel with peace of mind.
First published 9 April 2020