Sharon Tremaine took a walk on the wild side to release 11 gorillas to their natural habitat – thanks to a Staysure insurance policy.
It was always going to be an emotional goodbye. But wiping away tears as she watched her family of gorillas walking off into their leafy new home, Sharon knew this bitter-sweet moment would come – and she couldn't be happier for them.
For the dedicated zoo keeper had spent the previous 12-years of her life caring for these graceful animals at the Port Lympne Wild Animal Park in Kent, and knew them like a family. Nevertheless, in June 2013 the time had finally come to release them at the Batéké Plateau National Park in Gabon, Central Africa – an exercise years in the making, that required animal aficionado Sharon to stay abroad for three months so that she could be on hand to help the primates adjust to their new surroundings.
Sharon, who is originally from South London and lives on site at the Port Lympne Wild Animal Park, told Staysure: "It was the once in a lifetime experience I've always dreamed of. But I never believed it was possible to take a family and release them into the wild. It had never been done before, so it was pretty amazing.
"The journey was very, very stressful. You couldn't do it without stress to the animals – it just wasn't possible. But once they arrived they just seemed like they were meant to be there. It was hard to believe that they were once in captivity and now they have settled in completely."
Among the family of females and youngsters was the group's only male, a silverback gorilla named Djala, who had experienced a 'very traumatic childhood', according to Sharon. For the 31-year-old wasn't born in captivity like the rest of his family. He was born deep in the forests of the Congo Basin in 1982. However, within the first six months of his life, his entire family was slaughtered in front of him by poachers. And if this wasn't bad enough, his tear-jerking childhood was compounded by the humans he encountered shortly afterwards in the village of Djala, where he got his name. Sadly, his early interactions with people still affect him as an adult, as he becomes visibly agitated by noisy crowds of people.
Luckily for Djala, his life took a turn for the better after a uranium prospector was flying over the village by helicopter and spotted a commotion. Landing his helicopter to investigate, he found the young, listless male tied unceremoniously to a post. Shocked at what he saw, the businessman bought Djala from the villagers and took him home for two weeks to look after him, before a friend volunteered to raise him.
Over the next two years he grew in size and as he became more mischievous – his adoptive human mother realised she simply could not release him back into the wild. A campaign to send him to the UK was launched and thanks to the help of the late British zoo owner John Aspinall – Djala eventually found himself amongst a family of gorillas in the UK, where he learnt valuable social skills and gorilla etiquette for the first time.
After 12 years at Port Lympne, Djala and his family were strong enough for the team at the zoo to try something incredible.
As it was the first attempt at moving an entire family of gorillas to the wild – and Sharon Tremaine played a key role in its success.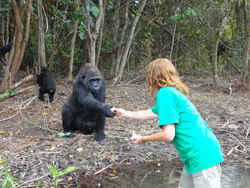 "I thought the goodbye was going to be more emotional than it was", explained Sharon. "I stayed with them until they walked off into the forest – then I cried for a few minutes. But then I realised what an incredible experience it was and how lucky I was to see this.
"It was quite serious work during those three months. They're still not actually released as they are on an island 12-acres across, on a river in the Batéké Plateau National Park.
"And it wasn't without problems. Djala had a serious back injury five weeks after arriving and we thought we were going to lose him. We gave him medication for three weeks and he's better now – but it was quite traumatic."
"Just seeing them all looking happy and contented at home where they are supposed to be was the highlight of the trip for me."
As for Djala, this is the start of a new life where he can put his upbringing behind him and live happily, and peacefully in his new home, which will eventually be a one million acre reserve managed by The Aspinall Foundation that spans the Bateke Plateau in Africa.
As for the future, Sharon added: "I'd love to visit again, if they'd let me, but there's quite a queue of visitors to go and see them, so I'll have to wait my turn."
For more information on Djala or to support the Aspinall Foundation's Back to the Wild Campaign visit them online.
Sharon took out an Annual Multi Trip insurance policy to cover her three-month trip* to Central Africa and added that she would recommend Staysure to anyone.
PLEASE NOTE: Sharon's Annual Multi Trip insurance covered her for medical emergencies while in Africa, but did not cover any manual work, or any work handling the gorillas.
Share your story with us and win a Kindle Paperwhite
It's a great feeling to help our customers achieve their dreams and travel the world. However, it's even better to hear about the wonderful things our cover allows them to get up to whilst they're away!
A lot of our customers do amazing things on their holidays, just take a look at a few of the Real Lives stories we've already received. If you have a story about one of your trips that you'd like to share, we'd love to hear all about it and for every story we receive we'll enter you into a free prize draw to win a Kindle Paperwhite.
Terms and Conditions apply