Why Staysure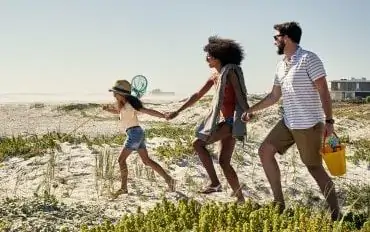 When you buy a travel insurance policy, you're not buying a piece of paper. You're asking for a helping hand when you need it most. So we know it's not a decision you take lightly.
We've given over 10 million people peace of mind since 2005.*
Our ethos is that travel insurance is Worth Doing Right and that flows through everything we do. It's the reason why so many people trust us and why we're the UK's number 1 travel insurance provider.**
---
Cover that comes with confidence, not confusion
Buying a travel insurance policy you can trust doesn't need to be confusing.
Four in five people told us that travel insurance has never been as important to them as it is now.***
So, by tailoring cover to your needs, you can build a policy to feel confident in:
Covering your pre-existing medical conditions
Choosing either a Single Trip or Annual policy with no upper age limit
Picking the cover limits that best protect your plans
Adding optional extras such as gadget cover and excess waiver.
No matter what policy you choose, our COVID-19 Cover is included at no extra cost.
It's one less thing to worry about.
---
Limitless improvements on cover
With everything we do, we aim to be the best.
We're proud to have led the travel insurance market as the first to cover emergency medical expenses for COVID-19.
We're constantly improving what we can give you. Whether that's removing age limits to offering unlimited medical expenses. You'll find that our cover options are constantly being improved to help protect your plans to a level that suits you.
We choose to do this because it's the right thing to do. We will always offer people the very best cover where we can.
---
When the going got tough, we stayed
When other travel insurance providers pulled their hands away during the pandemic, we extended ours.
We just couldn't turn our backs on you.
Which? reported that 31 of the 71 leading travel insurance providers including Aviva, Post Office and Direct Line stopped selling cover during the pandemic.
Instead of shying away, during the pandemic we asked ourselves what more could we do.
70% of us had travel plans changed during lockdown and that meant a lot of people wanted to talk to us to help alter their plans.***
Where we could, we listened to what you needed from us and changed the way we work.
Find out how we're helping people with existing policies when their plans are affected by COVID-19.
---
We'll be by your side
Melissa's story
When booking their dream holiday, the last thing Melissa and her family expected was having to cancel it.
With 1 in 20 people claiming on their travel insurance in 2018***, the worst can happen when we least expect it to.
Find out how we helped pick up the pieces, so Melissa and her family could re-book their holiday…
Read more about Melissa's story.
---
Tailoring the right cover for you and your family
One size doesn't fit all when it comes to travel insurance.
You're unique, with your own holiday plans and medical conditions to cover.
That's why we tailor travel insurance to suit you:
It's not just us that thinks we've got a great level of cover to suit your needs. Independent financial experts, Defaqto have given us a big thumbs up with five stars, after reviewing us for quality and comprehensiveness.
You can't get better than that.
What's better is that it's fast and easy to set up your policy. You can fill out our online form which will take you through each step. Or you can chat to our team on 0800 033 4902 who can answer any questions or worries you have.
It really is as simple as that.
---
Award-winning service
We care. About you and making sure that you get the cover you need.
Our way of doing things means that we'll always treat you like a person and not a number. That's one of the reasons why we're rated as excellent by over 300,000 customers on Trustpilot, with more 5* reviews than any other travel insurance provider in the UK.
All customers who speak to us are invited to take part in a short survey where customers can rate the service they received. We use this feedback to continuously improve our customer experience.
We also ask all customers how many times they needed to contact us before we resolved their problem. If it's more than once, then we haven't achieved our normal standard of service and we look at ways we can fix that.
We're not in business to win awards or brag about our badges. But we are proud of them and have a growing trophy cabinet to show them off.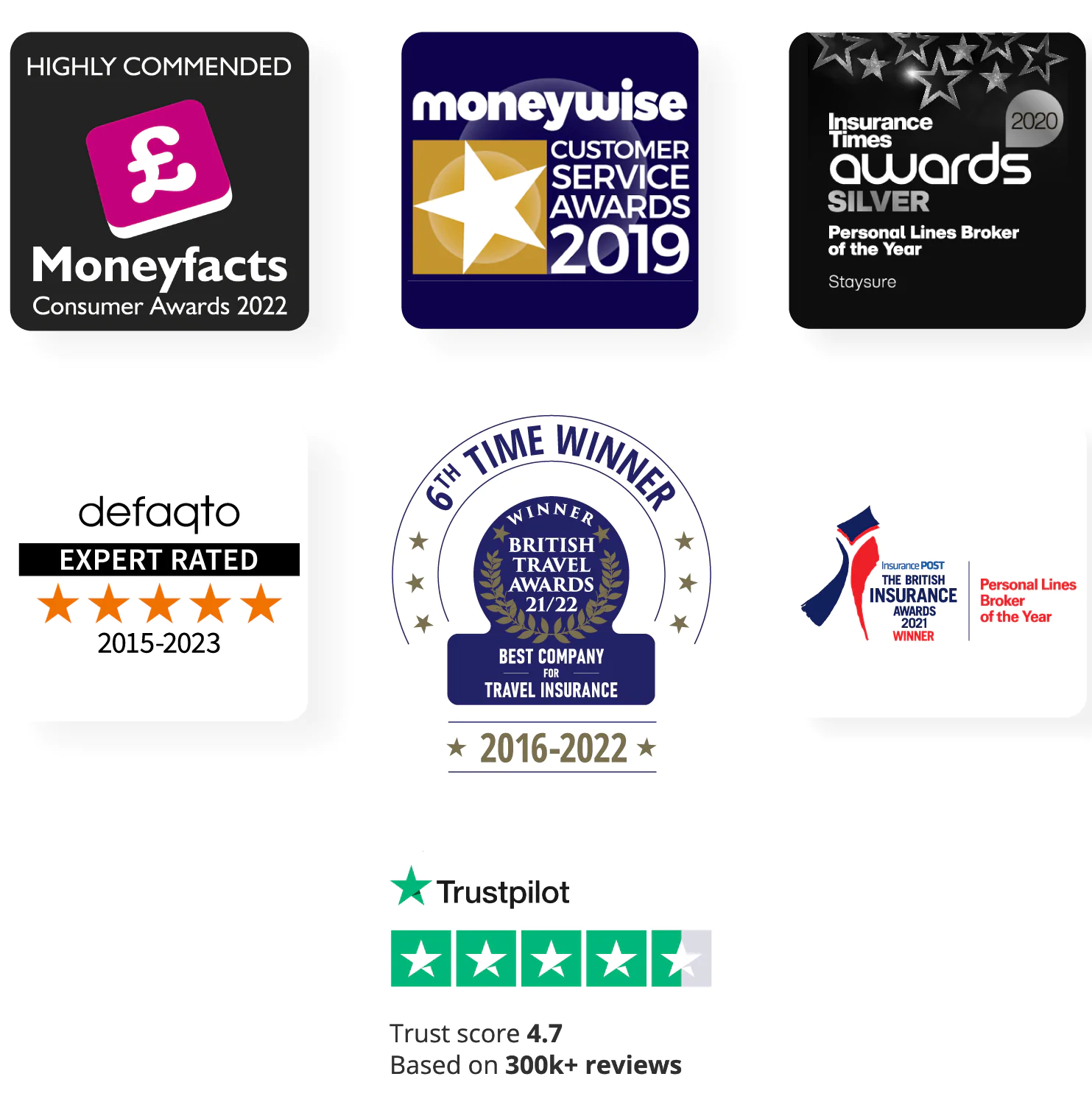 In 2022, we were named as the Best Company for Travel Insurance for the sixth year running by The British Travel Awards. In 2021 we were named as the winner of Personal Lines Broker of the Year at the British Insurance Awards, and we also picked up the Insurance Times Silver Award for Personal Lines Broker of the Year in 2020.
---
Find out more about our cover
Find out more about our most popular insurance plans we offer.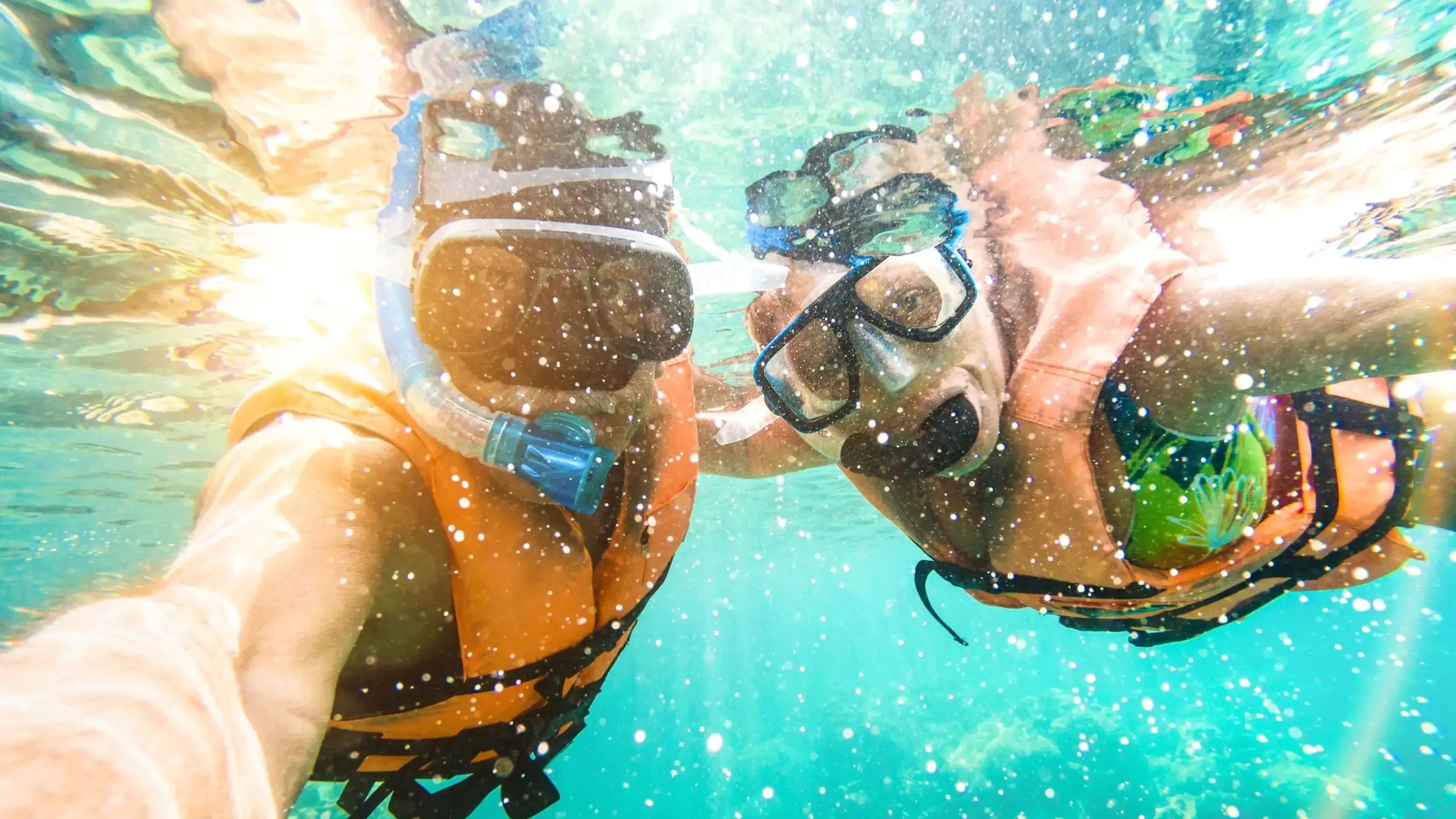 Single Trip
Covering you for one trip to a range of worldwide destinations, with no upper age limit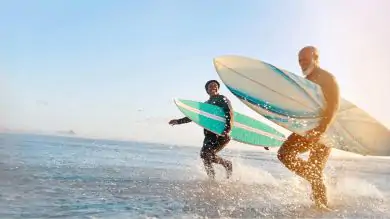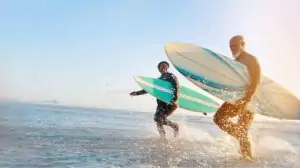 Annual Trip
Flexibility to travel where you want, when you want, and as often as you want within your trip limits
---
We're people too with honest values
We're a friendly bunch and look after everyone who is part of the Staysure family.
Whether you're calling in with a question about your cover or looking to join us to progress your career, you'll get to know us pretty well.
We live by four values:
Dare to be different
Better together
Keep it real
Always do the right thing
If you wish you were here, check out our latest vacancies.
---
A growing business: doing things right
Ryan Howsam formed Staysure in 2004, passionate to ensure that over-50s in the UK could access travel insurance that covered their pre-existing medical conditions.
We grew rapidly over the years, but Ryan made it his mission to ensure that every customer would still feel the family focus of the company and the importance placed on service.
His insistence on excellence was paramount and led to the foundation of the 'Worth Doing Right' ethos. An ethos of making sure everyone gets the right cover to suit their needs, and in the event of a claim, we always look to pay out as soon as we can.
Today our headquarters are in Northampton and we employ over 500 people across the region.
We're focused on providing quality travel insurance to customers of any age, specialising in covering medical conditions and we have given peace of mind to over 10 million people.
---
We do things by the book
Doing things the right way is important. You know that. After all, if you've read down to here? You're a pretty thorough person.
You may want to know about the rules and regulations to make sure we really know our stuff.
There are a number of governing bodies that help make sure we're doing things by the book.
From protecting your personal information to making sure we're not making false or misleading statements on our website or in an advertisement or by any other means.
These include bodies with three letter acronyms including the FCA (Financial Conduct Authority), the iCO (Information Commissioner's Office), the FOS (Financial Ombudsman Service) and the Financial Services Commission (FSC).
It's a good idea to check that any financial insurer you choose is registered with the FCA on their Financial Services Register.
We take this sort of stuff seriously and even have a team who live and breathe compliance to make sure we're doing things by the book. We don't believe in cutting corners as it's not the right thing to do. They review every single piece of information we provide before it's launched to make sure we're doing things right.
If you think we're not doing something as well as we could, or have a complaint, then we really do welcome your feedback.
Find out more about complaints
Get your travel insurance quote today
Get a quote online in minutes or call us free on 0800 033 4902.