Scrabble enthusiast Elisabeth Jardine hasn't let her osteoporosis get in the way of her travel plans.
It's a popular word game that can reduce brilliant wordsmiths to the point of hair-pulling despair – unless your name is Elisabeth Jardine that is. For the 68-year-old Staysure customer is a seasoned Scrabble champion who travels the length of Europe to compete in international competitions.
Only last December the grandmother of three battled it out against fellow word fans in Prague to finish 8th in an international Scrabble tournament. Now the Bournemouth resident has her sights set firmly on the London Scrabble Champions Tournament in November*, where her quick thinking, concentration and dictionary-like mind will be pushed to the limit.
But the former primary school teacher says all this globetrotting wouldn't be possible without the help of Staysure, as her osteoporosis and crumbling spine would normally spell the end to any travel plans.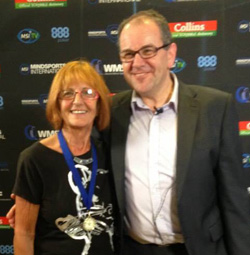 "It's a bit worrying when you can see 70 around the corner and some companies won't insure you," said Elisabeth.
"So it's nice that we found a company that would insure us."
Together with a group of friends who share a passion for Scrabble, Elisabeth's last trip to the Czech Republic also involved a splash of sightseeing.
She told Staysure: "I travel abroad about three times a year to compete and many times more in this country. The atmosphere in Prague was great. We saw the same people again from other tournaments and some players that I play online I saw for the first time. So it was good to put some names to faces.
"We love the city. The buildings and architecture are just fantastic. It snowed while we were there, which was exciting. And we also got to go to the Christmas market. The highlight was the hot chocolate, which was to die for. But apart from that it was meeting people from all over the world and rubbing shoulders with champion Scrabble players."
Elisabeth, who also won 500 euros after coming 4th in a Scrabble competition in Marbella on the Costa del Sol in April 2013, discovered her passion for Scrabble in her 40s. In fact, it was watching the Channel 4 TV show Countdown for the first time in 1982 that led to her Scrabble addiction.
For while sitting down to watch the show she spotted one of her friends, a member of the London Scrabble League, who had been invited to take part by the show's producers.
"When I saw the show I thought it was right up my street with all the words and numbers," explained Elisabeth.
"I asked my friend how she got on and she invited me round to her house to show me how to play Scrabble."
Armed with a dictionary and steely-eyed determination, Elisabeth sharpened her skills to secure a place on the second series, which led to an appearance on the Countdown Champions show.
Now more than 20 years later the language lover is set to appear on Countdown once again later this year, after passing a recent audition. As for her next move, the sprightly Dorset resident will travel to London in a few months for yet another Scrabble battle, where a night on the tiles takes on an entirely different meaning!
Share your story with us and win a Kindle Paperwhite
It's a great feeling to help our customers achieve their dreams and travel the world. However, it's even better to hear about the wonderful things our cover allows them to get up to whilst they're away!
A lot of our customers do amazing things on their holidays, just take a look at a few of the Real Lives stories we've already received. If you have a story about one of your trips that you'd like to share, we'd love to hear all about it and for every story we receive we'll enter you into a free prize draw to win a Kindle Paperwhite.
Terms and Conditions apply