A cappella aficionado Christine Davies jetted off to Hawaii for an international singing competition she'll never forget—with the help of a Staysure holiday insurance policy.
It was only a year and a half ago that Christine Davies started singing a cappella. Although the 54-year-old has always been a multi-talented musician, she had recently been looking for a new challenge and was eager to try her hand—or even her voice—at something different. So when a vibrant, all-female harmony group based in Bexley, Kent, said they were looking for new vocalists, the mother of two knew this was the opportunity she'd been waiting for.
Singing at weddings, marriage proposals, birthday celebrations and charity events, these lively ladies were called Viva Acappella—and they were fun, sassy and energetic. They even did flash mobs! Belting out hits from Bruno Mars and Aerosmith to Sinatra and Adele, they were in big demand locally and were clearly passionate about their profession. So after an audition with the girls, Christine was delighted to hear that she was to become the latest member of the all-singing 34-strong group.

The ladies quickly took her under their wings, but it was to be a baptism of fire for Christine. As shortly after joining the harmony group, they flew off to Hawaii to represent the UK at the International Barbershops Championships in Honolulu, Hawaii, last November. Held at the International Convention Centre, there were 42 choruses and 52 quartets from all corners of the world—including the USA, Canada, Australia, New Zealand, Alaska, Sweden and of course, the UK.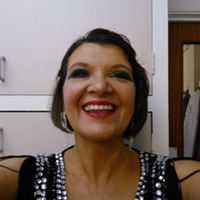 "The competition went brilliantly," said Christine, from Orpington.
"When we came off the stage after our performance we got this massive standing ovation as we were the only British group. We were also the smallest as some of the American groups were in excess of 100 women, so we were tiny by comparison. But the round of applause was sensational.
"It was an incredible experience and a privilege to perform on stage at a big, glitzy competition and represent your country. Plus to go to Hawaii—I was very, very lucky."
The legal assistant, who works in London, said another highlight of the three-week trip was the fireworks displays on the island of Oʻahu, in Hawaii, where she stayed. She explained: "Every Friday night they had a firework display and it was absolutely amazing. It was on a par with one of the big displays they have in London and they do that every week!"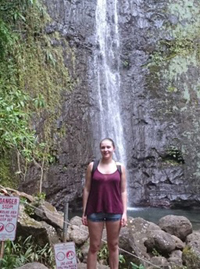 "There were so many assaults on the senses it's almost too much to recount. I have memories to last a lifetime."
Before flying to Hawaii Christine purchased a Single Trip policy with Staysure, giving her full cover for her a cappella adventure. Speaking about her experience with Staysure, she said: "I would absolutely recommend Staysure. The process was really simple and organised.
"It was one of the best experiences I have had getting insurance. They even sent me an email afterwards to make sure I had had a good trip."
In May Viva Acappella entered the regional final of the National Barbershop Campaign at the Theatre Royal Concert Hall in Nottingham, which gave them a shot at appearing in the next international final in Las Vegas. However, despite singing their hearts out against 30 female groups from all over the UK and the Netherlands, Viva Acappella came 2nd in their category, 4th overall and 2nd for showmanship—meaning they did not qualify for this year's International Barbershop Championship.
Christine added: "We all worked very hard on it but unfortunately we didn't qualify. But now we have our sights set on 2015. And the locations are always glamorous so we can't wait!"
For more information visit Viva Acappella's website or watch their performance at the competition in Hawaii online.
*Limits of cover apply, please see policy wording for details
Share your story with us and win a Kindle Paperwhite
It's a great feeling to help our customers achieve their dreams and travel the world. However, it's even better to hear about the wonderful things our cover allows them to get up to whilst they're away!
A lot of our customers do amazing things on their holidays, just take a look at a few of the Real Lives stories we've already received. If you have a story about one of your trips that you'd like to share, we'd love to hear all about it and for every story we receive we'll enter you into a free prize draw to win a Kindle Paperwhite.
Terms and Conditions apply