Helping out after the storm
It was an adventure that wedding planner Claire Morley had been wanting to embark on since the 1980s. And although volunteering abroad was always on her mind, it seemed like there was never a right time due to work and other commitments. That was until November last year when the super typhoon Haiyan smashed into the Philippines.
As one of the strongest tropical cyclones ever recorded worldwide, it hit many countries in Southeast Asia, but the Philippines took the brunt of the storm on November 8 — making it the deadliest typhoon to ever hit the islands. Striking with wind speeds of up to 195mph (315 km/h), Haiyan took the lives of around 6,300 people in the Philippines alone, with at least another 1,000 missing.
As the monster storm ploughed across the country leaving a trail of destruction in its wake, more than 100,000 people hid in evacuation centres as Haiyan bent palm trees, uprooted homes and levelled entire cities.
After watching the heart-breaking devastation on the television at home, Claire knew this was the moment she had been waiting for and it was time to act. With that in mind, she phoned the International Disasters Volunteers (IDV) organisation, so she could play her part in helping those who had lost everything, to slowly rebuild their lives.
And it's an experience the former marketing communications manager would highly recommend to others."It was very humbling when you realise just what they had lost," said the 52-year-old who has lived in Northern Cyprus for the last 12 years.
"It's not just their homes that they've lost, it's their livelihoods, their possessions and family members. Yet these people are so incredibly positive — it's mind-blowing."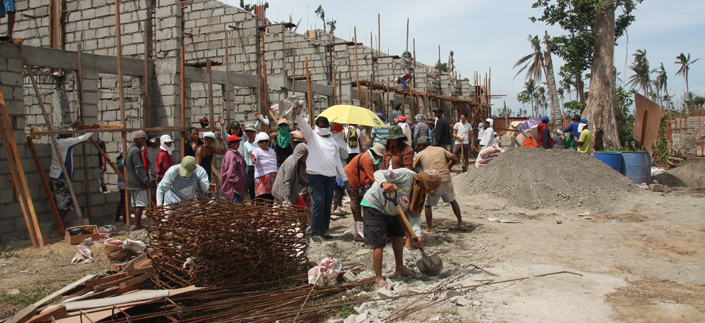 Claire spent a month in the city of Tacloban, which was nearly wiped off the face of the Earth — making her first impressions of the country some she is unlikely to forget.
She explained: "The total devastation of the place just hits you in the face when you get off the plane. The airport was completely wrecked and it didn't even have a control tower, as it was destroyed during the typhoon. The pilots were coming in by sight alone, although luckily I didn't know this at the time.
"Then there were the tented cities where all the displaced Filipinos were living. But the thing that left the biggest impression on arrival was all the coconut trees that were all shattered and snapped from the winds, they just looked incredibly sad."
For a month Claire stayed in a four-bedroom house with 22 other volunteers from the IDV, which had one bathroom and no running water — meaning they had to collect buckets of water from a pipe in the garden to wash and cook with.
As for the conditions during the experience, Claire said: "It was very humid working on the building sites and it was a lot of physical work in 30c temperatures. But it was the 85 per cent humidity that was the problem for me."
A typical day ran from 8am to 4pm with Claire and the volunteers clearing debris from schools and running soup kitchens in the tented cities, so locals could have a hot meal.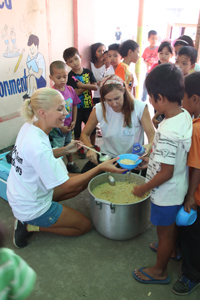 As for whether she would volunteer again, she replied 'definitely'.
However, it's a costly venture as she needed to pay for her own flights, accommodation and bring her own mattresses, pillows, and mosquito nets — as well as taking a month off work as a wedding planner.
Claire, who is originally from Oxfordshire, added: "I would do it again as it puts life into perspective. A lot of people are too busy rushing around and making money. But helping others is very important and rewarding — even if it's just being in a place to help support someone."
Before flying to the Philippines, Claire purchased an Annual Multi Trip policy with Staysure. She added: "I had to make sure that I was covered for medical evacuation in case I needed it. I would definitely recommend Staysure, the staff were very supportive when I explained my circumstances and could not have been more helpful."
In September 2015, Claire released a fictional book based on her experience in the city and is donating 30 per cent of all profits to the charities she worked with.
Claire told Staysure: "While volunteering I met and interviewed many people – survivors, volunteers, people from organisations helping in Tacloban and I wanted to use my experience and all that information to raise awareness of the on-going plight of people affected by a natural disaster and to highlight how human trafficking can occur in these situations."
Tindog Tacloban is available to download at Amazon.co.uk for £2.99.
Share your story with us and win a Kindle Paperwhite
It's a great feeling to help our customers achieve their dreams and travel the world. However, it's even better to hear about the wonderful things our cover allows them to get up to whilst they're away!
A lot of our customers do amazing things on their holidays, just take a look at a few of the Real Lives stories we've already received. If you have a story about one of your trips that you'd like to share, we'd love to hear all about it and for every story we receive we'll enter you into a free prize draw to win a Kindle Paperwhite.
Terms and Conditions apply.