Staysure customer Michael Pollard didn't let his diabetes stand in the way of climbing Mount Kilimanjaro for charity – and raised an impressive £3,570 in the process.
It was in 2008 that Michael Pollard was diagnosed with type 1 diabetes. The 22-year-old TV producer for Formula 1 was completely unaware of the symptoms at the time, and had been struggling with several unexplained health problems for a while before making an appointment to see his doctor.
"Over the course of three months I lost nearly three stone in weight," said Michael, 28, who lives in Kent.
"I was thirsty all the time, very groggy and it had started to affect my work. I went to the doctor and it was glaringly obvious that I had diabetes, he diagnosed me within 30 seconds.
"The first five years with diabetes were tough. I used to be very sporty and it knocked my stamina and health massively. It was absolutely life changing. But after five years I thought I was back to my previous fitness level, so I wanted to test myself physically, just to prove that my diabetes couldn't stop me from doing anything I set out to do.
"I'm not very good at running, so I didn't fancy a marathon or anything like that. Then I saw the Mount Kilimanjaro climb on the Juvenile Diabetes Research Foundation website. They were offering places and it just jumped out at me as it looked difficult and was a proper challenge."

At 5895 meters tall (19,341 feet), Mount Kilimanjaro is the continent's highest summit and is the tallest free-standing mountain in the world – meaning climbing it would be no mean feat. So in December 2012 Michael bit the bullet and signed up for the event, which gave him 9 months to prepare for the climb in September 2013.
And to make sure he was covered for the fundraiser, he chose Staysure for travel insurance to cover his diabetes, explaining that it was "difficult to find someone to insure me for my diabetes."
At the time he was managing his diabetes with five insulin injections a day – which were frustrating and time consuming for him. But in July 2012 he got a grant for an insulin pump, which is programmed to deliver an insulin dose via a cannula automatically.
He explained: "Without that I would have struggled to climb Kilimanjaro, as removing layers of clothes several times a day in freezing temperatures to give myself an injection would have been difficult."
For his training, Michael built his stamina back up with cycling, football and walking. He also started sleeping with his boots on and carrying a heavy backpack around to get used to the weight he would have on his back all day during the challenge. Training was essential of course, as the overall success rate of those ascending the 'Roof of Africa' each year is just 45%.
As for the experience of climbing the continent's highest peak, it was simply "amazing" according to Michael, who raised £3,570 pounds for the Juvenile Diabetes Research Foundation in the process.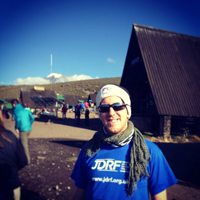 He told Staysure: "During the ten-day trip you go through every single climate, from hot, humid forests, to cold deserts that were -20°C. So you have got to carry clothing for all the conditions with you. They were really long days and we were climbing for between 8 and 15 hours each day."
"At the time I hated every minute of it, but now looking back on it, I can say it was the best thing I have ever done. I understand why people say it's a once in a lifetime opportunity, because I never want to do it again," he joked.
As for the hardest part of the trip, Michael said: "They call it the 'Summit Night' as you arrive at the top of Mount Kilimanjaro at 5.30am to watch the sunrise. But in order to get there at that time you have to leave the previous night at 10pm in temperatures below freezing to climb the steepest part of the mountain – just as your body is expecting you to go to sleep. We were battling sleep deprivation and doing something that our bodies just didn't want to do. It was pretty much in pitch black as we walked continuously through the night in single file with head torches for several hours. Although I was physically prepared, it was mentally challenging, and I wasn't prepared for that – I constantly wanted to give up."
But thanks to a spirit of camaraderie with his fellow climbers, Michael said he was able to battle it up the last stage of the mountain.
He continued: "Everyone chipped in and helped each other, and without them I don't think I would have made it. We got to the top to watch the sunrise at the top of Africa. It was pitch black and then suddenly this thin line of orange started appearing across the horizon. I went through a lot of emotions, I dropped to my knees and burst into tears. It all just hit me that we had all done it together, that we had reached our goal and that everyone believed in me and had backed me."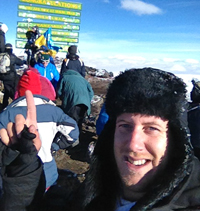 Michael climbed in a group of 25 people who were all fundraising for various charities, including another climber for the Juvenile Diabetes Research Foundation. During the trip he also made some new best friends who still meet up several times a year.
As for the future, the sporty twenty-something has no immediate plans to climb any more mountains, as he said it was hard enough raising the funds for the climb the first time round. He joked that he needs to give his friends and family a few more years respite before he asks them for any more donations for his next challenge.
He added: "Nowadays I'm kind of back to normal. Having diabetes doesn't disrupt me massively at the moment, it's just become part of my life, so I don't let it affect me that much.
"It's like having a second job that I don't get paid for," he quipped.
Michael will be out in central London today on World Diabetes Day on Friday 14th November with four friends. The group will be dressed in onesies and shaking collection tins in aid of the Juvenile Diabetes Research Foundation.
And as for anyone with diabetes or a medical condition contemplating doing something as epic as climbing Mount Kilimanjaro, Michael has these wise words of encouragement: "Just believe in yourself. You can do anything if you set your mind to it. It's an old cliché, but it's true. Diabetes doesn't stop you doing anything."
For more information about all the challenges and how you can fundraise for the Juvenile Diabetes Research Foundation, visit their website.
Share your story with us and win a Kindle Paperwhite
It's a great feeling to help our customers achieve their dreams and travel the world. However, it's even better to hear about the wonderful things our cover allows them to get up to whilst they're away!
A lot of our customers do amazing things on their holidays, just take a look at a few of the Real Lives stories we've already received. If you have a story about one of your trips that you'd like to share, we'd love to hear all about it and for every story we receive we'll enter you into a free prize draw to win a Kindle Paperwhite.
Terms and Conditions apply