Mumbai may not India's capital city—that's New Delhi—but in every way it feels like it should be. It's cosmopolitan and commercial; it's the hub of a major film industry and its hotel bars and nightclubs buzz with international business chat. Plus there's no shortage of the accessories considered necessary for modern life in this city that pulsates with life 24/7. You could say that Mumbai is a blend of London, New York and Los Angeles with a very large pinch of Indian spices.
A brief history
Mumbai is a city built on seven islands. The Portuguese and British called it Bombay (and some of its residents prefer to still call it that). The British first arrived in 1583 in a bid to win the spice trade from the Portuguese. The two nations fought over the city at the Battle of Swally and the British won. Finally, to keep the Dutch out of the spice trade, the British were forced to purchase Bombay from the Portuguese, but managed to obtain it as part of the marriage dowry of the Portuguese Princess Catherine to King Charles II.
Portuguese influences
Consequently, you will find many Portuguese influences still exist in Mumbai, such as St. Michael's Church in Mahim, which dates back to 1540. It is one of the first Catholic churches built by the Portuguese and possibly the oldest in Mumbai. Or visit Khotachiwadi, a heritage site in Girgaon, south Mumbai, where you'll see Portuguese style bungalows.
The British legacy
Bungalow is a Hindi word that we've introduced into English; and there are many more words we've adopted from the days of the Raj. The British culture is clearly evident in the fact that many Indians speak English and the country's top newspaper "The Times of India" is written in English. The railway station Chhatrapati Shivaji Terminus (originally called Victoria Terminus) is a monument of Victorian architecture that could be a sibling of St. Pancras station in London.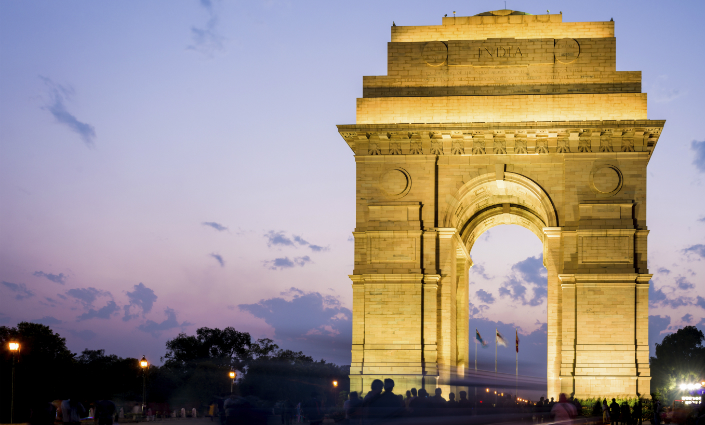 The Gateway of India
Perhaps one of the most striking leftovers from the Raj is the 'Gateway of India'. This is a triumphal arch to rival the Arc de Triomphe, and it's a good place to start a day out in Mumbai. It would have been the first thing that any visitors after 1924 would have seen when arriving by boat, and it was intended to signal the power of the British Empire: fittingly, it was the last thing that British troops passed though as they left on 28th February 1948, at the end of British rule in India.
Hire a guide
You could create your own tour of Mumbai, but there are plenty of commercial guided tours available that will take you around the city in air-conditioned ease. Once you've arrived in Mumbai, you'll realise why booking a tour might be more advisable than striking out on your own. Mumbai gives a whole new meaning to 'hustle and bustle' and unless you're used to navigating crowded pavements, take a group tour, or hire a personal guide. There are many to choose from and you can book a Mumbai guide online which is often the safest option.
A typical tour itinerary
The choice of tours may seem confusing, but there are some must-see places that any tour should include. Starting at the Gateway of India, where boat trips also depart from, your next stop is the magnificent Jain Temple built in 1904, which is the city's most famous temple, and there are plenty of them here. Don't miss the Hanging Gardens in the Malabar Hills, which appeared as Marabar in E.M. Forster's novel "A Passage to India", one of the many books it is worth reading before visiting India.
Make sure the tour includes colourful Crawford Market, another relic of the Raj, and Flora Fountain, especially at night when it's illuminated. Another after dark spectacle that is not to be missed, is Marine Drive in south Mumbai. This boulevard curves around a bay for over four kilometres, and at night the street lights along it resemble a necklace of pearls, which is why it is also known as "The Queen's Necklace."
At the north end of Marine Drive you'll reach Chowpatty beach, which is famed for its restaurants, and for being in one of the city's wealthiest neighbourhoods. Other beaches worth visiting are Juhu and Versova, the former being near the homes of several Bollywood stars. You may even see a film being shot on one of the beaches.
Finally, if you're considering a holiday anywhere in India, there is one essential thing you need to know: nothing is too much trouble for anyone in India. If you want to know what great service is like, then this is the place to visit. So, a good place to end your Mumbai tour is at the Taj Mahal Palace hotel, near the Gateway of India, where you'll receive world class service with an Indian smile.