Seasoned backpacker Doreen jetted off to India for five weeks of travelling on trains – thanks to a Staysure policy
It was an adventure that Doreen Tayler wanted – and it was certainly an adventure she got! Armed with a backpack, an iPad and her trusty copy of the Lonely Planet, the daring 68-year-old spent five weeks "winging it' across India by long distance train in January 2014.
The British retiree had been invited to the wedding of an old school friend's son who was marrying a girl from Goa, which gave her the perfect excuse to spend five weeks navigating across the Indian sub-continent. However, it was an adventure with a purpose, as the keen historian was also researching the British officer Clive of India, who established the military and political supremacy of the East India Company in Bengal during the 18th century.
Doreen, from Essex, who had already visited India twice before, told Staysure: "The wedding was brilliant. It was a Catholic wedding and lasted three whole days with all the rituals that go with a Goa wedding. But when it finished, I took off!"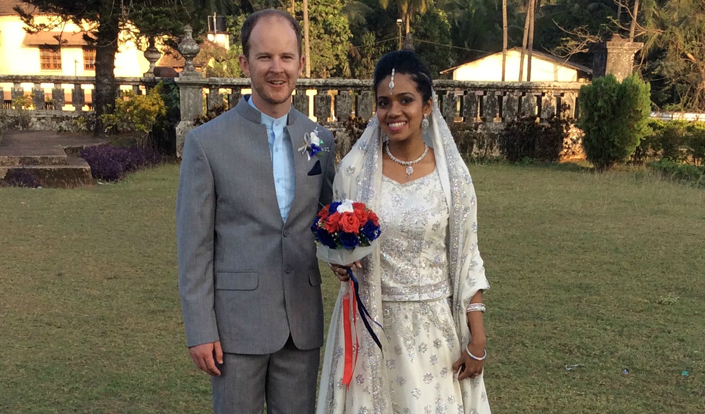 From Goa the former TEFL teacher visited Fort Cochin, Ooty, Chennai, Hyderabad and finally Mumbai, where she had booked a return flight to the UK. A seasoned backpacker, Doreen had already travelled across South and Central America, Egypt and South East Asia – and felt comfortable travelling alone across India.
She explained: "India is very safe and I wasn't constantly worried about pickpockets. I'm sure they have them in India, but I never felt threatened and everybody was extremely helpful, kind and respectful. Compared to South and Central America and Egypt, India is safer and easier.
"I only booked the accommodation for the wedding and then I had to wing it. But I had my iPad so I was able to book accommodation as I went along. When there was no Internet or Wi-Fi signal, I used the Lonely Planet guide. I could always find somewhere, although some places were better than others. At my age I didn't want to sleep in a shared dormitory so I always had my own room with an en-suite. People wrongly assume when you're staying in a hostel you have to share rooms, but most have single rooms.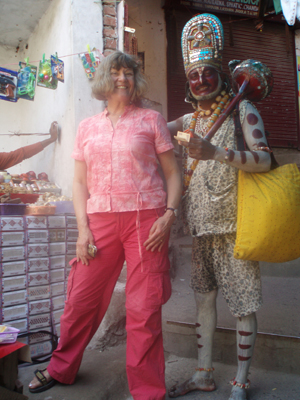 "And that's the thing that terrifies older people, they think they will end up sleeping on the floor – but nowadays we are in charge thanks to organised backpacking companies and the Internet, it's terrific. And there's a very mixed age group travelling around. Forget the idea that backpacking is just for students. There's an army of roaming retirees out there. I met retired teachers, physiotherapists and lots of people doing the ashrams (a religious retreat)."
Asked if you have to be an adventurous type to do this sort of backpacking holiday, Doreen said: "As you get older you don't change, you become more yourself. So if you were brave when you were younger, you're still brave when you get to this age. After my mother became widowed at 66 I remember her saying that in her head she still feels like 21 – and that's always stuck with me.
"Any age is a great time to backpack and get to know a country and its people. But being older you are less likely to be harassed by unwelcome male attention. For many students and young people, travelling in economy and sleeping in a dormitory is a great adventure and a good way to meet other young people. Being older, you often prefer to spend a little more to travel in comfort while meeting often older travellers and locals, and paying for your own room in a hostel or B&B with en-suite, still enables you to meet people and not feel isolated."
As for travelling alone the long-standing divorcee, who also does a spot of freelance travel writing occasionally, said the trip was easy and relatively cheap for five weeks. "For the five weeks it cost around £1,300 for everything and that included flights, food, travel and accommodation from start to finish," she said.  "And travelling alone was easy. People were always helping me. I didn't suffer discomfort because I didn't get a lower class carriage. First class is around £10 while second is £2, it's a big difference if you are a student, but when you're older you can afford to travel more comfortably.
"The trains were fun because I slept for 12 hours. There were four people in my sleeper carriage. It was comfortable and they provide sheets. I had no problem sleeping at all and I'm not a good sleeper.
"To book your train journey you go to the station yourself a few days prior to leaving or get your hostel/hotel to book a ticket for you for a mere 50p or so. If you book a sleeper you do not encounter people in economy. The people hanging off the trains are often commuters going into main line stations like Delhi or Mumbai or going home from the same.
"To sum up the feelings of travelling alone: you are open to meeting new people (as a couple are a self-contained island) places, change of plans and self-reliance (growth). A typical question I'm asked is do you feel lonely? Occasionally, but books or learning a language with an app for the iPad alleviates that, but if the feeling persists, move on!"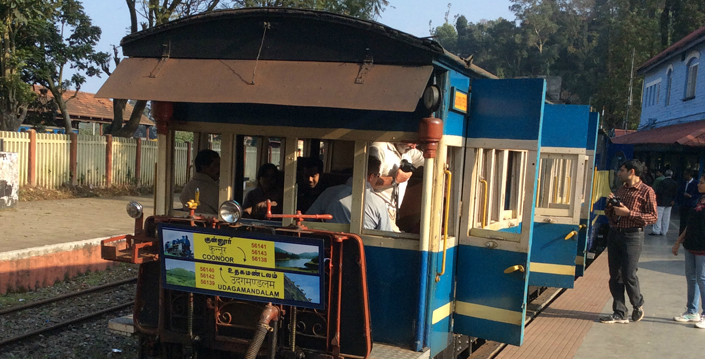 And the highlight of the trip? For Doreen it was Mumbai, which she described as "fabulous". She added: "There is a lot of interesting colonial sights, it's very colourful with all the street markets and yet it's sophisticated. It's the juxtaposition with the sophisticated locals and the extreme poverty – it's a city of extremes."
Another of her favourite destinations was Ooty, an Indian hill station, which is often referred to as "Snooty Ooty", as it was established by the British Empire. Doreen explained: "When the Brits lived in Madras, when it was very, very hot, what they used to do in the summer months is go to a hill station as they could get more work done. It's very cool with fresh air and very colonial. I really liked going into the library that the Brits built there. It was like going back into 1950s England. There were photos of Queen Victoria over the fire place."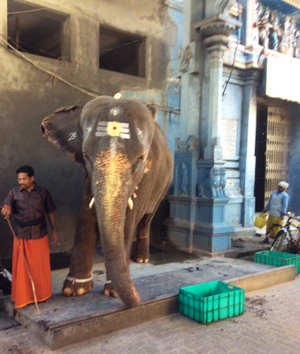 And the experience in general? India is a country that never ceases to surprise you, according to Doreen.
She concluded: "You can turn a corner and see an elephant walking towards you. I often give talks about my travels to India and the first thing people always ask is did you get an upset stomach? If you eat where the locals eat you'll have no problem. But the moment you dine in an empty restaurant that's when you'll get ill. I dined in a hotel restaurant and I was violently ill. But that's what everyone always asks me. I went on an incredible trip and that's always the first question!"
As for the future, Doreen will be off backpacking again in April for three weeks around Tuscany with an old school friend who was recently widowed.
She said: "We went backpacking when we were 17 years old and went again recently after a gap of 50 years around the Amalfi coast for three weeks. My 70-year-old friend said 'I'm not hitch-hiking again' and I said 'well who will pick us up? They'd probably think we needed a lift to A&E!'"
Share your story with us and win a Kindle Paperwhite
It's a great feeling to help our customers achieve their dreams and travel the world. However, it's even better to hear about the wonderful things our cover allows them to get up to whilst they're away!
A lot of our customers do amazing things on their holidays, just take a look at a few of the Real Lives stories we've already received. If you have a story about one of your trips that you'd like to share, we'd love to hear all about it and for every story we receive we'll enter you into a free prize draw to win a Kindle Paperwhite.
Terms and Conditions apply