A heart attack, a triple bypass, a fitted defibrillator and a broken hip. Any one of these conditions alone would put many a traveller off the idea of booking a holiday. That is of course, unless your name is Mary Willis and you have a lust for life that knows no bounds.
For despite suffering several serious health setbacks over the past five years, the 61-year-old grandmother is just as determined as ever to continue exploring the world with her husband David – and make some new friends along the way.
Mary's health problems began rather unexpectedly back in January 2012 as she was going to bed at he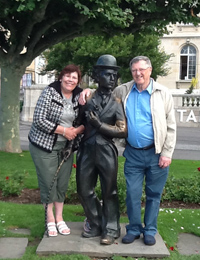 r home in the village of Peasedown in Bath.
"I had just gone up to bed when I told my husband that I didn't feel well and that I was having trouble breathing. He took one look at me and dialled 999 for an ambulance. He knew straight away just by looking at me that I needed help. He's an ex-army medic and even though he hasn't used his skills for years, they kicked in there and then."
The ambulance arrived minutes later and while on route to Bath Hospital, Mary had a heart attack.
She added: "I was resuscitated three times on the way to hospital. It was very frightening for my husband. But afterwards the doctors said if it hadn't been for his quick thinking I wouldn't be here – he saved my life. He's my hero."
But Mary's medical woes weren't to end there. After a series of check-ups in the following months her doctor recommended a triple heart bypass in July 2013.
"They said if I didn't have it I wouldn't see Christmas," she explained.
Then in March last year, the former accounts assistant for a group of hotels had a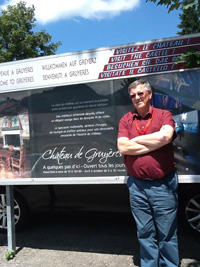 defibrillator fitted by doctors who were concerned for her health.
Mary, who also has arthritis and has had both knees replaced, said: "But I've got something to live for – my husband the hero, my family and the kids."
But despite this wide range of health concerns, Mary was determined not to let them stop her enjoying life. So while in hospital her husband David booked a coach holiday for them to Austria, where she had been wanting to re-visit for years.
The mum of two, who is also a grandmother to twins, explained: "I went there when I was 14 on a school trip and I had always wanted to go back. I loved the Sound of Music which was filmed in the Salzburg area and came out around the same time – so that's why it means so much to me."
The couple spent 10 days on the coach trip visiting various locations in Austria and making friends among the 45 people on board.
"It was very comfortable and of course there is a loo on board," she said.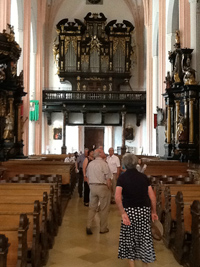 "And there's a hostess who was always giving out coffee, sandwiches, crisps and snacks. Plus there were quizzes to keep you entertained. The highlight of the trip for me was going to the church where Maria and Captain von Trapp got married, it was great.
"When I was in hospital my daughter persuaded my husband to book it. She said 'I think mum's going to need it when she gets out'. My husband wanted to book it and didn't know whether to or not. But it gave me something to look forward to."
Then in July last year the couple decided to take another coach trip, but this time to Switzerland.
"David had always wanted to go," said Mary.
"The highlight was going on a chocolate and cheese trip by steam train. We went to a factory to see how chocolate was made and then went on a tasting session, which was delicious. Then we got back on the train and went to Gruyères where there was a cheese factory. We learnt all about the famous cheese and then had another tasting session, it was great!
"We also stopped in a town where you could see Mont Blanc. I walked up a steep hill to a chair lift and went 2,000ft up the mountain. At the top I had a coffee and then walked to another chair lift to go 500ft higher, where I treated myself to another coffee for my efforts. There was a beautiful view of Mont Blanc and the glacier.
"I wasn't sure if I could make it but there were two ladies cheering me on saying 'you can do it'. I thought 'I'm going to do this, nothing is going to stop me seeing Mont Blanc, especially as everyone else is doing it'.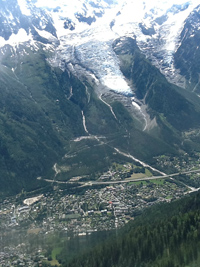 "I didn't know how it was going to affect my breathing. But I took it slowly and within my capabilities. There were benches so I sat down and caught my breath along the way.
"The view was exhilarating – even more so after the tough climb up."
As for the future, the plucky retiree isn't slowing down despite a further health knockback last November when she broke her hip.
She told Staysure: "I'm organising a trip to Maastricht in Holland to see the violinist André Rieu, he conducts the Johann Strauss Orchestra. We are going with two ladies that we met on our last coach trip who we became good friends with. I'm organising and booking it all by myself for the group and we are going over by train and spending four days there.
"We've seen him perform a couple of years ago at the O2 Arena in London and he was brilliant. Maastricht is his home town and he puts on a special concert there every year. I think it will be a great evening."
The seasoned traveller, who is also travelling to Paignton in Devon in March to see friends, bought cover with Staysure as some travel insurance companies would not insure all her conditions.
"But Staysure covered all my conditions and you were the cheapest," she added.
And Mary has some advice for anyone in a similar situation who is thinking of travelling.
She concluded: "If I didn't go on holiday I would just be sat at home wilting away. But a holiday gives you something to look forward to. It gives you some get up and go. As long as your doctor says you are safe to go, don't let your illness stop you. You can do it! If I can do it, anyone can do it."
Share your story with us and win a Kindle Paperwhite
It's a great feeling to help our customers achieve their dreams and travel the world. However, it's even better to hear about the wonderful things our cover allows them to get up to whilst they're away!
A lot of our customers do amazing things on their holidays, just take a look at a few of the Real Lives stories we've already received. If you have a story about one of your trips that you'd like to share, we'd love to hear all about it and for every story we receive we'll enter you into a free prize draw to win a Kindle Paperwhite.
Terms and Conditions apply