To celebrate the release of The Second Best Exotic Marigold Hotel on 26th February we have gathered a host of suggestions inspired by the colourful and absorbing story to keep you feeling young at heart.
From making a small difference to your everyday lifestyle, to discovering yourself on new endeavours, it's never too late to give yourself some life diversity.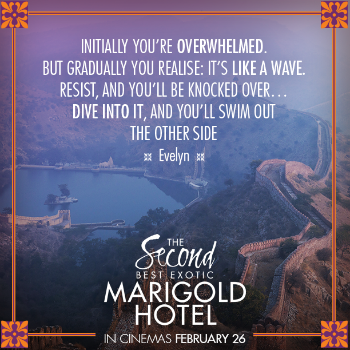 Travel More
Be influenced by the residents of The Second Best Exotic Marigold Hotel and discover a new world from what you already know. It can be difficult getting out of your comfort zone, but one small difference can change your life.
Hop on the train and discover a new city or town. Jump on the ferry and take a weekend in France or Belgium. Take advantage of all travel options: it's never been as easy, affordable, or available as now. It could be for a day, weekend, or even a week; you can always paint the dining room or put up that shelving unit another time. Surprise a loved one by whisking them off for a day of culture and adventure. There is so much of Britain that you've never thought to go to, the picturesque Peak District is mere miles out of Sheffield city centre, the Outer Hebrides of Scotland has white sand beaches with crystal clear water that could be confused for the Mediterranean.
Try Something New
I'm not suggesting you go skydiving or bungee-jumping here, but is there anything you've always wanted to do but never got round to it? The Second Best Exotic Marigold Hotel's delightful residents took the plunge and revitalised themselves in retirement.
My father first tried surfing at the ripe age of 58 and loved it, and he's still diving into the sea at any opportunity. If you would prefer a drier and warmer option, maybe go down to your local gym and sign up for a dance class with some of your friends, pick up a new hobby such as golf, even something as simple as going to the newly opened restaurant instead of your usual can perk up your week and appetite for life.
For the ones who want a bit more excitement in their life, why not try a skiing or sailing lesson? There are more and more options for extreme sport taster lessons becoming available, and instructors to aid you along the way. Or why not take the leap and book yourself in for a skiing holiday (with winter sports insurance)?
Gardening
It may not sound like much of a thrill ride, but getting out into the garden for even an hour each week can make a world of difference. Getting the fresh air in your lungs and making your flowerbeds beautiful will give you some good gentle physical and mental exercise.
Scientifically proven to aid lowering blood pressure, increase brain activity, and produce an upbeat feeling, taking control of your garden provides a psychological effect that reduces stress and anxiety.
The use of 'healing gardens' is becoming ever more popular as a rehabilitation recovery for patients who have been through physical trauma or suffer disabilities.
Start small. Grow some potatoes or onions literally by just sticking one in an old bucket of soil, or maybe try your hand at a herb garden. You get some tasty treats from it, and everyone knows that home grown tastes best.
Keep Moving & Eat Less Processed Food
Simple. Eat more fresh fruit and vegetables, and less supermarket packed microwave meals. Start at making a simple soup, it's cheap, healthy, and you know exactly what you're putting into your body.
Explore new tastes! To begin, reluctant Muriel (Maggie Smith) lived by "If I can't pronounce it, I don't want to eat it" but grew to love and respect the culture and flavours around her.
Why not try the Mediterranean diet, which is notoriously good for your health. Think fresh and tasty fruit & vegetables, fish, olive oil and even a splash of red wine here and there. Sweet tooth? Try Greek yoghurt pancakes with honey and fruit compote. Always snacking? A handful of nuts to give you a boost of good energy. Keeping meat, dairy and sugar to a minimum, you'll surprise yourself at the amazing diverse dishes you can create. Perhaps even host a Mediterranean themed dinner party.
You must remember to keep moving or you'll find yourself slowly deteriorating. Just 20 minutes of gentle exercise a day will extend your life-span, lower blood pressure, reduce the risk of diabetes and cancer, and generally make you feel fantastic. You could just walk down to the local shop instead of driving, or try sports such as golf, swimming, or yoga which are gentle on your joints, and can easily be made into a weekly social event (with tea and cake after, of course).
Spend More Time with the Family
Nothing makes you feel younger than when you're with children. Their seemingly constant energy and appetite for curiosity and life is contagious. Take the grandchildren to the park or museum, bake with them, and offer to mind them while their parents get a well-deserved rest. You'll learn about modern popular culture and the new technology that you could use to keep in contact with friends and family.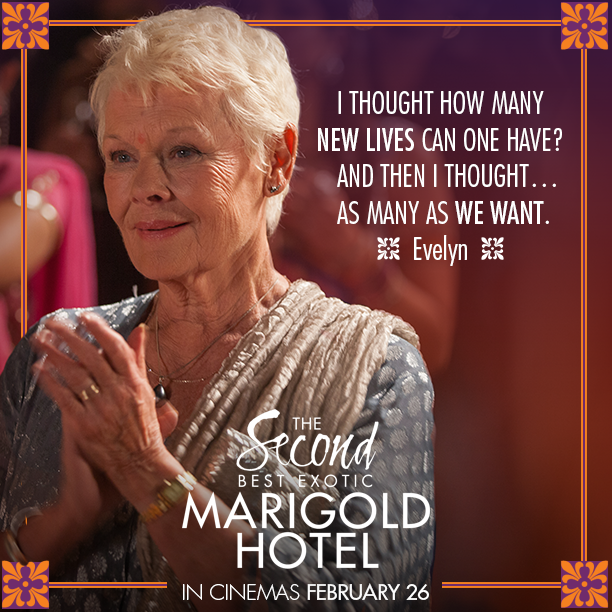 Meet New People
The WI is back and stronger than ever, with many diverse and local meetings happening regularly it's the perfect solution to meeting new friends.
Silverline is a free helpline for older people across the UK, which offers callers information, friendship, and advice. They put people in touch and create friendship calls, emails, and arrange regular group calls and meetings for people with similar interests.
The idea of getting back into the dating game can be daunting, but with modern technology and the social openness of online dating, it's easier than ever. If you've accepted that the chance of meeting someone in the supermarket or the park isn't going to happen, you may want to turn to online dating. You're able to get to know someone over email before making up your mind on whether you actually want to meet them, and you can easily see what you both may have in common.
To celebrate the release of THE SECOND BEST EXOTIC MARIGOLD HOTEL, which is in cinemas now, we have another fantastic prize for you to WIN! A signed film poster by some of the stars of the film!
To be in with a chance of winning, simply tell us what keeps you young at heart, share your stories and suggestions on our Facebook page.
First prize: A signed film poster and The Best Exotic Marigold Hotel on DVD.
8 Runners up will receive The Best Exotic Marigold Hotel on DVD.<br/ >To ensure you are entered into this competition you must send your telephone number and an email address via a direct Facebook message.
Best of luck! Entries close on Thursday 12th March 2015 at Midnight. The winners will be notified by Monday 2nd March 2015 via email and telephone. Autographs on the film poster: Judi Dench, Celia Imrie, Lilliete Dubey, Tina Sesai and the Director John Madden.
This competition is closed.