Celebrating an 80th birthday with a bang
He's been kidnapped by wild Afghan tribesmen and ridden the Great Wall of China on horseback – but all that pales into insignificance when you hear what Cornish explorer Robin Hanbury-Tenison is doing for his 80th birthday.
Most octogenarians would be happy to spend their 80th birthday quietly celebrating with friends and family over lunch. But not if your name is Robin Hanbury-Tenison!
For the sprightly Brit is undertaking a series of gruelling challenges that someone half his age would wince at the mere thought of attempting. His eight labours begin on April 26th when he will attempt to complete the London Marathon – despite not having run since his school days.
Robin plans to complete a challenge for each decade of his life, while raising £80,000 for Survival International, a charity which he helped co-found in 1969.
The seven other challenges are:
Climbing the four highest mountains in the British Isles:

Ben Nevis (1344m)
Snowdon (1085m)
Carrauntoohil (1038m)
Sca Fell (964m)

Skydiving from 4,000 metres
Abseiling down the Titan shaft (141m), the deepest pitch in Britain, and out of Peak Cavern in the Derbyshire Peak District, England's deepest cave
Water-skiing across the English Channel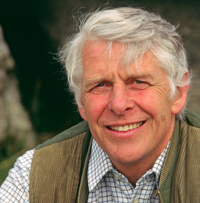 Speaking to Staysure, Robin explained why he was inspired to take on these tough tasks at an age when many pensioners are enjoying being less active.
"It was the shock of realising I was about to enter my 80th year and the determination to prove that it didn't mean I was getting too old," said Robin. "It is a ridiculous age, which has crept up on me unawares and I do not intend to go gentle into that good night. Instead, I shall do my bit of 'raging' by raising lots of money for the cause closest to my heart."
Described as "the greatest explorer of the past 20 years" by the Sunday Times, Robin added that he was least looking forward to the London Marathon, as it was "seriously challenging."
He explained: "I haven't run in a race since I was at school, but I've ridden many miles across deserts on camels and across countries on horses and that involves lots of walking, sometimes 20-30 miles a day."
But asked which challenge he was most looking forward to, he said: "Probably the cave descent, although the 400ft abseil down the Titan shaft into the cave is a bit daunting."
Luckily for Robin he has a lot of friends and family taking part in these fundraising events with him. They include his 29-year-old son Merlin, who is planning to do them all, and his daughter-in-law, Savannah, who is also running the London Marathon.
Asked what advice he would give to people of a similar age who would like to do challenges such as the London Marathon, he said: "If you are fit, go for it. I've never felt better since I started some gentle training. I've just had an MOT from my GP, who said I was probably fitter than she was."
As for the daunting task of raising £80,000 for Survival International, Robin is quietly confident.
Talking about the charity, a global movement for tribal people's rights, he added: "It is the only organisation that champions tribal people around the world. It helps them defend their lives, protect their lands and determine their own futures."
If you would like to sponsor Robin visit his fundraising page or to find out more about the charity visit Survival International.