A retirement "to do" list
Not sure what to do with your retirement? Neither was Ann Capes – so she wrote a "to do" list to keep her occupied and ended up volunteering in Africa, thanks to a Staysure Travel Insurance policy.
It all started when Ann Capes decided to write a "to do" list after retiring in 2013. The grandmother of eight had been working as a teaching assistant at a secondary school in Balderton, Nottinghamshire, for 21 years – but wasn't quite ready to stop working. On her retirement bucket list was a visit to the Great Wall of China, Australia and Thailand, as well as a trip to Uganda to run a holiday club with a volunteering organisation called Mission Direct.
"I didn't want to do what retired people do such as rambling, the University of the Third Age and the Women's Institute," joked the 66-year-old. She continued: "I guess I was envious when reading about other people's experiences. I thought, yes I can do that, why not? Also, I had worked in a secondary school and did not want to stop enjoying the company of young people. It's a cliché, but I wanted to make a difference. I didn't feel that I wanted to do touristy things, as I so enjoy my work in the schools. My time and small sums of money spent there are so much more worthy!"
So in November 2013, Ann arrived in Kenya to begin a four-month volunteering position across two orphanages in Gathiga and Kihara, near Nairobi, where she worked alongside 14 Germans, four Canadians and two Americans.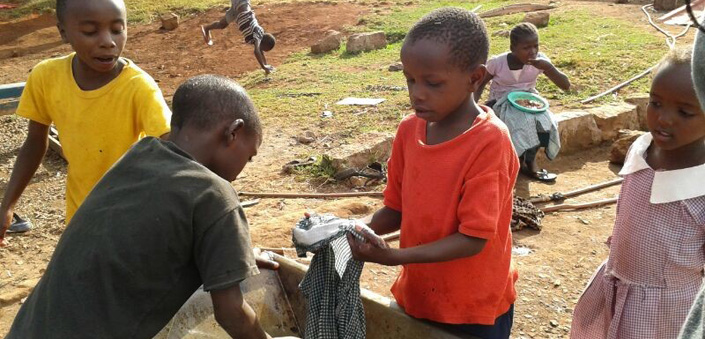 Describing a typical day, Ann said: "We would get up and wander down for breakfast and leave about 9am. It was a 40 minute walk to the orphanage and we were expected to help sort maize, beans, rice and prepare the vegetables, wash clothes and wash-up – all while playing and chatting with the children! When the new school year started in January, we carried rice and water to both schools at lunchtime, otherwise they would not have eaten.
"This left four small children at each of the homes during the day and this is when you have more interaction with them. However, all poor African children just seem happy sitting and playing in the dry earth – as they have nothing."
Ann explained how the food at the orphanage was plentiful, but was mostly carbohydrate based, so many children suffered from malnutrition. Therefore, volunteers would buy meat between them for special occasions and a market seller donated fruit and vegetables to the orphanage on Friday evenings.
"The people were very friendly, smiley and colourful," said Ann. "The food at the homestay where we lived was tasty and different every evening. It had very little meat, but that was not a problem, and we had fruit if we bought it ourselves.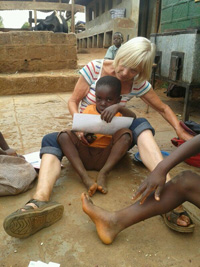 "One of my highlights at the orphanage was the pleasure on the face of a five-year-old boy called Moses when he got his work correct and the enjoyment he got from painting. But the most emotional part for me was the street children sniffing glue to deaden their hunger and pain. I visited them twice at 5am to prepare bread and jam, buy bananas and help serve tea. Former street children from the orphanage would come with us and help wake them up. I don't think we were supposed to feed them, but we all contributed to the food and it was so emotional."
As for the two orphanages, the one in Gathiga had 73 children, while 23 children lived at the orphanage in Kihara, all of whom had AIDS.
Ann told Staysure: "At Gathiga they all appeared to get on well and look after each other. Coming home from school the kids would have to wash their uniform in a wheelbarrow for the following day. Boys and girls of varying ages lived in brick accommodation with about 20 in bunk beds in each dormitory. While at Kihara, the children's accommodation was just aluminium sheets. They all have such aspirations and value their education."
On arriving back in "cold England" in March 2014, Ann wanted to return to Kenya, but because of terrorism in the area, she went to help at a school in Uganda instead.
She explained: "They sat all day from about 7am until 5pm copying from the board – this included children from the age of three. They had nothing to play with, their parents expected to see work in their books and homework. They did not pay for them to go to school to play!
"I took everyday things for them to play with, such as yoghurt cartons. But I felt a bit guilty as they could not afford such luxuries. I was the only volunteer working there, they were so happy to see me they would knock me over when greeting me!" Later that same year in November, Ann returned to Kenya to work in a junior school in the Mombasa District.
Ann, who rents out her flat in the UK to pay for her accommodation in Africa, and lodges with friends while back in England, added: "I'll be returning in June this year and I spend my own money on resources whilst out there. And the question is, do I spend all my lump sum from my pension or not? There are so many families that can't afford fees, uniform, books and shoes."
Ann bought insurance from Staysure as it "covers over 50s for long stays" and covered several pre-existing medical conditions.
When asked about the experience as a whole, Ann added: "It was an interesting time and an amazing experience in a completely different world. I would recommend it to anyone in my situation. It was far more rewarding than a cruise, which is what a lot of people like to do on retirement. As you can tell, Africa is in my blood and I will return as much as I can. They have numerous problems but still remain colourful, smiley and have an amazing faith. I regret not retiring earlier to spend more time there!"
Share your story with us and win a Kindle Paperwhite
It's a great feeling to help our customers achieve their dreams and travel the world. However, it's even better to hear about the wonderful things our cover allows them to get up to whilst they're away!
A lot of our customers do amazing things on their holidays, just take a look at a few of the Real Lives stories we've already received. If you have a story about one of your trips that you'd like to share, we'd love to hear all about it and for every story we receive we'll enter you into a free prize draw to win a Kindle Paperwhite.
Terms and Conditions apply