The extraordinary life of Christopher Lee
From hunting Nazis to releasing a heavy rock album in 2010 – Christopher Lee's life away from acting was nothing short of incredible. Staysure takes a look at the fascinating story of one of the world's most legendary actors.
"The great, always criminally underrated Sir Christopher Lee has left us, a Titan of cinema and a huge part of my youth. Farewell."
Those were the kind words of actor and writer Mark Gatiss after Christopher Lee passed away on Sunday 7 June. The English-born actor died at a London hospital after being hospitalised with heart failure and respiratory problems. Sir Lee was behind many of cinema's most nefarious characters, including Dracula and Frankenstein's monster in the classic Hammer Horror films. Other famous movie roles included Scaramanga in The Man with the Golden Gun, the evil wizard Saruman in The Lord of the Rings and the lightsaber-wielding Count Dooku in the Star Wars prequels.
In fact, the veteran actor entered the Guinness Book of World Records in 2007 for most screen credits at that time in his career after appearing in 244 movies! He has since increased this by a further 14 movies, with a 15th due later this year called Angels in Notting Hill. But as Mark Gatiss points out in his touching tribute, Sir Christopher is "criminally underrated" and an actor of a calibre we are unlikely to see again.
For starters, did you know that Lee:
Is descended from the Holy Roman Empire's first Emperor, Charlemagne?
Or that he was related to James Bond creator Ian Fleming, who originally wanted Lee for the role of Bond?
Furthermore, that he spoke fluent Italian, French, Spanish and German, and could hold a conversation in Swedish, Russian and Greek?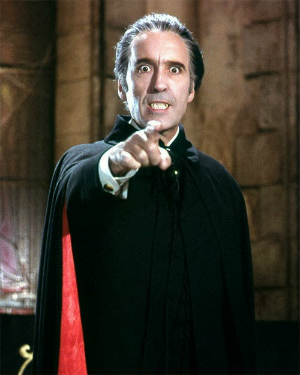 Born in London in 1922, Lee was the son of an army officer and an Italian Contessa. He attended public school and at 17-years-old witnessed the death of the last man to be executed by guillotine in France (later in life Lee also became friends with Albert Pierrepoint, the last Hangman of England, as Lee occasionally drank in his pub). He went on to serve in the Royal Air Force during the Second World War, but had to give it up after blacking out while mid-flight. So he became an intelligence officer with the Long Range Desert Patrol (LRDP), a forerunner of the SAS. During this time he also helped retake Sicily, contracted malaria six times in one year, climbed Mount Vesuvius three days before it erupted and was the first person to enter the Vatican Museum after the end of the Second World War!
Lee said: "I was attached to the SAS from time to time but we are forbidden – former, present, or future – to discuss any specific operations. Let's just say I was in Special Forces and leave it at that. People can read in to that what they like."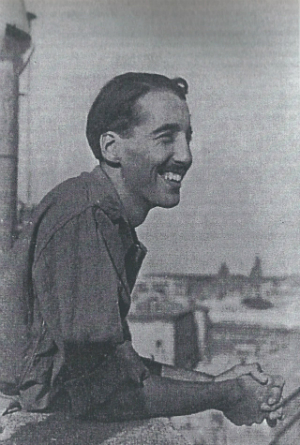 After the war ended, Lee returned to London in 1947 at the tender age of just 25. Unsure what to do with himself and not keen to work in an office, he only became an actor after his cousin, the Italian Ambassador, suggested it. But he was told that he was too tall, too dark and too foreign-looking to be an actor.
Commenting on the early years of his acting career, Sir Christopher said: "I was around a long time – nearly ten years. Initially, I was told I was too tall to be an actor. That's a quite fatuous remark to make. It's like saying you're too short to play the piano. I thought, "Right, I'll show you…" At the beginning I didn't know anything about the technique of working in front of a camera, but during those ten years, I did the one thing that's so vitally important today – I watched, I listened and I learned. So when the time came I was ready… Oddly enough, to play a character who said nothing (the Creature in The Curse of Frankenstein)."
Other lesser known facts about the veteran actor include the tale of a swordfight with a drunken Errol Flynn during the filming of The Dark Avenger in 1955. According to an anecdote from his autobiography, Flynn almost cut off Lee's little finger, forever scarring and misshaping it. Years later, a rematch was filmed for Flynn's TV show. Flynn was supposed to duck while Lee took a swing at him. The swing would go over his head, while lopping the tops off the candles on a candelabra standing behind Flynn. Lee managed the extremely difficult manoeuvre, successfully chopping the candles down. Unfortunately, he also took Flynn's wig off his head. Flynn walked silently off set. It took over half-an-hour to persuade him it had not been deliberate.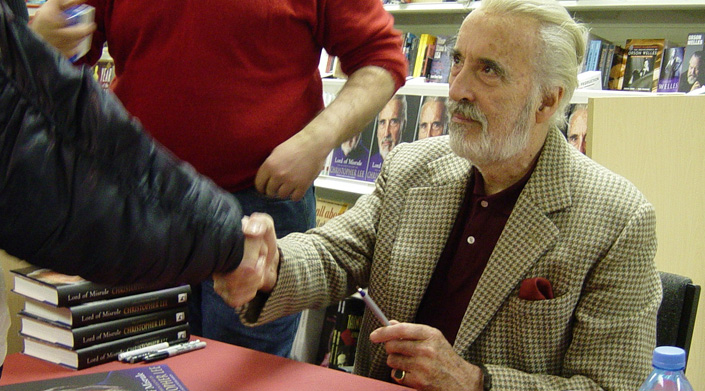 Another fascinating fact happened to Lee in the 1950s after he got engaged to the daughter of Count Fritz von Rosen, Henriette. After hiring private detectives to spy on Lee, the Count said Lee couldn't marry his daughter unless he got the blessing of the King of Sweden, which you guessed it, he managed to get.
In the mid-1960s Lee was becoming worried about being type cast in Hammer Horror films. But he was talked into doing the 1966 movie Dracula, Prince of Darkness, after film bosses convinced him that a lot of people would lose their jobs if he refused. Being the gentleman that he is, Lee agreed to do the film, but was so appalled by the poor script that he refused to utter a single line during the flick, which is why Dracula only hisses and yells throughout the film.
Perhaps one of the most adorable tales of Lee however, is how he got the part of Saruman the evil wizard in The Lord of the Rings trilogy. A huge Tolkien fan, Lee was the only actor from the films to have actually met Tolkien, after he randomly met him in a pub. Lee is said to have received Tolkien's blessing to play Gandalf after their encounter (although he ended up playing Saruman instead).
So you can imagine Lee's excitement when Lee discovered the books were to be turned into movies. He was so eager to get a part, he took a role in the 1997 TV series Robin Hood, so he could prove he was capable of playing a wizard. He then wrote to Peter Jackson asking for a role, with a photo of him dressed up as a wizard – which obviously impressed the film director.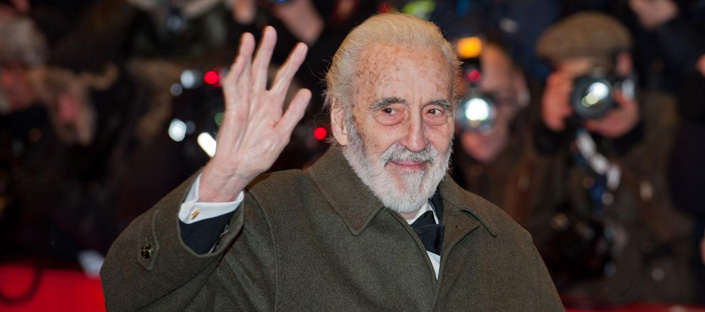 Another somewhat eyebrow-raising insight into Lee's life happened while filming of Return of the King. Rumour has it that Jackson was describing to Lee how being stabbed in the back should sound, when Lee turned to Jackson and said he already knew how it sounded. Asked how, he replied: "Because I do."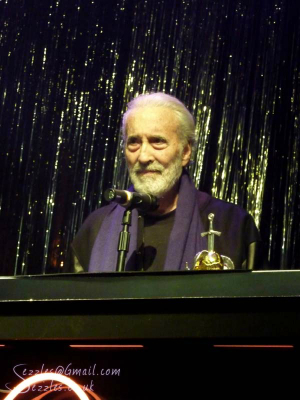 Unbelievably, opera aficionado Sir Christopher also found time to launch his singing career in the 1990s with an album of Broadway hits. And in 2010 at the sprightly age of 88, he became the oldest musician ever to hit the Billboard music charts after releasing his first heavy metal album. Called Charlemagne: By the Sword and the Cross, the album won the Spirit of Metal award from Metal Hammer magazine. Not only that, he then released an album of heavy metal covers to mark his 92nd birthday last year and a metal Christmas album in 2012 that included a cover of "The Little Drummer Boy" with the lyrics: "I have no gifts for you pa-rum-pa-pum-pum."
Not surprisingly, he has more awards than you can shake a lightsaber at. For example, in June 2001 he was created a Commander of the Order of the British Empire in recognition of his services to drama. He was knighted in 2009 for his services to drama and charity and was awarded a Bafta fellowship in 2011.
So there you have it, the incredible and at times, almost unbelievable life story of Sir Christopher Lee. But the question is, which of his many films did you like the most? Let us know on Facebook!