A guide to Budapest's thermal baths
Budapest bubbles with the therapeutic indulgence of spas and thermal baths. These are the city's social meeting places and some of the finest buildings to find anywhere in Eastern Europe.
Natural steam rises, ornate sculptures look upon open pools, and chess players meet in delectably warm baths. These exquisite baths ensure your Budapest holiday is always relaxed and rejuvenating.  But which one (or two or three) to visit? And what happens when you get there?
A brief history of Budapest baths
Before soaking into the soothing waters, here's some quick history. Budapest has always stood on a river of thermals, which was why the Romans built a city here in the first place. These 2,000 year old spas are now in ruins but a new set of baths sprung up during 16th century Turkish occupation. The Turks imported the glamour and luxury of their traditional hamams, encasing the spas in buildings fit for royalty. It's since become a local obsession and Budapest is the only capital city in the world with natural healing waters.
How Budapest baths work
You don't need excess luggage on a Budapest holiday. Visit any of these baths and all you need to bring is a swimsuit and towel. Upon arrival you're shown to a changing area (usually private) and a locker for your belongings. Put on the plastic wristband and you can explore any of the indoor and outdoor facilities. Most locals like to bring two towels; one for using in the spa and one for the shower afterwards.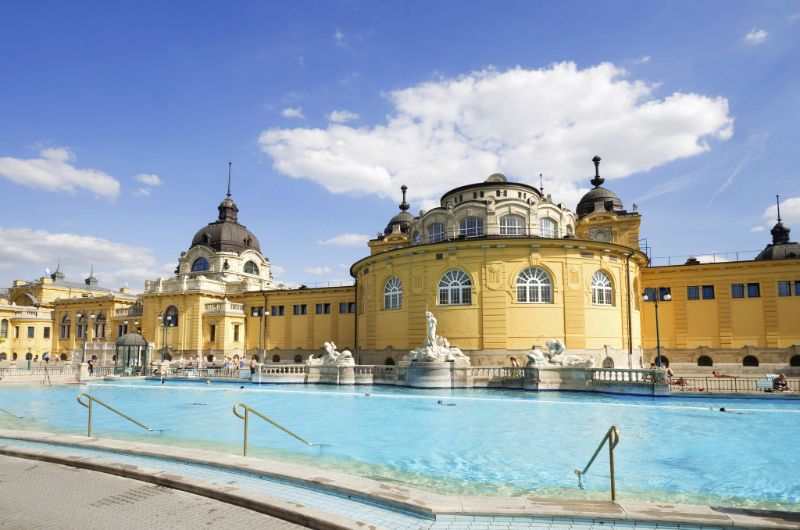 Budapest's six historic thermal baths:
1.  Szechenyi Baths
A Roman ambiance of grandeur surrounds this huge bathing complex on the Pest side of the city. It's easy to get lost here, either in a tiny Greek bath tub or one of the dozens of saunas that encircle the central pools. These are amongst Europe's largest public baths and there are 18 indoor and outdoor pools to choose from. Such a huge complex means you can always find a little privacy. Szechenyi combines a little of everything and these baths are a good choice if you want to occupy a whole day on your Budapest holiday. As well as the bath's history for curing joint problems, you'll also find a huge range of massage treatments to relax the muscles.
2. Lukács Baths
Marble tablets glitter across the courtyard of Lukács, the baths locals choose when they seek rejuvenation and hundreds have been healed here. The tablets are inscribed with thank you tales to the therapeutic waters. Lukács natural spring water has been recommended to treat stomach and intestinal problems, as well as kidney stones, nephritis and bone problems.

3.  Gellert Baths
Built in a timeless art nouveau style, Gellert Baths are perhaps the most picturesque of Budapest's baths. Bearded intellectuals play chess in marbled thermal pools while the central swimming pool has an elegant Romanesque appearance. Sunlight flickers in through stained glass windows, casting colourful tones on strange mosaics and columns. It's a serene and sublime place to spend an afternoon. Furthermore, the water is known for treating asthma, bronchitis and various circulatory problems. Note that most of Gellert is single sex with different baths and saunas for men and women from Monday to Saturday.

4.  Rudas Baths
Rudas is one of Budapest's oldest memories from Turkish rule. Still standing after almost five centuries, the baths are centred on an iconic domed roof and octagonal pool. These are small baths and they can get crowded; visitors generally come to ogle the architecture and then spend longer hours submerged at other, larger baths. Tuesdays here are for women; weekends are mixed; and the other days for men only. Stay a little longer and the calcium rich thermal water is reputed to be great for bone and vertebrae problems.
5.  Kiraly Baths
Like Rudas, Kiraly Baths offer a timeless journey towards the sultans of Istanbul. These mixed bathing baths are very small and popular with older locals, unsurprisingly given their track record for healing joint inflammations and back problems. They date back to 1565 and, while they're not pristinely clean, the dome-topped pool and charming atmosphere make these baths a hit on most Budapest holidays.
6.  Csaszar Baths
Recently restored to their 16th century beauty, Csaszar Baths remain virtually unvisited by tourists. An octagonal pool is the centrepiece, a place for older locals to socialise and wile away time until their toes crinkle. While the baths look old, they've been enhanced by modern spa facilities and a salubrious massage area. If your idea of a thermal bath looks a little like a luxurious hotel spa, then Csaszar is the place to come.