Dramatic, enchanting and beautiful: exploring Gran Canaria on foot
For mature travellers ready to explore on foot, the best treasures of Gran Canaria are waiting for you. This volcanic island is one of many contrasts; from desert-like landscapes to lush pine forests and dramatic mountain ridges, a new discovery waits around every corner. There are natural monuments, hidden wildlife and ancient caves dug into the cliffs. Those who stay on the beaches are missing out on some of the most dramatic and spectacular views around, so grab your walking shoes and explore Gran Canaria on foot. Here are just a few of the stunning offerings not to miss on your package holiday in Gran Canaria.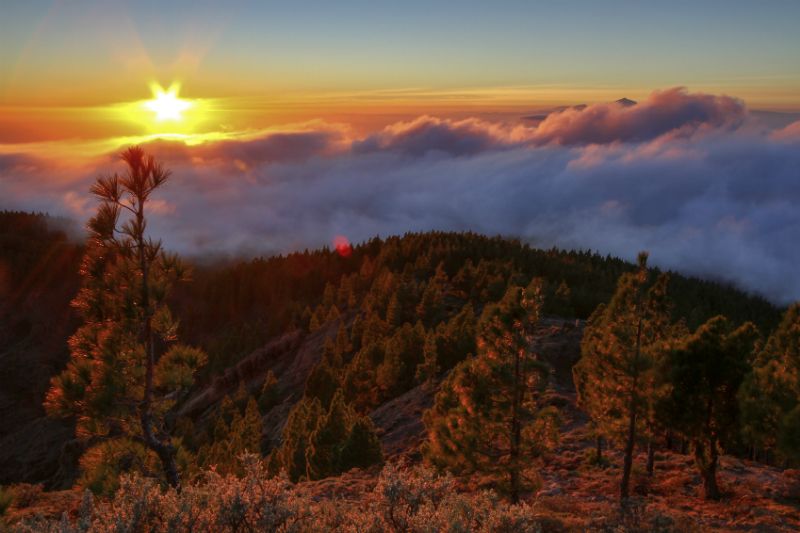 Pico de las Nieves
Rising up 1,949 metres (6,394 feet) above sea level, Pico de las Nieves is Gran Canaria's highest peak, from which you can see half of the island, and even Tenerife's Pico del Teide, on a clear day. At the top of 'peak of snows' there is a viewing platform just below the military base that occupies the top of the plateau, and on its sweeping, volcanic slopes there is a forest of Canary Island Pine trees stretching out below as you stand atop Gran Canaria.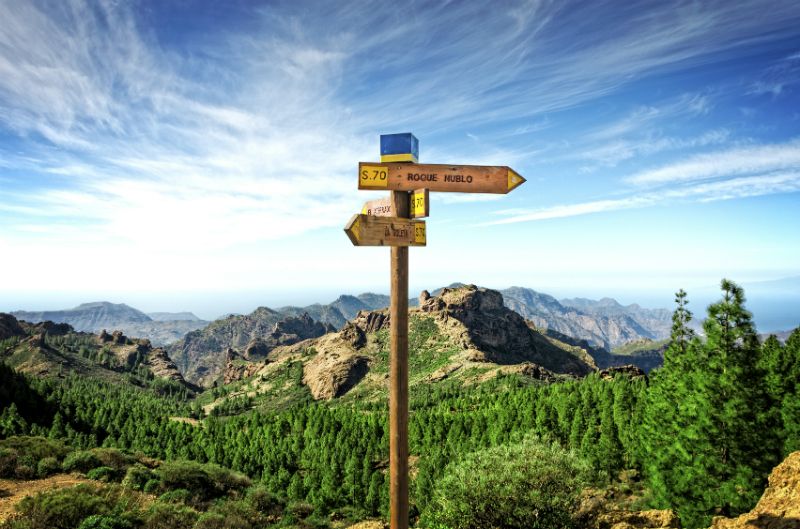 Roque Nublo
At 80 metres (262 feet) tall and rising 1,813 metres (5,948 feet) above sea level, Roque Nublo, or 'Cloud Rock', is Gran Canaria's most distinctive landmark and the second highest peak on the island. Located in the Tadeja region, it is visible from many of the paths and mountain ridges you'll follow while exploring the island. Made of volcanic rock and protected as a natural monument, this peak is well worth the trek.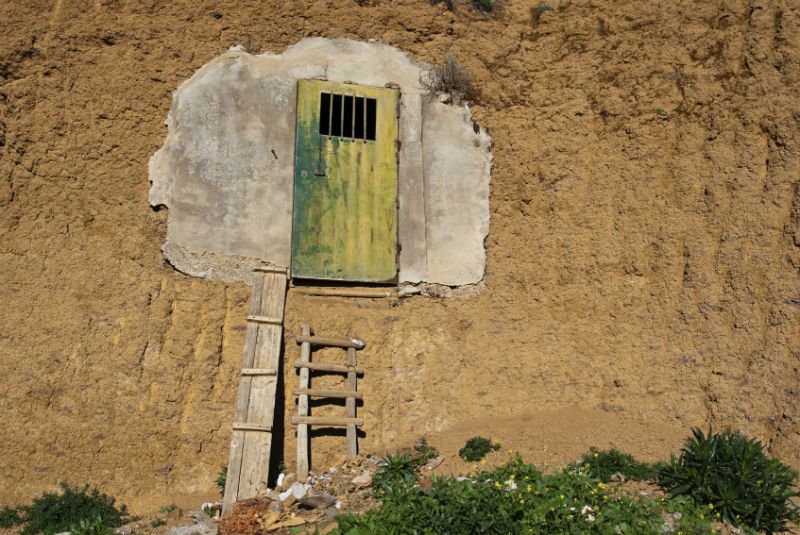 Mountainside cave dwellings in Acusa
Acusa is notable for the dwellings and caves built right into the Cliffside. The ancient caves were carved out using bone and stone and used as homes, burial sites and granaries. There are currently between 400 and 500 homes in use today and residents have incorporated the caves into larger houses, or simply added a secure frontage and door. The number of caves shows that Acusa was once a large settlement and some are even rented as holiday homes.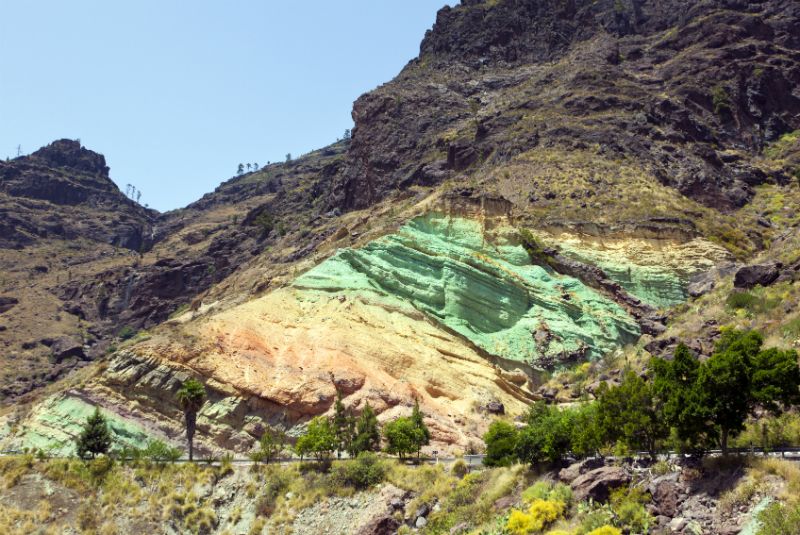 Aldea Pass
The undulating trail of the Aldea Pass is noted for the unusual walls of Los Azulejos; a large rock formation that is brightly coloured in vivid layers of blues, greens, oranges, pinks and yellows. The pass is an ancient pathway that once connected three villages – La Aldea, Tasarte and Veneguera – and is a beautiful, natural phenomenon to behold.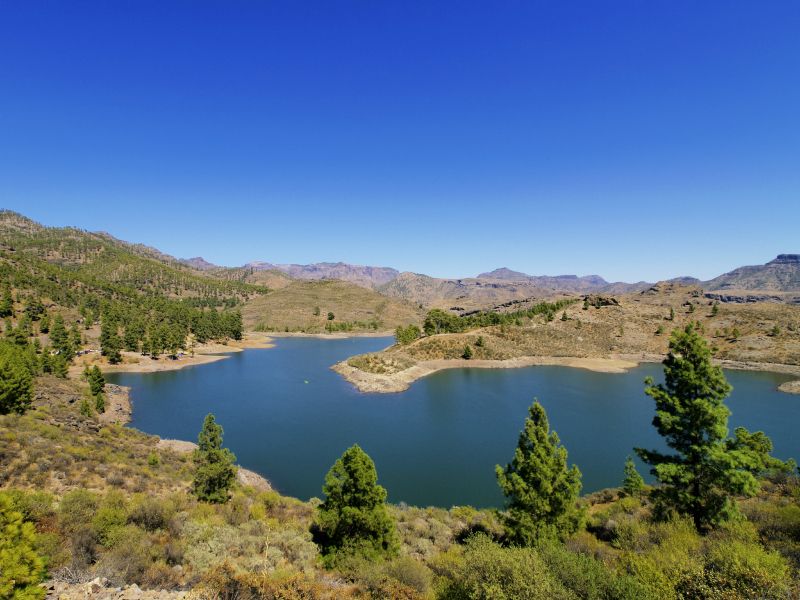 Lake Chira
Created by the construction of the huge Chira dam, Lake Chira is a magical rest-stop while on your walking tour of the island. Surrounded by the rough, volcanic mountains that make Gran Canaria so distinctive, the lake is particularly popular with carp fisherman and home to a varied habitat of birds, fish and other delightful wildlife.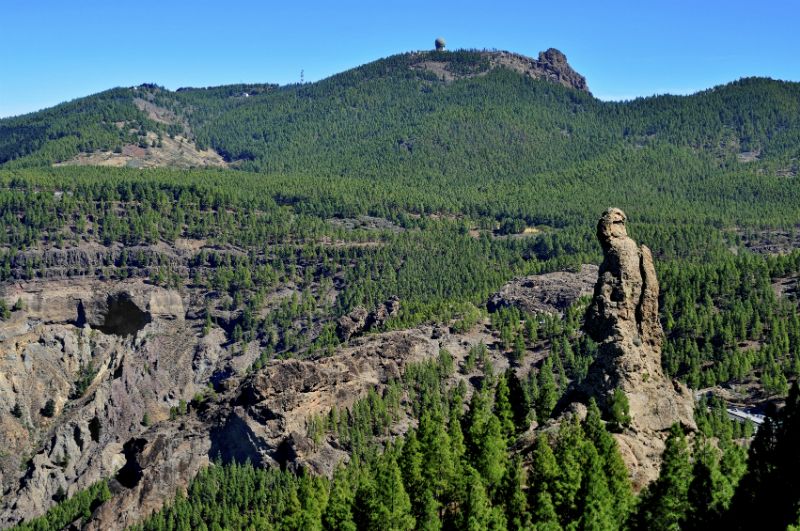 Canarian firs of the Inagua Forest
The magnificent mountains of Inagua are home to a large and lush Canarian fir forest, which has helped to conserve the soil. With this habitat created by the firs, fertile soil and steep ravines, comes a variety of other flora, as well as wildlife such as the blue chaffinch.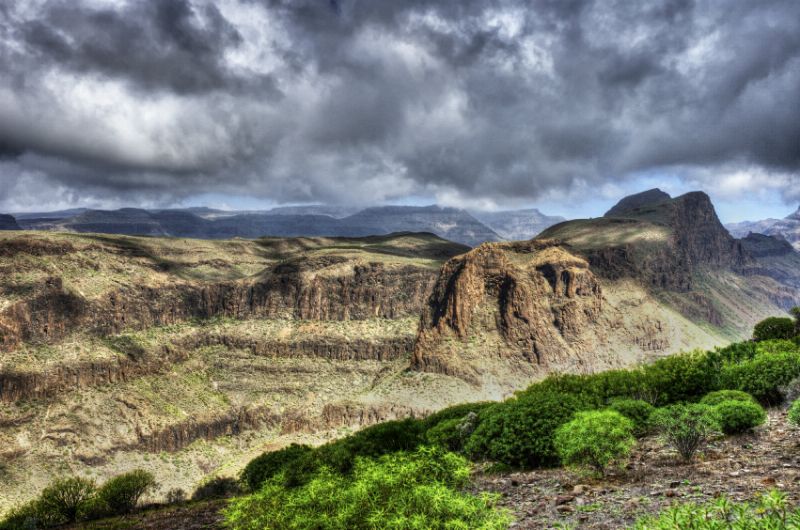 Degollada de Becerra Viewpoint
The magnificent views from this, one of the many lookouts in the 'mirador' network, need to be seen to be believed. From this viewpoint you are rewarded with the distinctive skyline of Gran Canarian mountains interlocking and overlapping into the distance. The huge gorge serves as a dividing line between Vega de San Mateo and Tejeda and is surrounded by two dramatic mountain ranges in the North and South; the Montañas de la Almagria and Las Mejoranas respectively. The gorge was once the volcanic centre of the island, and while looking out at the rock formations, volcanic mountains and pine trees you may feel as if you are almost looking back in time.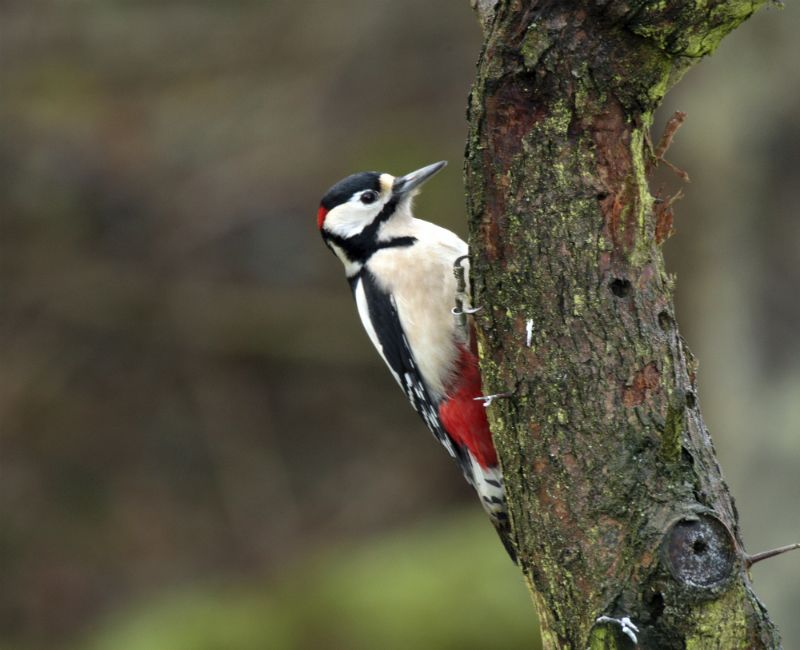 Tamadaba National Park
Perfect for birdwatchers, this lush green national park is full of a wide variety of birds and is in fact home to most of the birds on the island. In this network of canyons, cliffs and pine forests, look out for the great spotted woodpecker, blue chaffinch, pine hawks, kestrels, peregrine falcons, bakers, shrikes, pipits and ravens, as well as many others. This beautiful park, humming with birdsong, provides a thriving refuge for these enchanting creatures.
If you are planning a holiday to Europe and like to get out and explore on foot, make sure Gran Canaria is on your shortlist. With a huge network of popular walking paths, rest stops and hidden gems to discover you won't be disappointed. Mountain ridges, steep gorges and enormous valleys are all waiting beyond the beach on a holiday to Gran Canaria.