Explore Santorini's wineries
Santorini is renowned for its wine, and with good reason – it is frequently argued, by locals and foreigners alike, that the island is home to some of the most enticing wines in all of Greece.
There are several fascinating wineries on the island so be sure to schedule a trip to a winery during your stay. Here are some of the many wineries to be found on the island:

Koutsoyannopoulos
Koutsoyannopoulos winery and wine museum is a fascinating destination. One of its most attractive features being its location – the museum is situated eight metres underground in a natural cave.
The wine museum gives an overview of approximately 400 years of Santorini's unique winemaking history, and is owned by one of the island's many wine making families.
You will be guided through the chronologically organised winemaking equipment by an audio guide, all within the confines of this geologically impressive cave, and when the tour ends, you will have the opportunity to try some of the wines being produced there.

Estate Argyros
Founded in 1903, this winery is well known for producing impeccable wines with strong, often fruity, flavours.
The winery solely uses grape varieties that are indigenous to this stunning island – their award-winning wines are served at numerous Santorini hotels and restaurants.
Members of staff are incredibly knowledgeable and friendly. If you like dessert wines, you may be impressed by the Vinsantos, while the oak matured Assyrtiko could captivate fans of white wine.

Santo Wines
As one of Santorini's largest, most technologically advanced wineries it would seem absurd not to mention Santo Wines.
With modern winemaking equipment, which still fits with traditional methods, Santo Wines is fascinating in the way that it is built on five different levels.
You're likely to notice here, and at other vineyards on Santorini, that the vines are not grown in lines as you may be accustomed to seeing, but rather grown in tight bunches, close to the earth. This helps to protect the plants from the sea air.
 
Canava Roussos
With Santorini's rich volcanic soil, over 200 years of family tips for winemaking and the unique climate all play a part in the production of some excellent wines, the most famous being the traditional Nykteri and the previously mentioned Vinsantos.
This winery even has its own taverna, which serves delicious typical Greek foods made from fresh local produce. The combination of fantastic food, exceptional wine, and stunning views make this a must-visit attraction.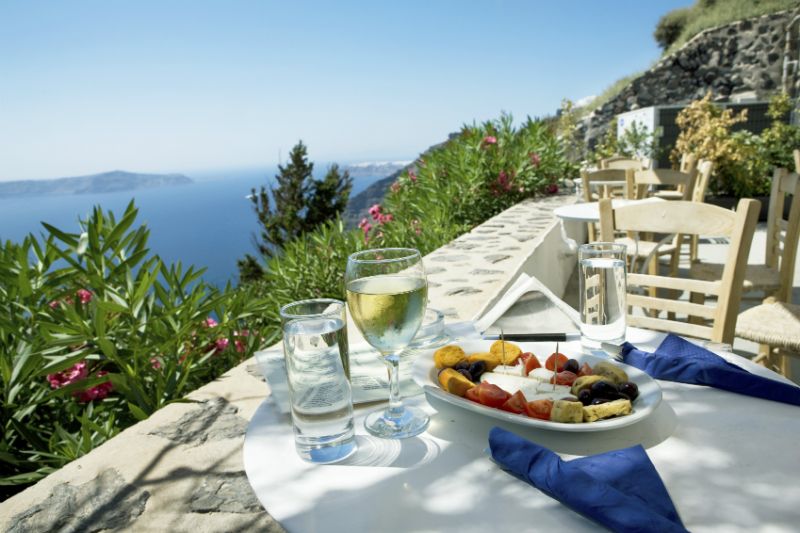 Domaine Sigalas
This winery has brought home a number of international awards for their superb wines despite being relatively small.
If you're travelling in a group, Sigalas may be of particular interest, as the winery can organise dinners for 4-10 people, allowing you to taste traditional culinary delicacies along with the fantastic wines.
It's worth noting that if you are particularly interested in wineries, and wish to visit a number of them over the course of your stay, there are options for tours that include trips to multiple locations.
Santorini Wine Adventures is a prime example of such a tour provider – tours can be tailored to suit your individual requirements, whether you're particularly interested in food, history, or the local scenery.
They may also enable you to combine your wine tour with a cooking course, which allows you to take the unique flavours of Greek cuisine home with you.