Holidays in Madrid away from the historical sites
The capital of Spain is a city steeped in history, from key landmarks such as the Royal Palace and Almudena Cathedral to stacks of plazas, churches and museums. Setting these to one side, there are lots of other things to see and do on a city break in Madrid.
Here are some non-historical options:

Go shopping
Madrid is a mecca for shopaholics and has retail therapy covered from flea markets and funky boutiques to ceramics and stylish home ware. If you're after bargains and offbeat shopping, try El Rastro, the most popular open air market in the whole of Spain. It's held every Sunday and public holidays and sprawls through the area between Calle Embajadores and Rondo de Toledo.
Market stalls predominately selling clothing line the major thoroughfare, but the real finds such as antiques, jewellery, handbags and so on, both new and used, are located in the side streets.
For arts and crafts, try El Arco de Artesanía in the southwestern corner of Plaza Mayor, which sells a wide range of great homemade designer souvenirs, from jewellery to glass and stone ware accessories for your home. Also check out Antigua Casa Talavera in Calle de Isabel la Católica for first-class ceramics, with everything from tiles to plates and jugs.
For chic boutiques go to Calle Fuencarral north of the Gran Via, and the nearby areas of Chueca and Malasana. The well-heeled are directed to Calle Augusto Figueroa, which is lined mainly with shoe shops. For designer stores, make a beeline for Salamanca in the north east and, in particular, Ortega y Gasset, Goya, Serrano, Lagasca and Claudio Coello streets.

Take in a flamenco show
Madrid is perhaps the best place to see a flamenco show. It's where the top artists are – hundreds of dance academies in the city continue to turn out aspiring greats – and there's plenty of bars, taverns and restaurants to catch the action.
Head to award-winning Corral de la Moreria 'tablao' flamenco restaurant in Calle Morería, next to the Royal Palace which attracts premier artists and is said to serve some of the best Spanish food in the city. Or soak up the atmosphere and the sounds over a glass of wine and tapas at taverns and restaurants such as Casa Patas, La Torre del Oro and Vina Pe. If you're hooked, pay a visit to El Flamenco Vive shop in Calle Conde de Lemos which has a good selection of books and DVDs on sale.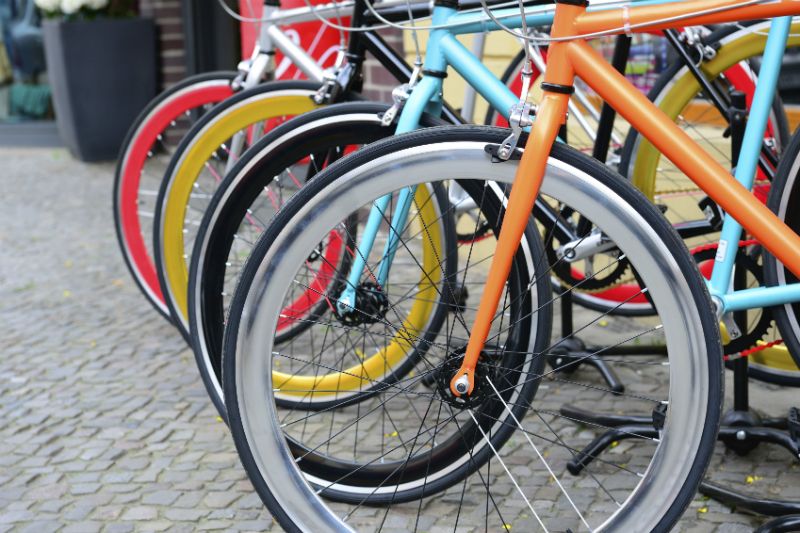 Explore Madrid by bike
Joining a guided bike tour is a great way of exploring this city when you're on your holidays in Madrid.
Several companies offer tours, usually taking in the main sights and  some of the less-known, more out-of-the-way spots. Try Bravo Bike which has English-speaking guides. Their tour takes three-and-a-half-hours and mostly uses traffic-free zones.

Chill out in El Retiro Park
El Retiro is one of the biggest and loveliest of Madrid's parks. Close to the Prado, this 350-acre open space has a lake that you can take a boat out on, as well as lots of sculptures, monuments and fountains – it used to be a royal park – and usually has lots of things going on to enjoy.
Around the lake area you'll often find puppet shows and street performers. Or you could browse the art galleries in the Crystal Palace, Palacio de Velásquez and Casa de Vacas.
Take a picnic and make an afternoon of it; hire a horse-drawn carriage and tour the park, and see what is claimed to be the only public statue of Satan, inspired by Milton's Paradise Lost. From late May through to early October, the Banda Sinfónica de Madrid give free orchestral concerts every Sunday at midday from the bandstand near Calle Alcalá.

Breakfast Madrid-style at San Gines
Most people booking holidays to Madrid will at some time opt to dine on tapas. But those with a sweetish tooth ought not to miss out on breakfast Madrid style. San Gines is something of a Madrid institution, having opened its doors in 1894. Located in the Pasadizo de Gines, this café is the perfect place to enjoy chocolate and churros (pastries).
Another great Madrid institution worth checking out in the evening is La Escalera de Jacob in Calle de Lavapiés. This intimate venue stages entertainment including live jazz and magic shows, and serves cocktails found nowhere else. Their fray aguacate is made up of Frangelico, vodka, honey, avocado and vanilla. The results are said to be sensational.