Holidays in Milan with a focus on culture
Holidays in Milan offer lots to see and do, from frescoes ad fashion to food, football and even canals with most of its attractions and sights located within a compact area. In no particular order, here are six interesting and cultural attractions that may help whet your appetite:

Leonardo da Vinci's Last Supper
One of the world's most famous artworks is The Last Supper by Leonardo da Vinci. The fresco covers one wall of the former refectory of the Santa Maria del Grazie church and is Da Vinci's most famous religious and only surviving wall painting. It is only one of a small number of artworks that he actually produced as recently highlighted during an exhibition in London.
Unfortunately Da Vinci wasn't trained in the technique together with his poor choice of materials and the humid conditions, meant it began deteriorating almost immediately. The latest restoration, one of many, took 20 years to complete; five times longer than Da Vinci took to complete the work.
Nevertheless, it's a must-see but because of its popularity, tickets tend to sell out well in advance.

Brera Art Gallery
The Pinacoteca di Brera, or Brera Art Gallery has one of the finest collections of Italian art in the country and among the highlights are works by Bellini, Mantegna, Rapahel, Rubens, Caravaggio and Titian.

Beyond the Renaissance
The Museo del Novocento has splendid views of the Milan's cathedral and once entertained speeches from Mussolini to rapt crowds below. These days it houses work by Klee, de Chirico, Modigliani, Picasso, Kadinsky, Matisse and Mondrian.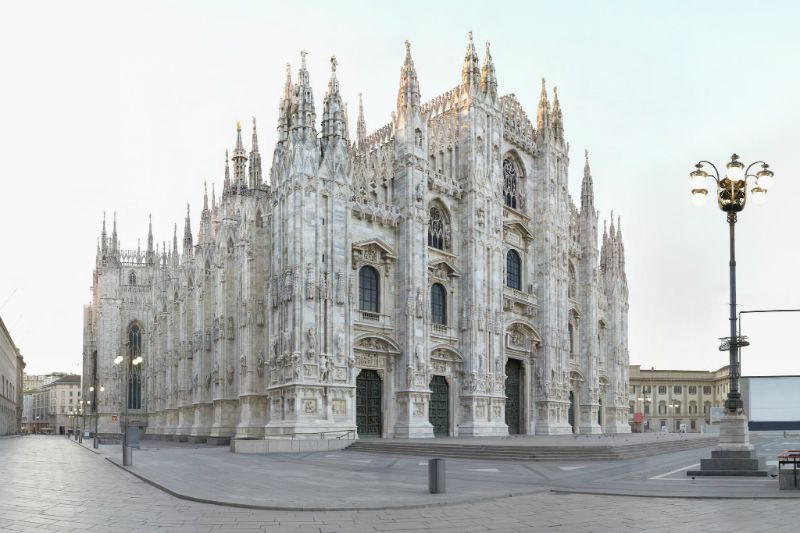 Milan Cathedral
The Duomo di Milano, or the cathedral of Milan, is a Gothic cathedral that took six centuries to complete; it is the largest in Italy and the fifth largest in the world. It contains many fine monuments, including three magnificent altars by Pellegrini.
Though deemed an artistic failure by Oscar Wilde, its views from the top were hymned by Mark Twain and Percy Bysshe Shelley, Tennyson and Henry James.

Festivals in Milan
Milan hosts a number of festivals throughout the year, and if you are thinking of booking a hotel to explore its cultural attractions, you may want to keep in mind some of the following:
Settimana dei Beni Culturali, in early spring as all the museums and galleries are free.
Milano d'Estate (June- August), which sees concerts by the likes of REM and Radiohead.
Notturni in Villa festival (June-August), which consists of classical and jazz concerts in villas across Milan. Entry is free, and you can check local press for details.
Festival Latino Americando (mid June-mid August), which celebrates all things Latin American with more than 60 concerts, exhibitions, cinema screenings and more.

Other attractions
The Theatro alla Scala, inaugurated in 1778, is one of the most famous opera houses in the world. Most of the finest opera singers in Italy and the world have appeared here in the last 200 years, from Callas to Pavarotti and more.
It has also staged premières of many famous operas, including Norma by Bellini, Nabucco by Verdi and La Boheme by Puccini.
The venue also includes a museum, which includes a collection of costumes, paintings, statues and drafts relating to the history of the opera house, and may be well worth exploring.
Other places you may want to consider exploring during your holiday include the Fondazione Prada, which stages international contemporary art exhibitions as well as video installations, and the Museo del Cinema, which may be small but numbered Capra and Hitchcock among its fans.
Highlights include early Italian moves into moving pictures. These include works by the Lumiére brothers and original sketches by the director Luchino Visconti for his film Senso.