The top 'must-dos' while on holiday in Corfu
The Ionian island of Corfu has been wowing visitors to its shores for an eternity. This original Greek holiday destination still attracts a firm following of both new and repeat visitors each year.
It's not hard to see why holidays to Corfu are so popular considering its stunning, lush scenery, miles of golden beaches, ample restaurants, shops and bars, as well as plenty for the culturally inclined to enjoy.
Here are our top 'must-dos' to help you plan your itinerary when staying on this much-loved Greek island:

Wander around Corfu town
Corfu town, or Kerkyra as locals call it,is conveniently situated midway between the north and south of the island and is easily accessible from mostCorfu hotels and resorts, making for an easy day trip.
The old quarter is bursting with pastel-coloured buildings, tranquil squares and architecture influenced by the Greek, Venetian and French styles, earning the area UNESCO World Heritage status. Wander around and you will soak up the atmosphere, stopping off at the Byzantine Museum and Asian Art Museum for some cultural insight. Don't miss the two forts on the edge of the old town to enjoy the far-reaching views below.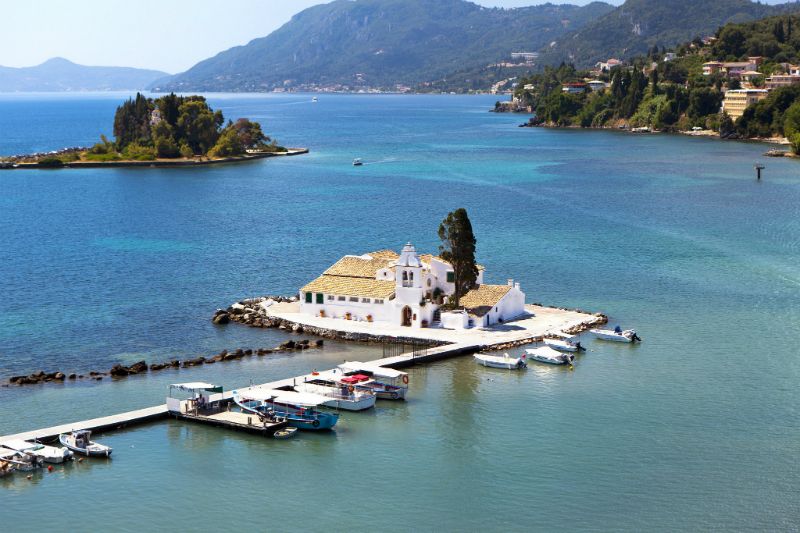 Take a photo of Mouse Island
Mouse Island, or Pontikonisi as it's officially known, is Corfu's most iconic image, and taking a photo of this much-famed island is nigh on obligatory. Even better, you can take a peaceful boat ride out to the island, home to a small Byzantine chapel and a clutch of billowing trees.

Visit Paleokastritsa
Located on the north-west of the island, Paleokastritsa is one of Corfu's prized gems, and deserves some of your holiday time. The views are simply stunning with a lush green hinterland and coastal cliffs plunging into the azure waters of the Ionian Sea. The sandy beach is a star attraction, making perfect swimming territory, whilst boat excursions can take you to the surrounding caves and grottos.
The other highlight of Paleokastritsa is its monastery, which dates back to the 1700s, and you can also visit a small museum there, containing interesting artefacts.

Go hiking
Many people think that Corfu package holidays are all about lazing in the sun, and whilst this certainly can be true, there's also plenty to satisfy those who want to be active during their stay. One of the top ways to do this, whilst allowing you to see some of the island at the same time, is to experience the Corfu Trail. This marked hiking route covers 137 miles, from north to south and is prime walking territory, where you can take in breathtaking views and a mix of landscapes on the way. Of course, you don't have to traverse the entire trail, but dipping in and out of it at sections along the way can offer a rewarding opportunity to savour the local flora and fauna. It's a good idea to come in spring when the heat is less intense and the flowers are in full bloom.

Step back in time
Corfu package holidays may have paved the way for commercialism, but the island is also surprisingly rich with old buildings and monuments that give a glimpse into the island's intriguing history.
There are plenty of places of interest for the keen historian or for those seeking cultural experiences, whether you like castles, palaces, churches or old ruins. The Byzantine Gardiki Castle, for example, perched above the pretty village of Gardiki, is worth exploring, and makes for a beautiful setting among olive groves.
Achillion Palace in Gastouri is also a stunning example of architecture, set in attractive landscaped gardens that deserve attention. Built in 1890, the palace is the birthplace of Prince Philip and also featured in the James Bond movie, For Your Eyes Only.

Head out on a boat
Boat trips on the beautiful Ionian waters are popular and can be a highlight of holidays to Corfu. The trio of islands to the north-west of Corfu make for interesting excursions, whilst you can even sail to neighbouring Albania to explore the impressive Roman ruins of Butrint at Algi Saranda.