A long overdue family Christmas
After 14 long years Staysure customer Catherine Davies finally got to see her two sons at Christmas in Portland, Oregon – thanks to a Staysure policy.
Family get-togethers can be a bit tricky when your family lives on the other side of the world. And that's especially true for English retiree Catherine Davies who has not one, but two sons living in Portland, Oregon.
Her sons emigrated to the western side of the USA several years ago after they both fell in love with local women. Her 37-year-old son Kjell was working in the city after leaving university, when his younger brother Pieter, now 30-years-old, came out to visit for a few weeks holiday, and also met a beautiful, Portland woman.
Putting the distance into perspective, Catherine, who is a former aircraft mechanic for the Wrens, told Staysure: "They are nearly as far away from New York as we are!"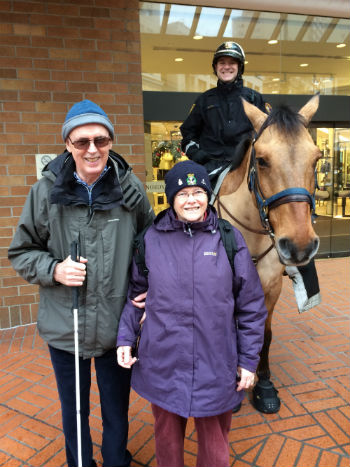 But it wasn't just the distance that prevented Catherine and her husband Rob, the boys' stepfather, from visiting them in Portland. Rob, aged 72, isn't only totally blind, he also has a number of medical conditions that made it difficult for him to find travel insurance for their trip.
Catherine, who lives in Alnwick, Northumberland, said: "We were due to visit them last summer. Unfortunately, my husband was diagnosed with severe heart failure in December 2013. This was discovered when he went to have a check-up with a cardiac surgeon as he was collapsing frequently and no one knew why.
"She immediately admitted him to the Coronary Care Unit and the next day he had a defibrillator and pacemaker implanted in his chest. Obviously no one would insure him for a month in the USA! I was trawling the internet for insurance for us, but he is 72 and I am 68, with several medical issues myself and the answer was no. I was desperate to see my sons and their families and was delighted when Staysure offered us an annual policy with cover for up to 35 days a trip and multiple trips.
"It was the first time in 14 years that we spent Christmas together, with both my sons. It was absolutely incredible. Thank you so very much Staysure, you are a treasure and answer to our prayers."
With their insurance taken care of the couple booked their holiday to Portland – allowing them to spend Christmas Eve with one daughter in law's family and Christmas Day at the other's home.
Catherine told Staysure: "To spend New Year's with my sons and their wives gave me the most indescribable joy. We had a wonderful time and we are just so grateful Rob was able to get insured."
While in Portland the family ventured 4,500ft up into the mountains to visit a high desert town called Bend, which normally receives little or no rainfall. But on New Year's Eve when they visited they were welcomed by thick snow.

"It was wonderful," said Catherine.
Describing Portland, she added: "It's absolutely magnificent. I've been four times now and I love it. It's got 610,000 people living there but it seems like a collection of small villages mainly because there's not much high rise because they are on the San Andreas Fault line. Its unofficial slogan is "Keep Portland Weird". It seems that anything goes in Portland and people are not surprised by what they see. They say all the hippies went to Portland in the 1960s and these are their grandchildren. I don't know whether that's true or not, but it's certainly a very exciting city.
"Pioneer Courthouse Square is a brick amphitheatre called Portland's Living Room, which is in the middle of the city and is surrounded by brick seats. At Christmas around 250 tubas sit in the middle and thousands of people sit around them singing Christmas carols. It's absolutely fantastic and we thoroughly enjoyed it. And for Rob of course, sound is very important."
As for the people in Portland, Catherine said she was taken aback by how friendly they were compared to back home.

She explained: "One thing I noticed was that when you are waiting at the bus stop, anyone who cycles past says hi to you, and when they hear that we have different accents, a lot of them turn around and stop to chat for a while. They are so friendly and we've had some wonderful conversations."
As for the future, a 2,000-mile trip around England and Wales is looming for the keen hill walkers, who plan to visit countless villages, towns and cities during a six-week drive this summer.
Catherine said: "We'll be visiting the Cotswolds, Yorkshire, Teesdale and Wales. So we will do lots of walking. We decided that life is for living and not just for sitting at home. There's so much to see out there in the UK that we've not seen yet. Wales is probably my favourite place, so this year we are spending two weeks in Aberystwyth, and we plan to go whale watching there."
Share your story with us and win a Kindle Paperwhite
It's a great feeling to help our customers achieve their dreams and travel the world. However, it's even better to hear about the wonderful things our cover allows them to get up to whilst they're away!
A lot of our customers do amazing things on their holidays, just take a look at a few of the Real Lives stories we've already received. If you have a story about one of your trips that you'd like to share, we'd love to hear all about it and for every story we receive we'll enter you into a free prize draw to win a Kindle Paperwhite.
Terms and Conditions apply