An unexpected royal encounter in Paris
Linda Burrowes and her friend Sue enjoy the sights and sounds of the French capital – in their latest adventure overseas.
It's not every day that you bump into the Queen and her royal entourage while on holiday. But that's exactly what happened to 77-year-old Staysure customer Linda Burrowes while on a weekend trip to Paris with her best friend and partner in crime Sue.
It was last summer that the adventurous duo decided to visit the French capital, as Sue had never been before and they both fancied "a jolly" somewhere together.
After leaving their home town of Macclesfield in Cheshire, they travelled to Euston and were boarding the Eurostar to Gare du Nord, Paris, when all of a sudden they heard a special person was on the train.
Linda said: "Once the doors had shut there was an announcement to say that Her Majesty the Queen was on board and that there may be a slight delay when getting off in Paris while the Queen alights.
"When we arrived in Paris she walked right past our carriage. I was so excited but I couldn't get my phone out in time to take a picture. William Hague and Prince Phillip were also there with her. It was just amazing. She was travelling to the D-Day celebrations. She's absolutely tiny and she was all dressed in pink.
"Still the excitement was not over there! We were then interviewed by French television at the station about being on the train with the Queen, which severely tested my school girl French! It was the start of a super three-day trip to Paris to see the sights. We chose Paris as Sue had never been.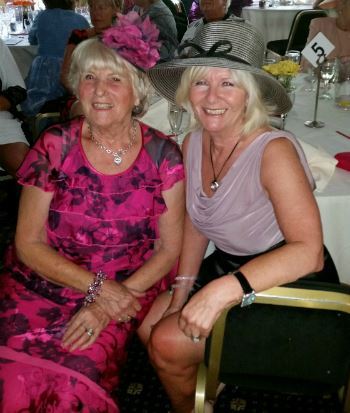 The first time I went was when I was 14 years old and I saw all the main attractions during a week-long school trip. I went right to the top of the Eiffel Tower back then, which of course you can't do now and I remember eating a ham sandwich at the top!
"Our hotel was a bit further from the centre than we had anticipated so we did a heck of a lot of walking. We took a trip on the river and negotiated the underground, for which you need a PHD in order to buy a ticket! The pair of us must have looked so bewildered – but a nice man gave us a hand."
As for Linda and Sue's past, they have been friends for over 25 years and enjoy going "on jollies" together, while Sue's husband goes off to play golf.
Linda, a divorced grandmother of five, told Staysure: "Sue is very funny and a good travel companion. When we get together we can be in hysterics before we've even left!
"I'm no longer keen on staying on a hot beach somewhere so we decided to start doing capital cities a couple of years ago. I also went on a trip to visit the EU headquarters in Brussels with my lip-reading class friends, which was super and very interesting. But what a waste of our money!"
The adventurous pair have also visited Lanzarote, Barcelona and Menorca – but Linda's favourite destination over the years has been Guernsey – especially the island of Herm.
Linda, who used to run her own recruitment agency before retiring 18 years ago, explained: "Guernsey is just delightful, but the best part is Herm which is a 20 minute ferry ride across the bay. It's just my idea of paradise. There are no cars and not many people live there. It has wonderful beaches that could rival any in the world. It's absolutely gorgeous."

As for why Linda chose Staysure for her travel insurance, she said it was because it was the "most reasonably priced" cover she could find.
And when asked where they were off to for their next adventure, Linda added: "Next month we're both off to have another jolly in Rome – I'll be insured by Staysure of course."
Win a Kindle Paperwhite
It's a great feeling to help our customers achieve their dreams and travel the world. However, it's even better to hear about the wonderful things our cover allows them to get up to whilst they're away!
A lot of our customers do amazing things on their holidays, just take a look at a few of the Real Lives stories we've already received. If you have a story about one of your trips that you'd like to share, we'd love to hear all about it and for every story we receive we'll enter you into a free prize draw to win a Kindle Paperwhite.
Terms and Conditions apply.