Travelling in a wheelchair: Q&A with Tourism for All
Staysure talks to Tourism for All's Information Manager Carrie-Ann Lightley about her travels around the world improving tourism for those with mobility issues.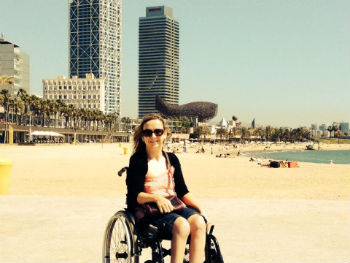 It was 10 years ago that Carrie-Ann Lightley landed her dream job working for the accessible travel charity Tourism for All (TFA). Since then the 28-year-old has become a passionate traveller, flying to popular destinations around the world such as Barcelona, Rome, Egypt and Mexico.
As the information manager at TFA, Carrie-Ann undertakes reviews and familiarisation tours of popular travel destinations and works with the industry and government to raise the standards for those with mobility issues.
What's more, the seasoned traveller posts her own travel reviews on a dedicated blog. Carrie-Ann, who lives in Kendal, Cumbria, spoke to Staysure to tell us more about accessible travel and some of the more exciting places she's been to.
1. How did you get involved with the charity Tourism for All?
Way back in the summer of 2005 I was working on a supermarket checkout – there was a distinct lack of accessible jobs available. I applied for the position of Bookings Team member within Vitalise (now Revitalise), and they decided I would be perfect for a new role that they had created with Tourism for All. Back then I'd never seen an accessible hotel room. Things like automatic doors, low level wardrobes and roll-in showers were an absolute luxury!
2. Where is the best place you have been on holiday for accessible travel in the UK, Europe and worldwide – and why?
I've travelled a lot in the UK in my work for Tourism for All. For holidays I've been lucky enough to visit wonderful places such as Egypt, Turkey, Mexico and Majorca, and most recently city breaks to Barcelona and Rome. Barcelona is without a doubt the most accessible place I've travelled to. The city's Olympic legacy means that accessibility just is a part of everyday life, and I had no issues at all accessing accommodation, transport, attractions, beaches and places to eat and drink.
3. And what is the worst place you have been to for accessible travel and why?
The least accessible place that I've travelled to would be Tunisia. Though ramps are provided in places, they are too steep for a wheelchair user to use independently.  Curb drops are also huge, and accessible toilets difficult to find.
4. How far has accessible tourism come in your lifetime?
The market in travellers seeking greater accessibility is growing and loyal, and serving it well can make a business stand out.  Changing Places toilets are now available at some UK airports and places to visit, which opens up travel and tourism to people who otherwise would struggle to leave the house.  Hoists at airports, on planes and in hotel rooms make also make a huge difference.  In fact, it's now possible to hire mobility equipment to be delivered to your holiday accommodation in the UK and worldwide – contact Tourism for All for details.
5. What changes would you like to see in the tourism industry at home and abroad, that would make travelling with reduced mobility easier?
Barriers to access are often about attitude and service, which are easy to rectify. Personally, I will always recommend a venue where the staff went out of their way to accommodate me over one with good access, but bad service.  Overall I think information provision is key, once a business has spent time, effort and resources on improving their accessibility, they need to make sure that potential customers get to know about it!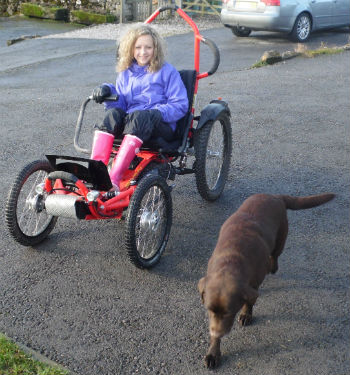 6. What would your advice be to wheelchair users or those with reduced mobility who are perhaps a bit nervous about travelling abroad?
When planning a holiday, I usually start with a couple of destinations and a budget in mind, and research accommodation for accessibility, good reviews, and location – I like to be able to reach bars, restaurants and places to visit easily.  I'll contact the accommodation directly to confirm they can meet my access requirements, and ask for photos.  This helps to ensure nothing gets lost in translation when booking overseas.  I always ask for confirmation that the accommodation, airline, transfer company etc. can meet my requirements in writing.
7. What are people's main concerns or fears when travelling abroad with reduced mobility? And do you have any advice for them regarding these concerns?
I think one of the worries I hear most, is that travellers worry about nasty surprises at their destination, like the accommodation not being as accessible as promised.  I've been working in the accessible tourism industry for 10 years, and it's my job to research accessible holidays, so I tend to travel independently using my own resources.  However, specialist tour operators can provide a level of assurance that your needs will be catered for.  Companies like Accessible Travel & Leisure only suggest accessible holiday locations that are tried and tested. If they haven't visited a location, they won't recommend it!

8. What do you think of the Aviramp and would you use it?
I love the Aviramp and would definitely use it.
9. Do you think it will be well received by people with reduced mobility?
Yes, I do. The Aviramp offers a boarding experience which is safe and dignified for everybody. Equality and inclusivity is what disabled people want.
10. What have your experiences been like getting on and off aeroplanes with a wheelchair?
Generally good, I am fairly mobile so as long as I have seating near to the bathroom I'm happy.  There have been a few hiccups over the years, which I think are caused by communication breakdowns – when requesting assistance from the airline you're potentially dealing with a chain of 4 or 5 people who are all trying to communicate your needs – it can become a bit like Chinese whispers!