Top things to do in Cyprus
A sun-kissed island with captivating landscapes and warm, friendly people, Cyprus offers so much. From beach resorts and mountains to historic monuments and national cuisine, both Northern and Southern Cyprus can't fail to provide you with fantastic holiday memories. No doubt you'll want to take in the sun's rays from the comfort of your sun bed but once you get itchy feet, there's plenty to see on this delightful island.
What not to miss:

Northern Cyprus
Walk like the Cypriots
A walk at dusk along the promenade at Girne (Kyrenia) gives you the chance to take in the sheer beauty of Northern Cyprus's coastline. In true Cypriot passarela fashion, local families flock here for a gentle stroll in the evening. Order yourself a drink at one of the bars along the promenade and watch the sun as it sinks into the sea.
See gruesome waxworks
Fasta Wax Museum is a building full of waxwork dummies dressed in traditional Anatolian peasant costumes. The displays reflect Cypriot history and depict the gruesome torture and imprisonment of a 12th century nobleman, featuring waxwork prisoners and guards donning beards and loincloths. You'll also see some very realistic reproductions of torture devices, as well as a particularly miserable display of one unfortunate prisoner in solitary confinement in one of the original pits.
Admire Sleeping Beauty's castle
If castles are your area of interest, Northern Cyprus cannot fail to impress with its impressive array of Crusader fortresses. This particular castle sits above Kyrenia and is also known as Saint Hilarion Castle. It was taken by Richard the Lionheart on his way to the Third Crusade. Some say it's the inspiration behind Walt Disney's Sleeping Beauty castle, probably due to its elegant jumble of walls, arches and towers. The drive up to the castle takes you along a winding mountain road with stunning views across to Kyrenia Harbour.
Witness turtles in the wild
Thanks to Northern Cyprus's lack of mass tourism development, green and loggerhead turtles are able to survive near Alagadi, otherwise known as 'Turtle Beach'. The area still boasts gloriously empty beaches where, on summer nights, you can quietly spy the endangered females shifting slowly ashore to lay their eggs in the sand – an awesome and memorable natural event not to be missed.

Southern Cyprus
Get adventurous
Ready for some action? No problem. Northern Cyprus offers plenty of outstanding open spaces, perfect for just about any leisure activity you could think of.
Take a short trip away from the busy resorts of Ayia Napa and Protaras and you'll arrive at the tranquil Cape Greco National Park. A haven of natural beauty, this park also provides a huge range of sporting facilities: swimming, diving, towed parachute, fishing, rowing, cycling, riding, climbing, air sports and hiking – you name it and there will be somewhere to do it. Alternatively, if you'd prefer a simple country walk, an abundance of Mediterranean nature awaits you. With about 300 plant species including coastal shrubs like Juniperus phoenicea (juniper) and other flowering plants such as chrysanthemums, wind onions, poppies, anemones, there's plenty to see, most of which is best appreciated during spring.
The Akamas Peninsula on the west coast of Cyprus is also great for escaping the crowds. Covering a relatively small area of about 230 square meters, it is practically untouched by development and rich with beautiful gorges and sandy bays where sea turtles come to nest. This small park is home to a huge range of animal life, fauna and flora, including rare plants, foxes, snakes and migrating birds. Come here not only for its picturesque landscapes, but also to experience local country life and enjoy sports such as mountain biking or golf.
Bask on the beaches of Ayia Napa
The most popular beaches are at Ayia Napa, a well-served tourist resort with an impressive 14 Blue Flag beaches, reflecting their environmental quality and clean waters.
For the main beaches, head for: Konnos Beach, Pantachou, Nissi Beach and Glyki Nero, all with their rows of sun beds, beach-front bars and restaurants for the perfect beach day out. If you are after a little more action, there are pedalos for hire, along with beach volleyball, diving and snorkelling centres to entertain anyone who finds it hard to sit on the beach all day.
Take a stroll around the yacht marina in Latsi
For a quiet evening stroll, this pretty marina is a relaxing choice. The peaceful surroundings of Latsi's Old Town provide the setting, and are especially beautiful if you get there just before sundown.
Afterwards, you could try the various taverns and cafes which line the marina, ideal for savouring Cypriot specialties. You'll also find several souvenir shops here so you might well pick up a perfect memento to take back home.
Cross over to the other side
Nicosia's famous border between Northern and Southern Cyprus must be crossed if you are to experience everything on your holiday to Cyprus. Known as the "Green Line", you will see guard towers and barbed wire separating north and south and even bullet holes at some points in the walls – grim reminders of Cyprus's turbulent history. It's easy to cross over and interesting to experience a little of life on the other side.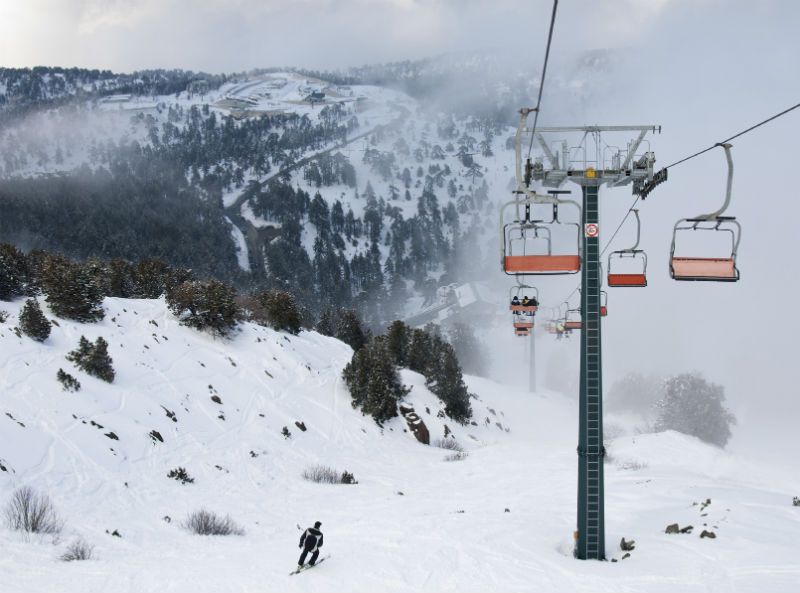 Take to the ski slopes
Perhaps not the most obvious choice on the sun-drenched island, but if you are in Cyprus between December and April, a trip to the Troodos Mountains could make for great skiing. Snow coverage sometimes reaches 2 metres on the lower slopes, rising to 2.5 metres on Mount Olympus. Keep an eye on the Troodos web cam for the current snow conditions and head to just below the highest peak of the Troodos at 1,900 metres to start your skiing.
The main resorts are at: Aphrodite (Sun Valley I) for beginners with a 150 metres long piste; Hera (North Face II) for beginners with a piste of 350 metres; Hermes (Sun Valley II), 150 long and for intermediate level skiers and Zeus (North Face l) for advanced skiers, a piste which starts very near the peak of the mountain at 1,915 metres and is 500 metres long.
Play quality golf
Despite the fact that Cyprus has only a select few golf courses – four in Southern Cyprus and one in Northern Cyprus – they are absolutely outstanding courses and perfect for making the most of Cyprus's cloudless skies and warm temperatures. Popular spots include golf resorts at Aphrodite Hills, Elea Golf, Minthis Hills and Secret Valley in the South and Korineum Golf and Country Club in the North.