Top 10 things to do on a Vienna city break
Vienna was once regarded as the centre of the universe; that is, in around 1900 – a time when Freud was creating revolutionary ideas of the human mind and when Gustav Klimt, Egon Schiele and Oskar Kokoschka were redefining painting. Meanwhile, Mahler composed and the strains of Strauss's Blue Danube permeated the city, as they still often do today.
All this momentous history, art and thinking mean that Vienna provides a delicious taste of grandeur at every turn. Most of the main sights are in the inner city area of Vienna, which lies within the Ringstrasse.
1. Go to the ball
Few cities can boast the imperial grandeur of Vienna so if you've ever dreamed of dancing a waltz in fine surroundings, then what are you waiting for? Vienna is the place. About 30 per cent of Vienna's population attends at least one ball per year, and with about 80 per cent of them knowing the Viennese Waltz, you can expect a truly authentic experience.
The famous annual Viennese Ball Season takes place in January and February and there are hundreds of balls to choose from. Bring your black tie regalia – ankle length ball gowns for the ladies (debutantes wear white), suits and bow ties for the gentlemen, then step back in time for the night of your dreams.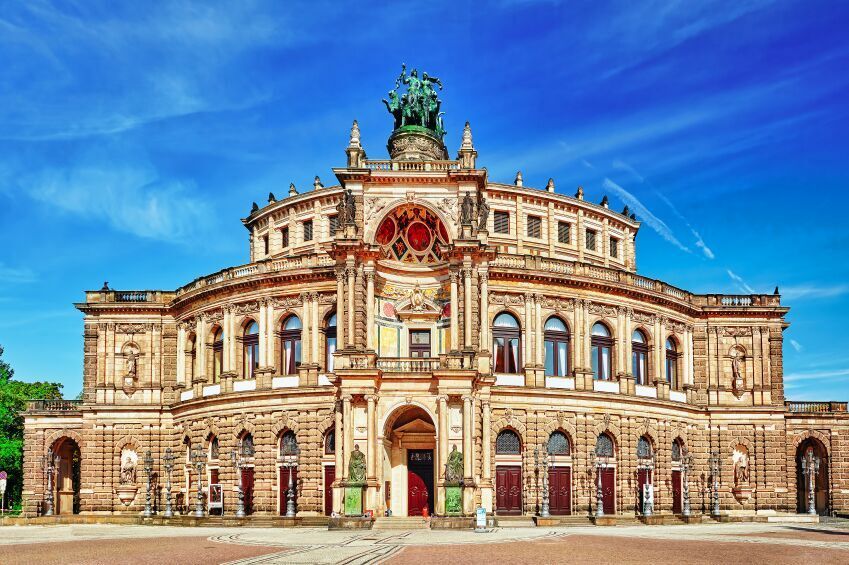 2. Have a night at the opera
Vienna State Opera is not only one of the world's top opera houses, it's one of the finest examples of Neoclassicist architecture you'll ever find. If you're not catching an opera performance, you can still take a guided tour of the building to marvel at the impressive marble staircase and beautiful auditorium, and learn about one of classical music's most important periods.
The Vienna State Opera is keen to keep up with the times, making opera accessible to everyone wherever they are: state-of-the-art live stream technology now enables you to watch opera and ballet performances from the comfort of your own home, switching between overall views of the stage. Meanwhile, in front of the opera building in April, May, June and September, around 150 performances are shown live on a 50 square metre screen on the Herbert-von-Karajan-Platz – all for free!
3. Tour the Palace
Schöbrunn Palace, home of the Hapsburg family, is one of Vienna's finest and most popular tourist attractions and was declared a UNESCO World Cultural Heritage site in 1996.
This monumental baroque palace is a former royal summer residence and with over 300 years of history within its walls, the 1,441 rooms make up one of the most important architectural, cultural and historical monuments in the country. A visit to Schöbrunneflects history and the changing interests and tastes of the Habsburg monarchs.
There's also an enchanting park, including the Palm House, the Gloriette and a zoo. You can spend an entire day at Schönbrunn and learn what it was like to live as a royal as you take a "Grand Tour" along with an audio guide, admire the grand Bergl Rooms and stroll through the "Labyrinth."
4. View Old Masters in opulent surroundings
Kunsthistorisches Museum is a must for art and history buffs. Wind your way through the imposing, baroque architecture, a work which took some 20 years to complete. The building opened in 1891 to showcase the Habsburg family's vast art collection and is a treasure trove to inspire you from the moment you enter. The Habsburg's art collection has in fact been a unique status symbol throughout the ages – don't miss the the 15th century Saliera, a solid gold salt vessel and the only surviving work in gold by Benvenuto Cellini.
You will also find a wide range of exhibitions from Pharaoh, Greek and Roman antiquities to a picture gallery spanning the great eras of European art. These include 16th and 17th century Venetian and Flemish works by Rubens and Van Dyck along with Renaissance paintings by Vermeer, Rembrandt, Raphael, Caravaggio. For a spot of luxury, dine under the opulent domed ceiling – a fittingly lavish atmosphere for sipping your cup of coffee.
5. Sip coffee Viennese style
Starbucks and Costa Coffee eat your hearts out: Vienna takes coffee drinking to a whole new level. Vienna is possibly the best place in the world for to have a cup of coffee and a slice of cake and there are so many cafes to choose from, each with their own fascinating history or a special reason to visit.
Try some Sacher torte with your coffee at Cafe Sacher Wien. Meanwhile, the Daily Telegraph describes Café Central as the grandest of all Vienna's coffee houses – Trotsky used to take his coffee here. Café Hawelka has been favoured by Vienna's intellectuals for decades and its shabby chic furnishings reflect a clientele more interested in ideas than interior design. Café Landtman, otherwise known as Freud's café, opened in 1873 and is now a meeting place for politicians, journalists and actors. For something completely 21st century, head for the popular CaffeCouture with its regular student and young urban professional clientele.
6. See the stallions at the Spanish Riding School
For a taste of the imperial Habsburg era, come and watch the equestrian show, performed by Lipizzaner stallions which were formerly kept at an imperial stud at Lipizza. These graceful stallions perform an equine ballet to classical music as you watch from a pillared balcony as the chandeliers shimmer above.
Performances tend to be at around 11:00 hrs on Sundays from mid February to June and mid August to December, with more performances Saturdays and occasionally other days of the week. You can also go on a guided tour held in English and German which takes you into the performance hall and to see the stables and other facilities.
7. View grand, historic art KunstHausWien (Vienna Art House)
Classical art and antiquity enthusiasts cannot miss this magnificent Art House, originally constructed to house all the Imperial Hapsburg collections all in one place. The Hapsburg collections grew to such an extent that they now occupy the Hofburg and Schönbrunn Palaces too. You can reach the galleries via the building's grand staircase and view Egyptian-Oriental and Coin collections along with many other antiquities. The Kunstkammer (art chamber) houses sculptures and other decorative arts, while the Gemäldegalerie (picture gallery) contains works by Old Masters, including Dürer, Raphael, Rembrandt, Rubens and Titian, as well as the biggest collection of Brueghels in the world.
Opposite stands the aged yet superb Museum of Natural History with its magnificent halls showcasing valuable gems, including Maria Theresia's bouquet of precious stones; massive dinosaur skeletons; rare fossils and several living animals in modern enclosures and aquaria.
8. Visit a church with a Jenga twist
Set on the edge of rolling woodland just outside Vienna sits the weirdly shaped Church of the Most Holy Trinity. Also known as Wotruba Church, this place of worship is built of 152 seemingly random modular cubes cast in concrete to look like a giant stack of Jenga blocks.
It was inspired by France's Gothic Chartres Cathedral and is widely considered to be an artistic masterpiece. Designed by the Austrian sculptor and artist Fritz Wotruba, the church opened in 1976 and was the only architectural work he ever created – it certainly made its impact. Unfortunately Wotruba did not however live to see his beautiful, odd church reach completion. He died in 1975, just a year shy of its completion.
9. Mooch around MuseumsQuartier (MQ)
Think London's Southbank Centre and you'll be close to the ideas behind Vienna's extensive cultural complex. Built on the site of the former imperial stables, MQ is one of the biggest of its kind in the world. Artists are in their element here, thanks to a large number of permanent and temporary exhibitions on offer. The excellent Leopold Museum is a must if you're interested in Austrian art, and MUMOK, the Museum of Modern Art captures the imaginations of many contemporary art lovers.
The MuseumsQuartier is a pleasant place to mooch for a few hours, especially during summer evenings, when it is packed with students and other people of all ages relaxing outside on its generous benches or taking a drink at the many al-fresco cafés.
10. Brave the Ferris wheel at Prater
This giant Ferris wheel (Riesenrad) is one of Vienna's most famous sights. Set in a wooded, green park, Prater is a place for relaxation as well as nostalgia. The Ferris wheel was completed in 1897 at a time when similar Ferris wheels graced cities like London, Paris and Blackpool, but Vienna's is the only one of its era still surviving. After dark, the wheel lights up and acts as a giant clock for the city by flashing on the hour.
Aside from stretching out on the grass, walking the quiet paths and riding the wheel, there are roughly 250 other fairground attractions to entertain you at Prater – from auto-drome rinks to shooting booths and ball toss to the excitement of roller coasters, flight simulators and ghost trains.
For the kids, there are merry-go-rounds, the old Viennese grotto train, traditional Punch and Judy Shows and more. When you're ready for an ice cream or a snack, there are over sixty cafés and restaurants to choose from.
Vienna was once regarded as the centre of the universe when Freud was revolutionising psychology and Gustav Klimt, Egon Schiele and Oskar Kokoschka were redefining painting. Meanwhile, Mahler composed and the strains of Strauss's Blue Danube permeated the city, as they still often do today.
All this momentous history, art and thinking mean that Vienna provides a delicious taste of grandeur at every turn. Most of the main sights are in the inner city area of Vienna, which lies within the Ringstrasse.