Staysure customers, Mr and Mrs Fothergill, had the adventure of a lifetime in Qatar with camel races, robot jockeys and rallying coaches all part of the thrill.
Doha, Qatar, is fast becoming a world-class city full of incomparable cultural, art and culinary experiences and the city's wealth is accelerating its growth and appeal. However, for some, visiting Doha is a more than just a holiday, it's a trip to reunite with family and spend cherished time with grandchildren.
When David and Dorothy Fothergill's son and his young family moved to Qatar, a new destination beckoned. Visiting an Arab country was never really on the Fothergills' to-do list, but once there they soon found themselves in the desert, at the edge of a magnificent city, watching camel racing and having one of the most hilarious days of their lives.
"My wife and I both turned 72 last year and we thought our adventure trips were a thing of the past, but when our son and his young family relocated to the state of Qatar we had a strong motive to visit a part of the world that had never really been on our radar.
"With the backing of a Staysure Multi-Trip Policy in our hand luggage we felt confident to take the trip to the Hamad International Airport in Doha.
"A couple of days later we were packed into an SUV with my son, his wife, and twin eight-years-old boys, heading for the desert and Camel City at Al Shaihaniya, on the very edge of the beautiful city of Doha.
"We had just returned home from Tenerife, and the weather in Qatar was very similar, about 24 degrees centigrade out in the desert, although a slight breeze was keeping us cool.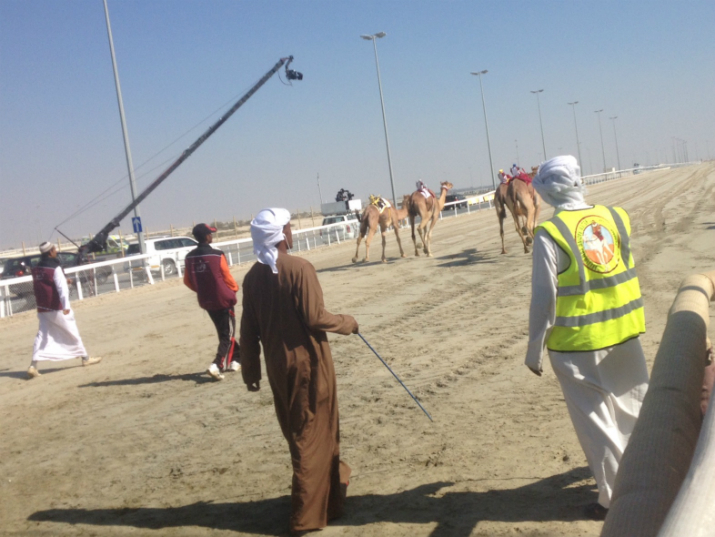 "As the first race began we took out our picnic and watched the camels spring from the starting gate.
"We watched the camels on a huge TV screen as they careered around the 10 kilometre track, with commentary in Arabic relayed over loud speakers.  A group of men beckoned us over, offering delicious black coffee spiced with saffron (free of charge). Then we wandered into the owners' enclosure and watched as the yearling camels were loaded into the starting gate ready for their race.  It was all hustle and bustle and then BANG, they were off and we saw it all from a privileged vantage point.
"The camels were mounted by robot jockeys, holding riding crops, and operated by owners using a remote control device as they pursued the racing camels along a trackside road in their SUVs.  Soon our entire family, and a few other travellers, were loaded onto a small coach and BANG race number four was on its way.
"We were careering after the SUVs and the camels, down the dusty road, following the racing camels at 35mph, everybody leaning to the right of the bus, craning their necks, to catch a fleeting glimpse of the leading camel.  Snapping their cameras, and phones, to get a good shot, listening to the on board commentary in Arabic, shouting in excitement at each other in Japanese, an American Southern drawl and in our plain English.   The SUVs in front were kicking up dust, and the camels were charging on, long necks outstretched, legs apparently out of control and moving in all directions, then suddenly, it was all over.  The camel in front had won by 15 lengths, but who cared, the next race had begun.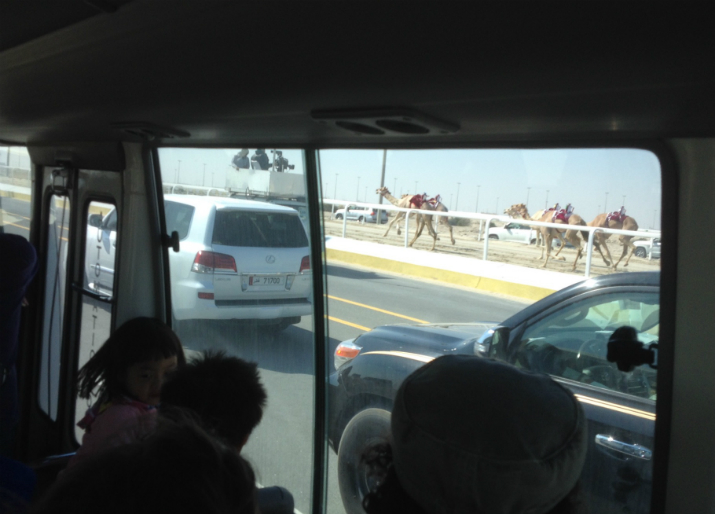 "It was the best 'nowtsworth' we have ever had, and to a Yorkshireman a day out for nowt is cherished.
While robot camel racing may have been the most unique part of the Fothergills' holiday, it was certainly not the only adventure they had in Qatar. Mr Fothergill added: "I could tell you about the sweet, heady, aromas of the Doha Souks, or surfing the huge sand dunes at 50kph in the Arabian Desert, near the Saudi border, and the Doha shopping Malls, out of this world with a "Venetian" Grand Canal complete with Gondolas.
"But perhaps that is all for another time."
Win a £100 Marks & Spencer voucher*
taysure customers go on some truly amazing adventures. From gallivanting around the Galápagos and trekking across the desert in Jordan, to volunteering after natural disasters and jetting off to Hawaii to participate in a singing contest, you'll find them all on our Real Lives feature.
So if you have an exciting story about your recent trip away to, why not let us know? We'd love to hear about it!
For every story we receive, we'll enter you into our monthly prize draw to win a £100 Marks & Spencer voucher.*