Dusty, sultry Mombasa lies at the gateway to Kenya's glittering Indian Ocean coast. Packed onto a peninsula connected to the mainland by bridges and a ferry, this tropical city is steeped in history: Its historic fort, buildings and cosmopolitan vibe reflect the city's age-long pedigree as a top trading centre: Swahili, Indian, African, Omani, Chinese and British traders have struck deals here since the 12th century, and dhows (traditional triangular sailed boats) still sail by.
Mombasa's appeal lies both in its compactness and its diversity: snow-white beaches, kayas (forests), dhows, dolphins, turtles, elephants and some of the best diving and kite surfing in Africa are all within easy reach.
This coast feels wildly different from the rest of Kenya mainly thanks to Mombasa's Swahili people who have created a unique society.  Their focus on maritime trade has long connected them with distant shores, bringing an element of romance you're unlikely to experience anywhere else in Kenya.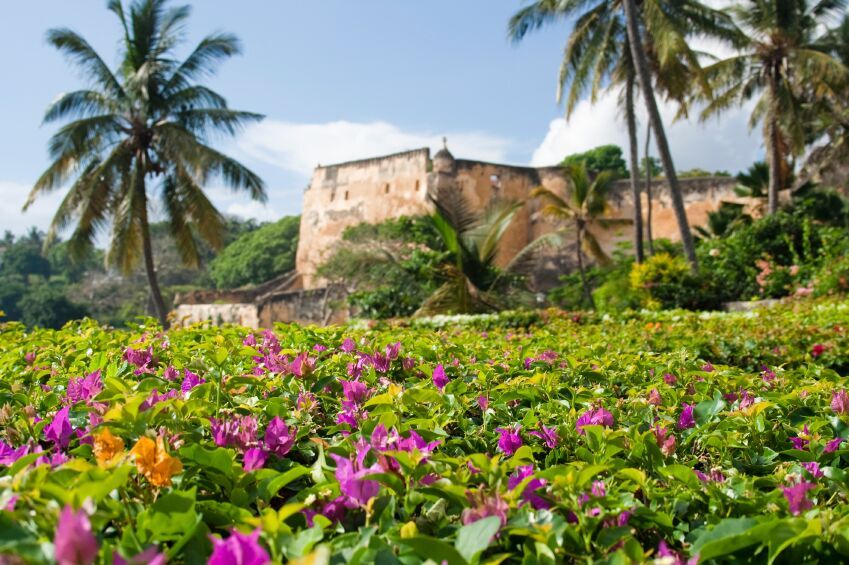 A historic port
Mombasa's port boasts a colourful and prosperous history. From the 9th century onwards, Arab and Indian traders integrated with the indigenous population to create the unique Swahili culture, much of which still survives to this day.
During the 15th century, the Portuguese landed and laid claim to Mombasa, conquering the Omani Arabs, their main legacy being the much visited UNESCO World Heritage-listed Fort Jesus in Mombasa's Old Town. The Portuguese built the fort in 1593 to keep the coastal Swahili population at bay. Today you can climb its battlements and there's also a small museum to visit.
At the turn of the 19th century, the British made their stamp on Kenya, declaring the coast a British Protectorate and Mombasa became pivotal in the development of Kenya as a British colony, its main value being its strategic location on the East African coast. Today the port is still important as a trading hub.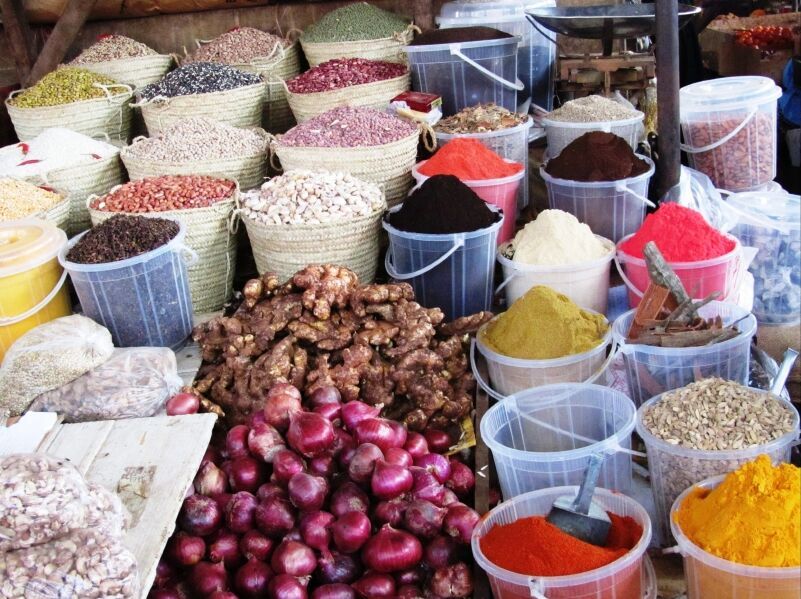 During the pre-modern era, Mombasa gained much importance for the trade of gold, spices and ivory, with trade links reaching as far as the Indian subcontinent. In the middle-ages, it enjoyed further glory as a major port, this time trading with the Persian Empire, Arabian Peninsula, China and the Indian Subcontinent.
Mombasa itself doesn't actually have a great number of sights, but most visitors like to visit Fort Jesus and the nearby Old Town, an atmospheric maze of narrow lanes, carved Swahili doorways and mosques.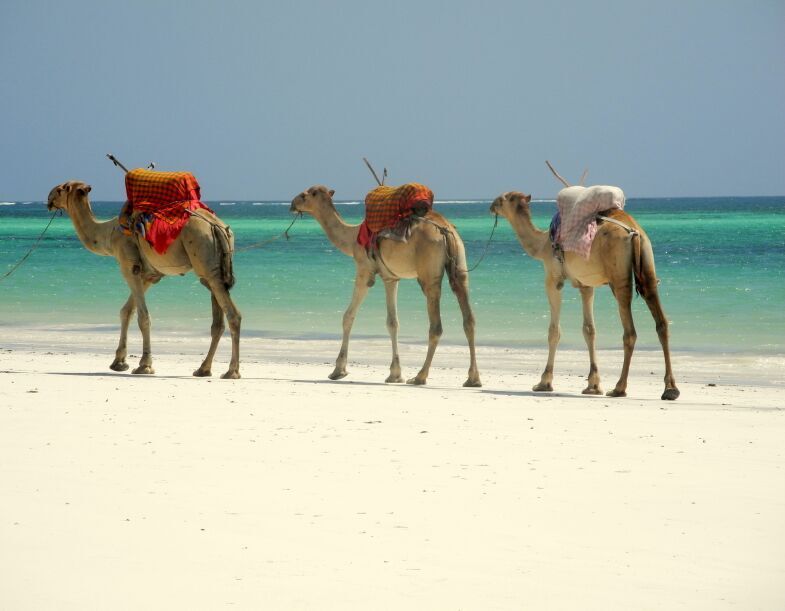 A delightfully diverse coast
The coast of Mombasa has seen its fair share of development. Chic Swahili resorts sit alongside smart sustainable tourism resorts, even in areas hosting large hotels like the popular Diani Beach.
Mombasa abounds with a variety of natural habitats, both in the sea and at its shores. Some of the highlights include: the island of Lamu and its Swahili centre, the Arabuko Sokoke Forest Reserve, Mwaluganje Elephant Sanctuary and the elephants of Shimba Hills National Park. Meanwhile, the remains of many early Swahili settlements dot the coastline – don't miss the15th century sites at Gedi, just south of Malindi.
Take an eco-tour of Colobus Conservation Centre at Diani, a veritable jungle playground, overhanging with vines and ropes which serve a sanctuary for the adorable Angolan black and white Colobus monkeys. The Colobus Trust is non-profit making and was set up to preserve and protect this threatened species within its stunning coastal forest habitat.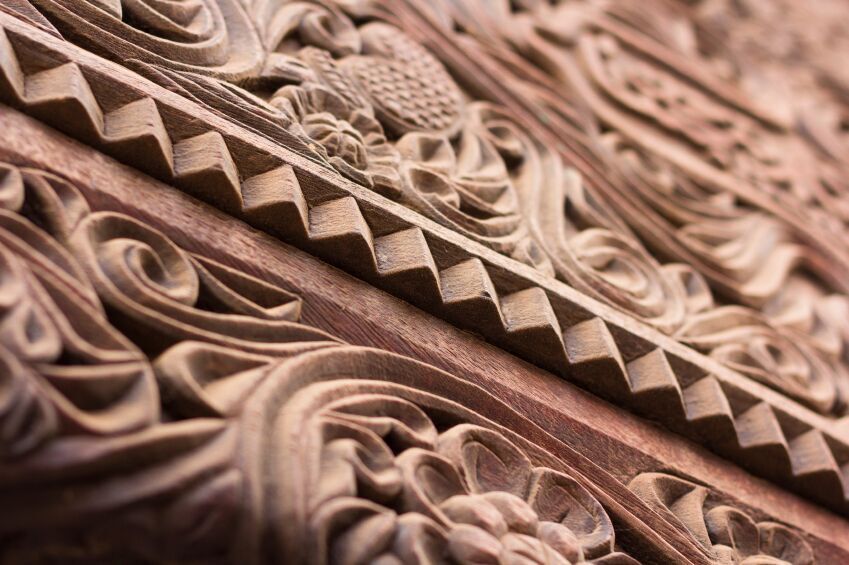 The island of Lamu is a veritable gem, its main town being a charming old Swahili settlement, now a UNESCO World Heritage Site. Packed with historic mosques, Arab houses and elaborate doors carved from mangrove wood, it's a quiet and serene place. Everything is just a short donkey ride away along its unpaved, winding paths. Lamu hosts major Muslim festivals and is an important centre for the study of Islamic and Swahili cultures – don't miss Lamu Muesum and the Swahili House Museum.
Travel south from Diani to Kaya Kinondo and the protected kaya, or sacred forest, is home to the local Digo Mijikenda tribe. The forest once housed the Digo and has been maintained in its original state as a centre for the tribe's religious and communal ceremonies.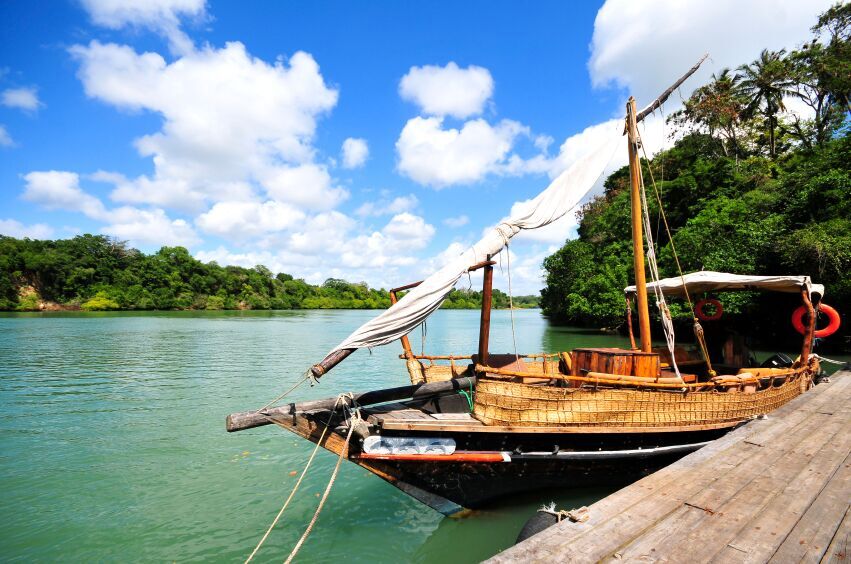 Sail on stunning Dhows
Dhows have long been popular forms of transport off the Mombasa coast. These pretty, triangular-sailed boats make their way through the waters carrying visitors and sometimes freshly caught fish for the area's restaurants.
Dhows leave from Lamu (sunset and moonlit cruises), Shimoni (to explore a marine park with dolphins swimming aside the boat) and Mombasa (cruises by day and night). For something a little more sophisticated, Mombasa's Tamarind Dhow is operated by a leading restaurant and provides night cruises along with live music and dancing. Alternatively, at Mtwapa Creek your day cruise can even offer the services of a witchdoctor.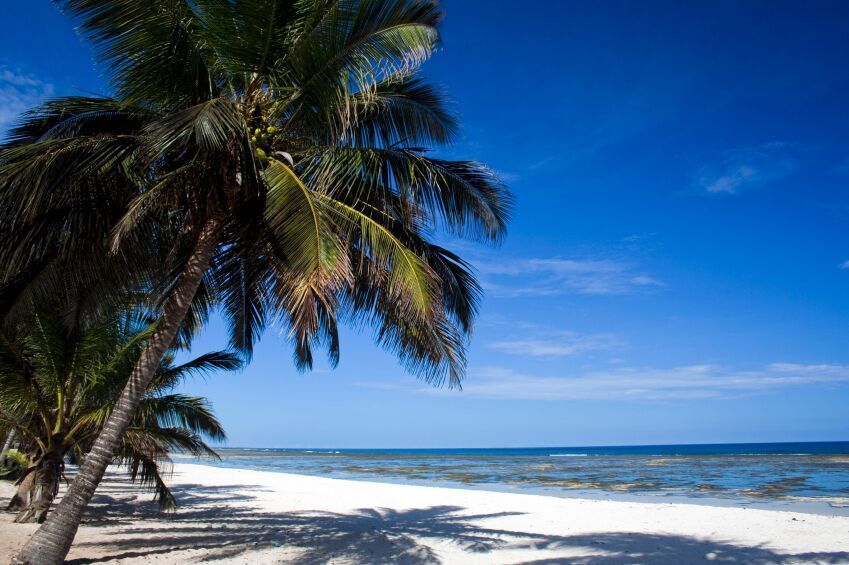 Don't miss the beach
Definitely not to be forgotten is Mombasa's long string of gorgeous white sandy beaches, ideal for a good dose of sun, sand and surf, all to be enjoyed in a suitably laid-back fashion. Some of the most magnificent in Mombasa are: Malinda Beach, popular with tourists for its resorts, offshore coral reefs and big game fishing; Nyali Beach, the nearest to Mombasa town, hosting many popular hotels, a great lagoon and kite surfing; Diani Beach, south of Mombasa and a prime spot for swimming in its tranquil waters and reefs, as well as for its luxury resorts and facilities; Tiwi Beach, a quieter alternative and the perfect getaway – between the sunbathing, you might take dip for a spot of snorkelling around the reef; and finally Bamburi Beach, well known for its great restaurants and nightlife, in addition to excellent diving, snorkelling and dhow cruises.