Norway in a nutshell: top ten
Norway's myriad of majestic mountains, waterfalls and fjords make for utterly beautiful, once-in-a-lifetime holiday experiences. If you love fresh air, welcoming people and outdoors adventures, Norway is a must.
But it's not just about stunning Scandinavian scenery. This much-loved natural beauty also has plenty to offer in terms of cultural life. Norwegian cities are cosmopolitan and their architecture is testament to the Scandinavians' flair for design throughout the ages. A busy calendar of festivals, many of which are internationally renowned, tops off Norway's appeal.
So where to start your discovery of this fascinating land? In no particular order, let us point you in the direction of what, in a nutshell, we believe to be five of the best things to see and do in Norway: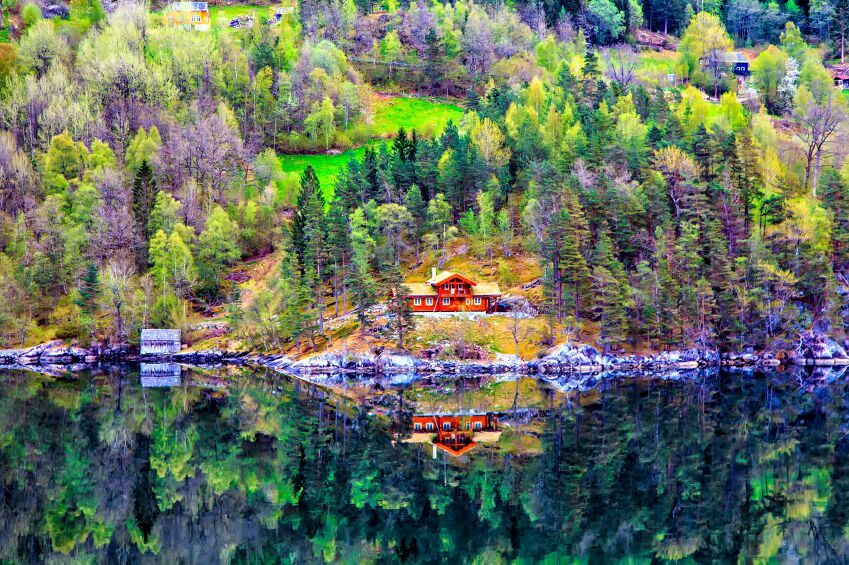 1. Geirangerfjord and Nærøyfjorden
Since 2005, Geirangerfjord and Nærøyfjorden have been jointly listed as a UNESCO World Heritage Site. They are amongst Norway's many popular and breathtakingly beautiful sights.
Exploring the fjords takes you to spectacular waterfalls so you will probably be reaching for your camera over and over again: Seven Sisters Falls and the Suitor (The Friar) are the main attractions with the Suitor, it is said, trying to woo the seven sisters. Meanwhile, the stunning Bridal Veil cascades gently over a rocky edge and, observed backlit by the sun, resembles a thin veil shrouding the rocks.
A car ferry doubles as a popular sightseeing trip, running the length of Geirangerfjord between the small towns of Geiranger and Hellesylt. Visitors often claim this is one of the world's most picturesque ferry journeys in the world. Geiranger Fjordservice runs boat trips, kayak and rib tours, bike and car rentals, as well as helicopter tours, all giving you incredible views of the fjords, glaciers and waterfalls.
Other attractions in the area of Geirangerfjord and Nærøyfjorden include: Valldal Aktivitetspark, an exciting climbing park in Valldal with its tree and post climbing courses for all ages and abilities; and Sykkylven Nature Museum giving an account of Norwegian flora and fauna and a great collection of stuffed animals from Norway and Svalbard set within a lifelike environment.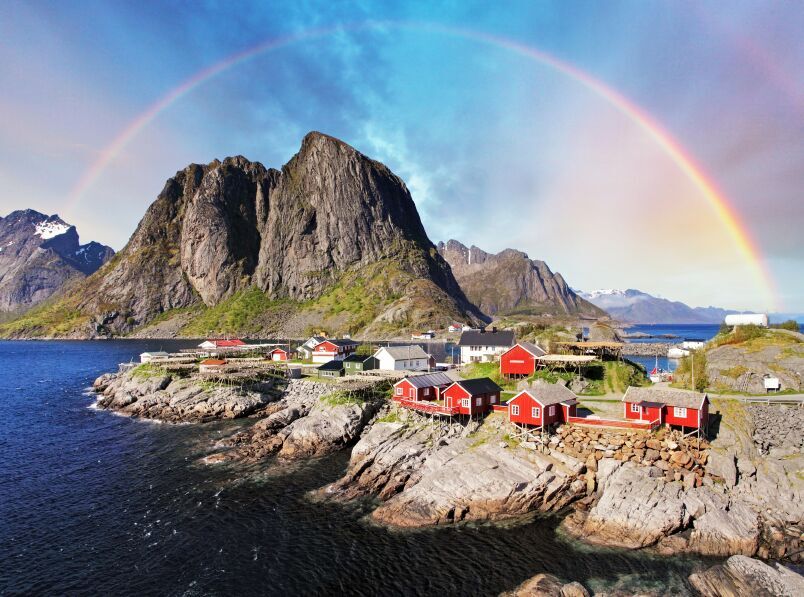 2. Lofoten Islands
In terms of sensational, untamed beauty Loften will not let you down. This collection of wild Norwegian Sea islands is peppered with charming, remote villages, surf-swept beaches and beautifully restored fishermen's cabins (rorbuer).
The islands' striking mountain peaks are popular with hikers and birdwatchers while the surrounding waters are well-known for fishing and whale safaris. It's perfectly understandable that Lonely Planet exclaims "the beauty of this place is simply staggering".
Other spectacular attractions on Lofoten are the jaw-droppingly spectacular Aurora Borealis (Northern Lights) which you can witness (or play golf under) if you time your trip for between September and mid-April; alternatively, marvel at the awesome midnight sun between May and mid-July.
Historically, Norway conjures up images of Vikings and Lofoten is the place to appreciate the nation's strong links with the Viking Age. The Lofotr Viiking Museum reflects the Viking Age and at Borg, archaeologists uncovered the largest Viking longhouse ever found which is now reconstructed as a living museum.
Fishing enthusiasts won't be disappointed as this continues to be the islands' main livelihood and leisure activity. Stay in a rorbu (old fisherman's cabin) and enjoy delicacies like stockfish made from spawning cod.
There's something truly unique about taking to the seas, surfboard tucked under your arm as you crunch across a snowy beach. The small village of Unstad has a history of surfing which goes back to the 1960s and today, surfers flock to Lofoten from all over the world in order to challenge the mighty, often freezing waves. The views of snowcapped mountains and glaciers are epic as you ride the waves.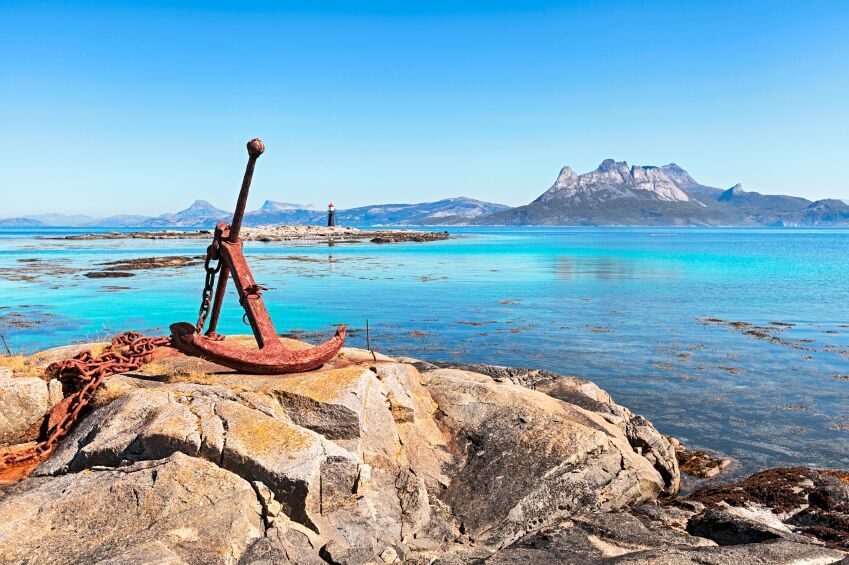 3. Hurtigruten coastal ferry
Do you fancy exploring the entire length of Norway's coast? Of course you do! The Hurtigruten coastal ferry is a cruise you'll never forget. During the voyage you'll cross the Arctic Circle and see stunning coastal fjords and isolated villages that would take months to get to by land.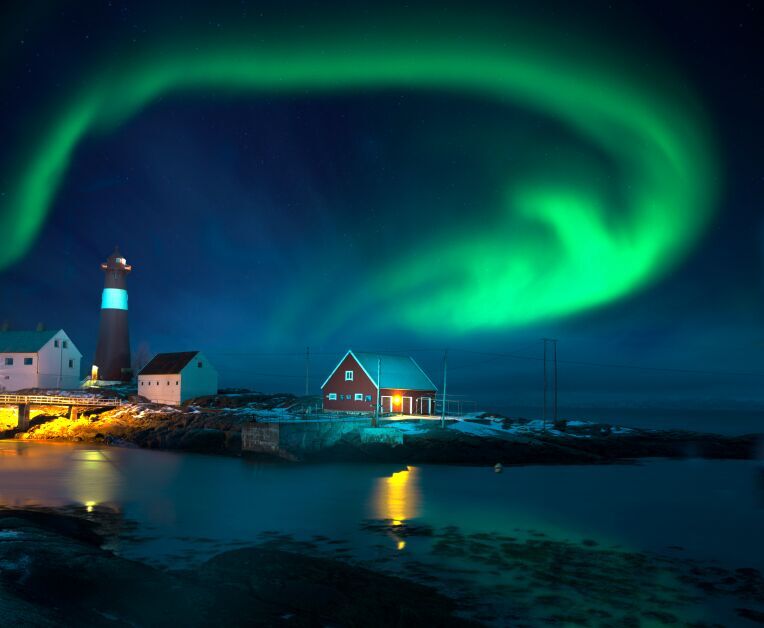 4. Northern lights
No visit to Norway would be complete without viewing the celestial phenomena that is the Aurora Borealis. Nature's light show is visible throughout the long nights of the country's winters from October to March. Unfortunately, there's no guarantee they will appear on your visit, but if they do you are in for a light-fantastic treat.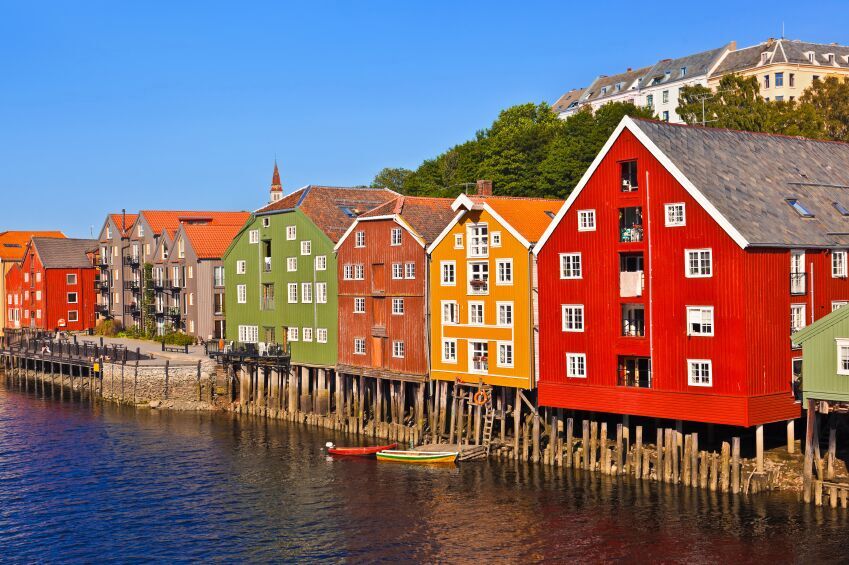 5. Bryggen, Bergen
Dating back to 1070, Bergen pulled itself up from disaster when in 1702 a great fire reduced it to ashes. Today, the old wharf of Bryggen is a major attraction and listed on the UNESCO's World Heritage List.
Take a wander through Bryggen and you'll be treated to views of centuries-old wooden merchants' buildings set against the spectacular backdrop of the fjords and mountains. Nowadays the merchants' blocks are bursting with trendy boutiques and inviting restaurants, making the waterfront a lovely place to explore on foot. Don't miss the traditional Fish Market near the tourist office where you can sample the fresh salmon, cod and other local catches.
Bergenhus Fortress stands at the entrance to the harbour and is amongst the oldest and best preserved fortresses in Norway, dating back to 1261. Once you've seen the sights, stop off for a rest at the area's many cafés and restaurants before buying a traditional souvenir – perhaps a traditional handicraft from a stylish boutique.
Bryggens Museum is constructed over the remains of the first settlements at Bryggen and depicts life in medieval Bergen with the oldest buildings dating back to the 12th century. In 2016, the museum staged an exhibition on the town fire and its urban development in addition to Bryggen`s runes from the Middle Ages. The museum also displays findings from Bryggens' archaeological excavations, including the foundations of the oldest buildings in Bergen.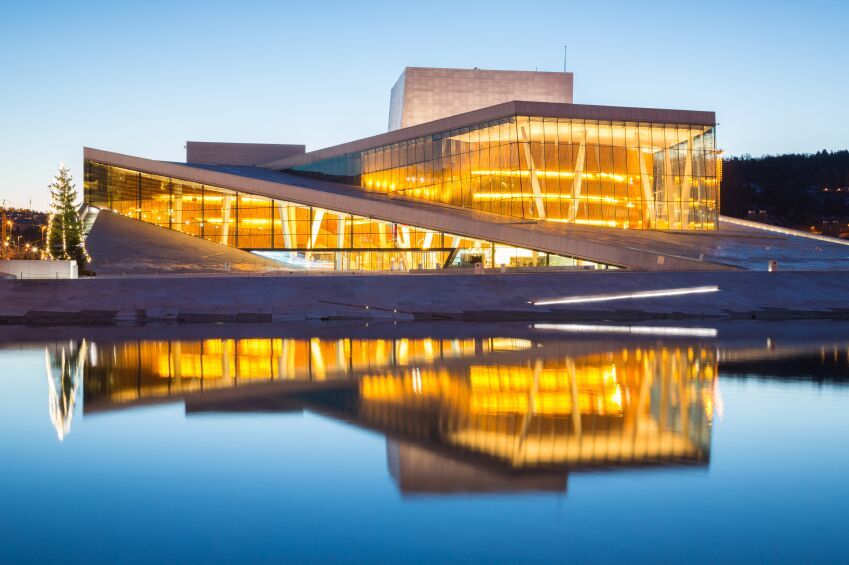 6. Oslo
Norway's capital is crammed full of art galleries and museums, making it a must-see for culture vultures. It also hosts a buzzing art scene along with sharp Scandinavian designs and architecture – the glacier-white opera house in Bjørvika gives Sydney Opera House a run for its money.
A fascinating jumble of ancient and modern buildings, Oslo is easy to explore on foot and museum buffs can stop along the way at Oslo's steel and glass Munich Museum, the old City Museum, the National Musueum and visit the craggy walls of the medieval Akershus Fortress.
A favourite way to approach Oslo is by sea, perhaps on an organised boat trip taking you alongside the picturesque fjords. Once you're there, in addition to a hive of cultural activities, you will also be able to ski, sail and skate just a short distance from the city centre, making the city truly a destination for everyone. If you're feeling particularly brave, take a dip in the Akerselva, Oslo's sparklingly clean central river which has become a popular swimming spot during the summer. Despite the season, expect a bracing dip – the river is fed by melted snow from the mountains.
Evenings in Oslo are busy. The locals are just as enthusiastic about partying as they are about doing business. Several of the capital's restaurants have been rewarded with four Michelin stars but you equally don't have to spend a fortune to eat well in Oslo. The Grünerløkka district is teeming with bustling little pavement cafés where you can often get a delicious and substantial meal for a reasonable price.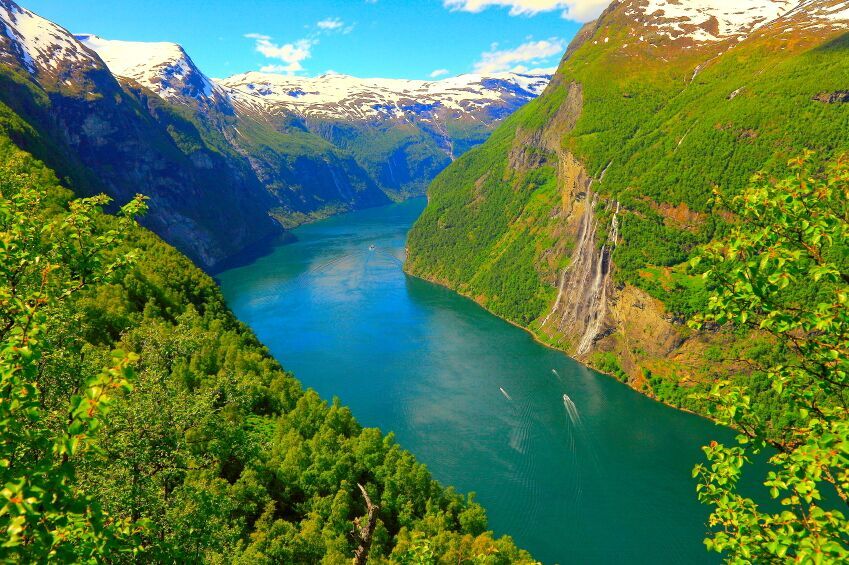 7. Jotunheimen National Park
If you don't feel you've seen enough glaciers, then Jotunheimen should have you marvelling at some of the best in Norway at almost every turn. Boasting 60 glaciers and almost 300 mountain summits above 2,000 metres, it's no surprise that the name Jotunheimen translates as 'Home of the Giants'. Norway's highest peak, Galdhøpiggen stands at 2, 469 metres above sea level, closely followed by Glittertind (2,452m) and Store Skagastølstind (2,403m).
The park hosts an abundance of hiking trails, making it very popular during summer months. Explore ravine-like valleys harbouring deep lakes, plunging waterfalls and 60 glaciers or if you're fit and ready for an alpine challenge, you might like to tackle one of the peaks.
The lakes are equally breathtaking, two of which are connected by the Bessenggen Trail taking you over a ridge that runs between the emerald-green Lake Gjende and the even higher, deep-blue Bessvatn Lake.
You will find yet more glory at the park's glaciers which offer up a whole colour spectrum from pitch black to snow white and ice-blue. You can take a trip with professional guides or on your own, by foot or on skis. The largest ice-mass is the Smørstabbreen, a giant glacier stretching across some 15 square kilometres, and probably best tackled with a guide.
The Norwegian Mountain Touring Association (DNT), Norway's biggest outdoors activities organisation, offers mountain lodges in the area with well-marked trails running between them, as well as more challenging ones up to some of the peaks.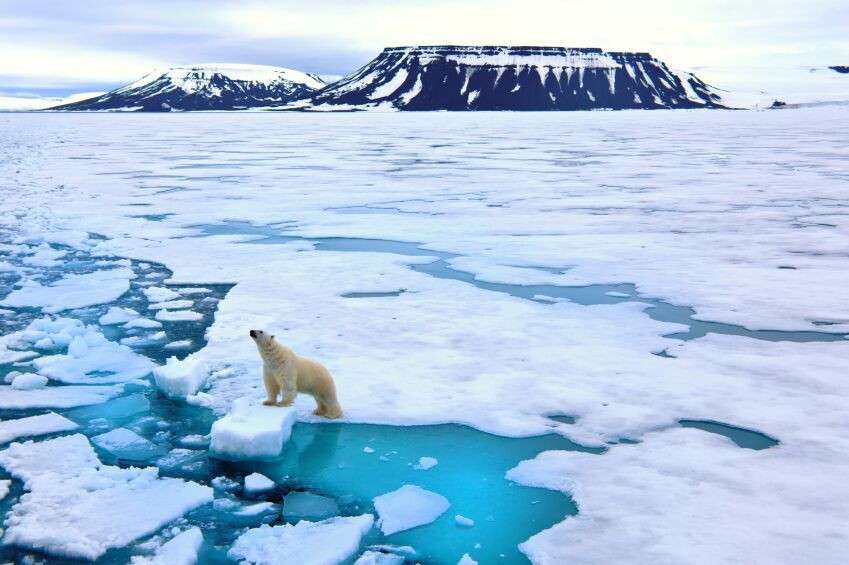 8. The Svalbard Islands
Located in the Arctic Ocean, halfway between Norway and the North Pole, these islands are one of the Europe's last great wildernesses. Around 60 per cent of Svalbard is covered with glaciers, but they are surprisingly accessible. The islands are also teaming with Arctic wildlife – one sixth of the world's polar bear population live here – and they outnumber the local human population.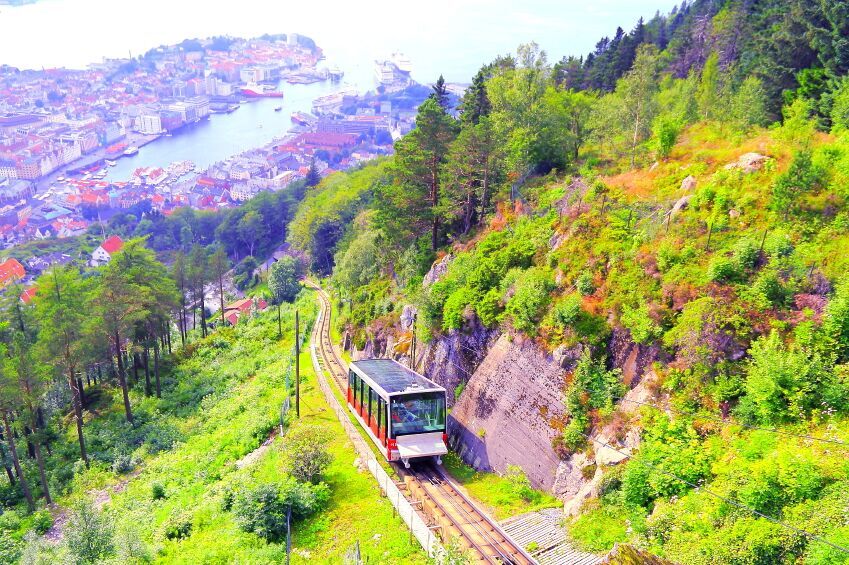 9. Bergen Railway
If you're more of a landlubber than a cruiser, you might fancy a jaunt on what is arguably one of the world's most beautiful rail journeys which connects the country's two largest cities: Oslo and Bergen. Along the way it passes through the forests of southern Norway, comes within touching distance of the fjords and takes in some breath taking scenery, all from the comfort of your snug railway cabin.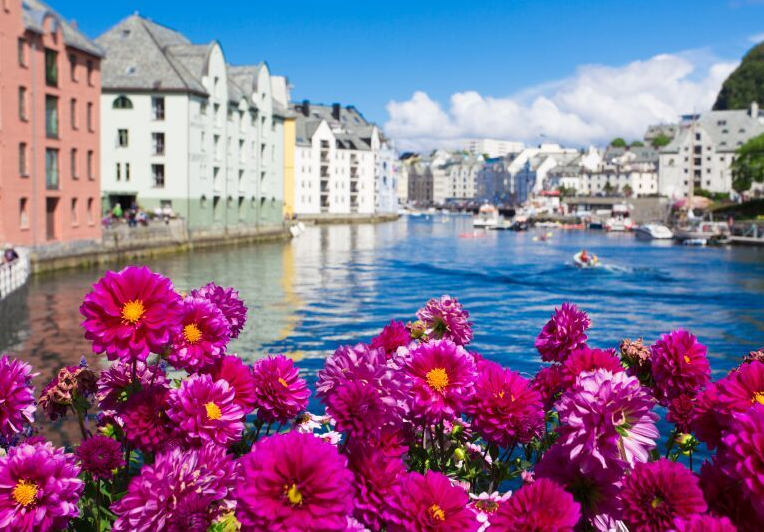 10. Ålesund
The beautiful port town of Ålesund has a devastating fire to thank for its allure. Leaving nothing but the church and jail standing, the fire ripped through the wood-built town in 1904.  Designed by young Norwegian architects trained in Germany, the new stone town was strongly influenced by the art nouveau movement of the time – heavily ornamented with turrets, spires and gargoyles. If wandering the streets and admiring the architecture isn't enough, Ålesund is the adventure capital of the Fjords with hiking, climbing and sea-kayaking all on offer.