A Caribbean cruise reunion
After booking a cruise to celebrate her partner's 70th birthday, Staysure customer Susan Bright was in for a wonderful surprise – a long-due reunion with a very dear friend.
Susan explains: "I met Maryanne Lauro and her husband Joe in 1997 while on a cruise celebrating my 50th birthday, we sat on the same dining table and have been friends since then. I had visited her several times in San Pedro, California, but had not seen her for over 7 years.
Unfortunately in 2003, about 18 months after she had visited Maryanne in 2000/2001, Susan became ill. "We Skyped each other every week but it's not quite the same as being together. Throughout my cancer illness in 2011 she had prayer circles going at churches all over the US and she called me regularly to see if I was okay – I bless the day I met her for she is a special person with a big heart and a wonderful family.
Susan continues: "Some years later and I booked a Caribbean cruise to celebrate my partner's 70th birthday, after flying to Miami from Manchester we set off cruising around the Caribbean.
"On the second day on board the ship, which was Captain's Night, I was completely surprised when Maryanne and her husband suddenly appeared in the main centrium of the ship whilst we were having photographs taken.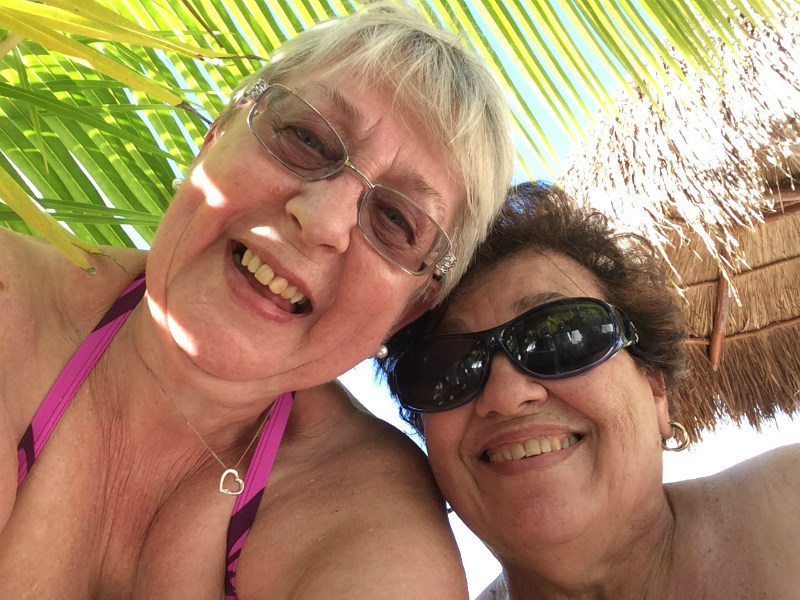 "She told me that when I informed her I was going on the cruise in June last year, that she decided to book herself and Joe on it as well but it had been so hard for her to keep the secret for over six months.
"It was absolutely wonderful seeing her standing in front of me with that special smile and what was fabulous as well her husband had no idea she had arranged all this. He was as shocked as me and said he would have knocked on our cabin door as soon as he got on board had he known – they were in a cabin three doors away and on the same dining table – Maryanne had arranged all that as well.
"It was such a lovely thing for her to do. We had a fabulous time and I spent some lovely moments with her which will always be special to me"
Susan took out an Annual Comprehensive Worldwide insurance policy to cover her cruise around the Caribbean and added that she would recommend Staysure to anyone.
"I was covered not only for the cruise but also for several medical conditions including tinnitus, high blood pressure and a knee replacement operation in 2013.
"I always take out Annual Insurance as being retired I can get up and go at any time without having to faff around getting insurance, in fact I am off to Normandy soon to stay at a cottage in a little French village with the friends who actually came on the cruise with us."
Win a £100 Marks & Spencer voucher*
Staysure customers go on some truly amazing adventures. From gallivanting around the Galápagos and trekking across the desert in Jordan, to volunteering after natural disasters and jetting off to Hawaii to participate in a singing contest, you'll find them all on our Real Lives feature.
So if you have an exciting story about your recent trip away to, why not let us know? We'd love to hear about it!
For every story we receive, we'll enter you into our monthly prize draw to win a £100 Marks & Spencer voucher.*