If you've ever thought about crossing a desert on foot then this is the travel tale for you.
Avid trekkers Roger and Christine Willis walked through the deserts of Jordan, with the aid of a trusty steed (a donkey called Marzuga) on a six-day adventure that lead to one of the New Wonders of the World, Petra. The lost Nabataean city which dates back some 2,000 years, is carved into pink-hued cliffs and the Al-Khazneh temple is one of the most recognisable and iconic temples in the world.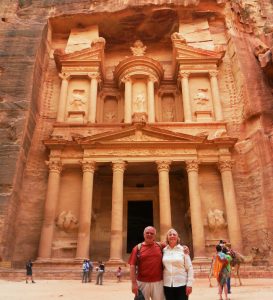 In Mr Willis' words: "in 2014 my wife and I went trekking in Jordan. We had already trekked the famous Inca trail in Peru culminating at the magnificent Machhu Pichu, and we decided to trek what is known as the Inca trail of the middle-east which leads to the glorious city of Petra."
"Despite the well reported situation in the middle-east which borders Jordan, the people here are happy and benefit from a benevolent, well respected King.
"As we have done on many of our travels we were insured with Staysure which provides holiday insurance that fits our requirements admirably.
"Arriving at Jordan you pay for your visa upon arrival which is set on something of a sliding scale and it is uncertain what the cost of the visa may be until you actually arrive, which just adds to the fun of being in an exotic location.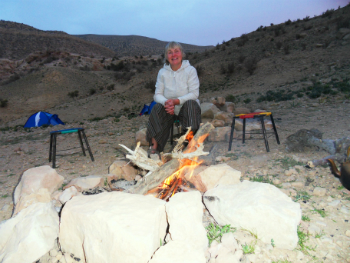 "After a night in Madaba we started our walk from the ancient town of Dana, trekking south and straddling the Rift Valley, camping each night at wonderful locations in the desert. Luckily we had with us a donkey by the name of Marzuga, which, when the going got really tough, Christine was able to use as transport, as her feet became swollen and blistered due to the intense heat.
"On one day which was particularly hot and difficult across stony desert floor, we made camp and pitched the tent, only to find a sandstorm approaching across the desert. The tent was collapsed and we spent the night in our sleeping bags out in the open whilst the sand storm blew itself out.
"After 6 days we arrived, by way of the mountains, at Petra and the wonderful ruins. They are stunningly difficult to describe but made all the better by arriving from the desert and the mountains, just as the ancients did.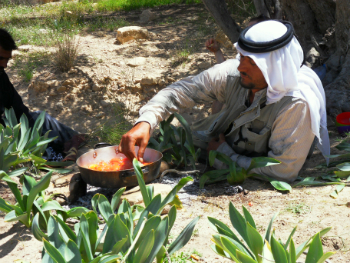 "After enjoying the city of Petra we headed back northward by minibus calling in at the Dead Sea for a truly wonderful experience in the sea which is every bit as good as you would expect.
"To cap it all off, the minibus driver who was taking us to the airport for our flight back to UK was due to return south to Petra that same day, and asked if we would mind taking a short detour via his house to enable him to shower and collect some things, before he dropped us at the airport.
"We readily agreed and we spent a marvellous time being plied with cups of tea and being introduced to his children who were happy to try their knowledge of English with these unexpected, and curious guests that father had brought home with him.
"A wonderful interlude with a gracious and welcoming Muslim family. All in all a fantastic experience for a couple of over 55 year olds."
Win a £100 Marks & Spencer voucher*
Staysure customers go on some truly amazing adventures. From gallivanting around the Galápagos and trekking across the desert in Jordan, to volunteering after natural disasters and jetting off to Hawaii to participate in a singing contest, you'll find them all on our Real Lives feature.
So if you have an exciting story about your recent trip away to, why not let us know? We'd love to hear about it!
For every story we receive, we'll enter you into our monthly prize draw to win a £100 Marks & Spencer voucher.*