Make the most of your Maldives honeymoon
Passionately delivering on a promise of luxury escapism, the Maldives are an obvious choice for the holiday of a lifetime – and exactly what many couples seek for their honeymoons.
This Indian Ocean archipelago of almost 1,200 coral islands boasts beaches of impossible splendour with soft white sand powdering beside luminous waters. They look like a paradise and they usually feel like paradise too. What's more, the Maldives' sumptuous resorts offer the space and privacy that honeymooners adore.
Here are some useful ideas and considerations when planning your honeymoon to the Maldives.
Exclusive and secluded island resorts
The Maldives are an archipelago of tiny islands making up a tiny country, the majority of them being completely uninhabited. The over 100 resorts each have their own exclusive island, meaning you're lapping up a glamorous private getaway, even at the least expensive resorts.
This exclusivity means no hawkers on the beach, no traffic, and no interruption to the seclusion. Operating on private islands means the resorts veer towards the luxury and expensive end of the scale, with the price tag helping to ensure solitude.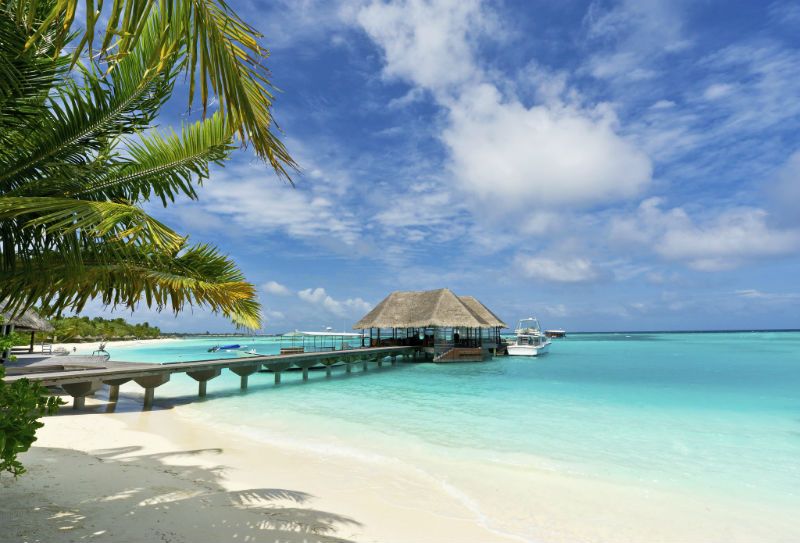 Which island?
Glance at the photos and each island revels in idealised combinations of palms, white sand beach, and cerulean shallow waters. These islands have been developed for tourism because of their postcard perfection so there's no need to expect anything to be out of place.
While the majority are fringed by permanent sand, some shift with the annual monsoon so check reviews to see that nobody complains of the beach disappearing at high tide. In general, the northern islands are smaller and surrounded by abundant rings of reef while those in the south have deeper lagoons and are better for diving.
Which resort?
Resorts are generally clear about what they offer. Most provide a luxury retreat for couples, with an emphasis on space and elegant touches. Some resorts are geared toward divers and others focus on families.
Once on the private island there's nothing but the resort so all excursions, meals and drinks must be ordered with the resort. In most cases, this makes all-inclusive packages good value for money; nobody likes to worry about high individual meal prices on their honeymoon. And all-inclusive doesn't mean the dreaded buffet – culinary luxury is another part of the appeal.
When to go
A highlight of a Maldives honeymoon is the climate. The islands hover between 26ºC (79ºF) and 30ºC (86ºF) during the afternoon and remain warm throughout the evenings, yet are never unbearably hot.
December to April is the high season and traveling around Christmas and New Year can get extremely expensive. This high season coincides with uninterrupted blue skies and remarkably calm waters.
The weather from May to November isn't quite as predictable as it's monsoon season and brings rainfall and storms. With any luck though, the occasional day of rain or clouds shouldn't intrude much on a one week holiday to the Maldives. Prices are 30–50 per cent lower than in high season months, making them more affordable for many couples. You'll also find that these months have significantly lower tourist numbers, perfect for ensuring extra privacy for honeymooners.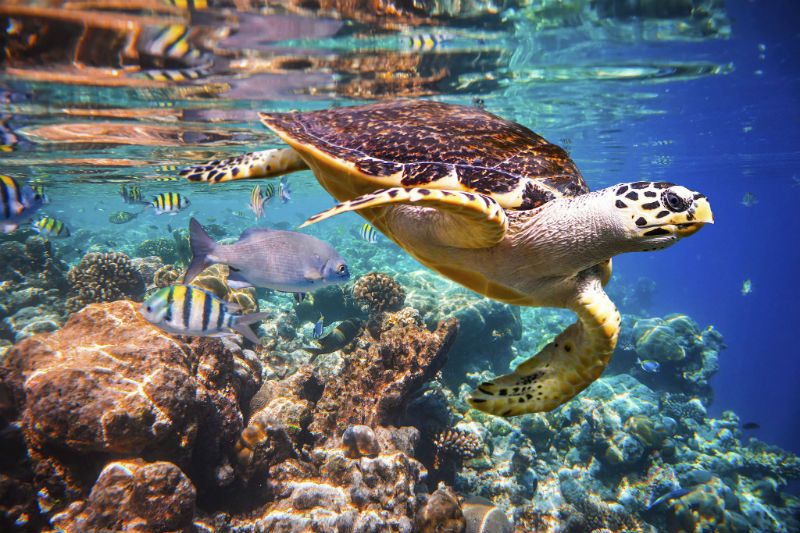 Diving adventures
Once you've done the romantic meals and the long lie-ins, it just might be time to get out and enjoy one of the islands' most loved pass-times. It's hard to think of a better place to share the joy of scuba diving than the Maldives. There are different dives for different levels and all the appropriate training is widely available. Beginners' courses are often provided by the resorts and by dedicated dive schools on the islands. Advanced dives include the opportunity to explore the Maldives Victory wreck, a ship that sank in 1981. There are few sights more dramatic than seeing an underwater ship appear out of the blue before you.
Among the colourful creatures to look out while you are down there are five species of majestic sea turtles, which are accustomed to divers and relatively easy to observe. You may also come face to face with some of the islands' 21 species of whales and dolphins, not to speak of over 1,100 species of fish – puffer fish, lionfish, unicorn fish, oriental sweetlips, snappers and squirrelfish, to name but a few.
Three "firsts" for your honeymoon
For something absolutely unique, the Maldives have three luxury underwater attractions that are the first of their kind on the planet. For that extra element of exclusivity on your honeymoon in the Maldives you might like to try some or all of the following firsts:
Ithaa Undersea Restaurant
The restaurant is exclusive with just 14 tables from where you can enjoy a 270-degree panoramic view while you eat contemporary fusion Maldivian cuisine with Western and Asian influences. Buried five meters below sea level at the Hilton Maldives Resort and Spa with its curved acrylic roof forming a tunnel from above.
Per Aquum Huvafen Fushi
This underwater spa, a sumptuously opulent treat surrounded by one of the country's best house reefs. Lime Spa enables you to sink into the depths of relaxation with treatments like massage, hydrating wraps and facials while angelfish look on.
Per Aquum
Twinned with the underwater spa is a subterraneous nightclub, with the speakers standing next to a radiant marine world. You'll need private speedboat transfers unless you're staying at the appropriate island resort.
Getting there
Charter flights land in the Maldives direct from Britain. Without a pre-arranged holiday package there's a selection of flights via Dubai and Doha. Planes land at Male International Airport, where most couples are whisked off to their resort by private transfer. Depending on the distance to the island, this could be a spectacular micro flight, seaplane, or speedboat. Make sure that transfers are included in your resort package otherwise their price tag can be pricy start to your visit to the land of white sand and palm trees.
Packing light
Most Maldives resorts are genuinely barefoot retreats with nothing but wooden walkways and sand connecting each part of the resort. When you arrive on the island, you won't need much luggage; it's remarkable how little you need on a tranquil Indian Ocean island. Bring a couple of nice outfits for a special honeymoon evening, but don't worry about a bag full of shoes.