The Balearics – something for everyone
The four beautiful Balearic Islands of Ibiza, Mallorca, Menorca and Formentera each come with their own distinct characters.
Ibiza's capital, Ibiza Town, is blessed with stunning natural beauty and historic interest on the one hand and lively nightlife on the other. Tiny Formentera is famed for its magnificent beaches and unspoilt, rustic charm. Meanwhile Mallorca, the largest and best-known island in the Balearics, is crammed with mega-resorts on the Bay of Palma and the east coast but there's plenty more besides: picturesque old towns; mountains; stunning coves; great hiking territories; nightlife; and elegant Palma, the Balearics' most prominent city. Then to the east, there's Menorca, the most subdued of the islands, with its modern resorts situated outside the capital city of Maó and around the charming little port of Ciutadella.
The Balearics are so varied that it can be hard to pick which island is best for you. Here are a few ideas to help point you in the right direction: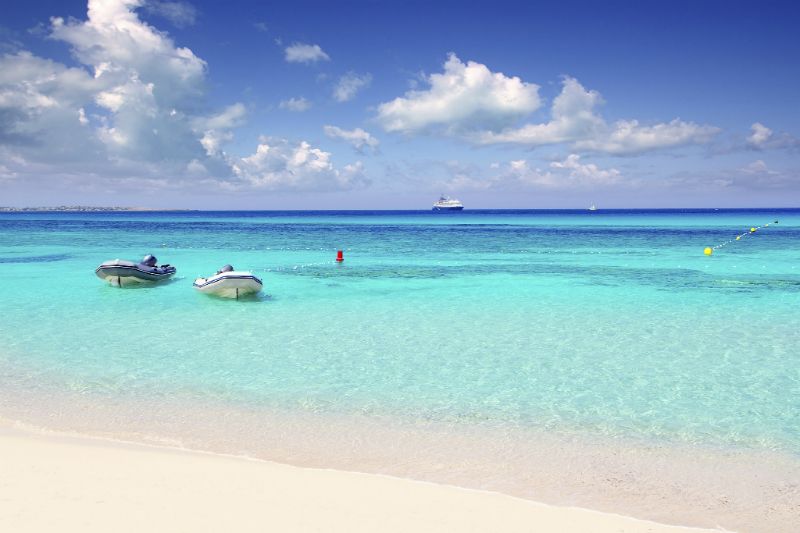 For popular beaches
Looking for somewhere safe and fun-packed for the children? Cala Comtessa on Mallorca is a small bay, just south of the resort of Illetes. The beauty of this beach is it's small enough to feel secluded, while being incredibly family-friendly. Soft sands and calm waters make it ideal for little ones while older children love the great snorkelling and other water sports. There's an uninhabited island not too far from off-shore for swimmers to aim for. After all the action, simply stretch out on the warm sands or buy an ice cream at the beach kiosk.
For party lovers, Ibiza's Cala Jondal is ideal for experiencing first hand Ibiza's famous party personality. The beautiful beach itself is packed with sunbeds and parasols and also vibrates with the party atmosphere.
If you like to swim, why not paddle around the fish and sailing boats dotting Menorca's Cala Macarelleta? Water doesn't come much clearer or more turquoise than at this cove, widely known to be one of the most picturesque on the island. Located near the popular resort of Cala Galdana, it can get quite busy during peak summer months. You can also enjoy simple Spanish seafood at Susy's Chiringuito beside the beach.
Formentera's Illetes might be busy but if you don't mind the crowds, you will find water sports galore on offer. On the northern tip of the island, trendy beaches are packed and well equipped for kite-surfing, windsurfing, sailing, water-skiing and jet skiing. The area also boasts some outstanding UNESCO-listed diving sites.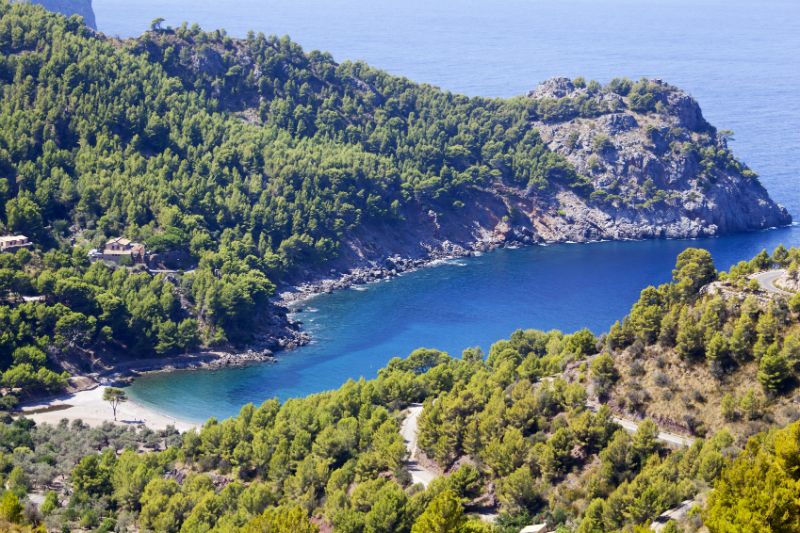 For peace and quiet
Ibiza may have earned a rightful reputation as the most action-packed night-life centre of the islands, but there's plenty of quieter things to enjoy in Ibiza without being in the thick of it. So if you are planning a family holiday in Ibiza, our article on Ibiza family holidays may well offer some brilliant tips.
A short boat trip away from partying of Ibiza, Formentera is vastly different again: UNESCO status and a beachfront building ban have kept the seafront low key, stylish and stunningly beautiful.
Meanwhile in Mallorca, Cala Tuent feels like a precious discovery. Take in impressive views of Puig Major, the highest mountain on the Balearics, and the unspoilt beach is bordered either side by rocky hills and fragrant pine trees. You'll be glad to know there are no sun beds or other touristy services here – this is ideal for a crowd-free beach day where simple sea, sun and sand are the main attractions.
Mallorca's Cala Varques is one of the Balearics' most quintessentially idyllic beaches. Surrounded by steep hills of pine woods, its white sands stretch out to cobalt seas. This beach is only reachable by boat or on foot so the crowds are kept at bay. If you're looking for a little adventure, you will find an intriguing network of underground caves here too – find the entrance carved into one of the nearby cliff faces.
The beach and surroundings of Menorca's Es Grau are a nature lover's heaven. Sweeping sand dunes and pine woods lead to Parque Natural de s'Albufera des Grau and the modest village of Es Grau is full of traditional character. A stroll across the quiet beach leads you to the park – have your binoculars ready to spot over 100 species of birds, while the shallow waters are perfect for a spot of snorkelling.
The north coast of Menorca is rocky and punctuated by small, scenic coves which rarely get crowded especially if they require a little footwork to get there. Drive to Cap de Favártix, the narrow black slate cape at the northern extremity of the Parc Natural s'Albufera des Grau for a scenic treat which sums up the natural beauty of the island, along with its lighthouse atop the cape's ragged cliffs. To the south, you will come across some gloriously remote, sandy bays including Platja d'en Tortuga and Cala Presili both of which are reachable on foot only.
For more on the peaceful side of the Balearics , take a look at our ideas on six crowd-escaping activities in the Balearics .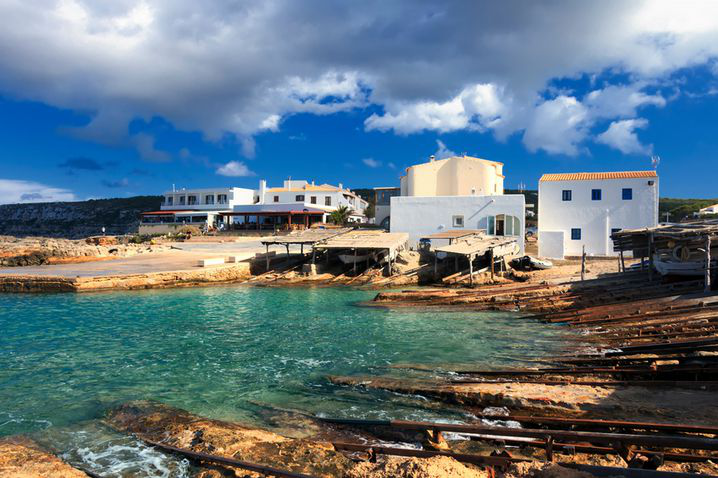 For walkers
Fresh air and exercise are guaranteed in the Balearics and sometimes getting out there to explore on foot is the best way to enjoy yourself. Here are just a few of the wonderful walks awaiting you:
Mallorca
Cape Salines to Es Carbo Beach. Stretching along the southernmost point of Mallorca, the village of Ses Salines is where it all starts. Get there on a Thursday morning and you'll catch the weekly street market for a taste of local life. To start the walk, park near the lighthouse and follow the well-signposted road to Ses Salines-Santanyi. The trail is flat and skirts the coastline, passing several pretty coves to Es Caragot, a beautiful, long white sandy beach. Cross the beach and keep going on the trail to the neighbouring beach at Es Carbo.
Menorca
Punta Nati-Cala Morell. Following the coastline to Cala Morell will take you past several coves starting at Puna Nati, reached by a road, starting in northern Ciutadella. Pass Cala Pous, Cala Morts and on to Sa Punta des Singles. Bring sturdy footwear as you'll be negotiating some rocky terrain above the rugged cliffs, no doubt stopping off to take in the idyllic views. After traversing the modest S'Encletxa de S'Ull de Sol valley, the trail continues to an old stone wall and from here, your walk keeps going for about three hours to Cala Morell.
For more walk ideas in Menorca, we recommend 10 sights not to miss on your walking holiday in Menorca.
Ibiza
Sant Josep-Sa Talaia. A Roman settlement at Ses Paises de Cala d'Hort; several medieval churches; a Pirate's Tower dating back to 1763; a tiny chapel atop a mountain; and epic views across the island to Formentera are all features of this Ibiza hike. It climbs 475 metres above sea level to Sa Talaia, one of the Ibiza's highest points, starting in the village of Sant Josep. The trail is well-signposted and takes you past typical, rural houses and pine forests.
Formentera
This island is famed for its 19 old roads, known as Green Routes which are a great way to discover the island's magnificent 82 square kilometres of beauty. You can get information on the routes from the Formentera City Council to help on your way. The walks and cycle tracks take you past vineyards, pine forests and dunes. Then there are the panoramic views of Port de La Savina, along with interesting architecture and typical stone walled dwellings, fishermen's huts and harbours.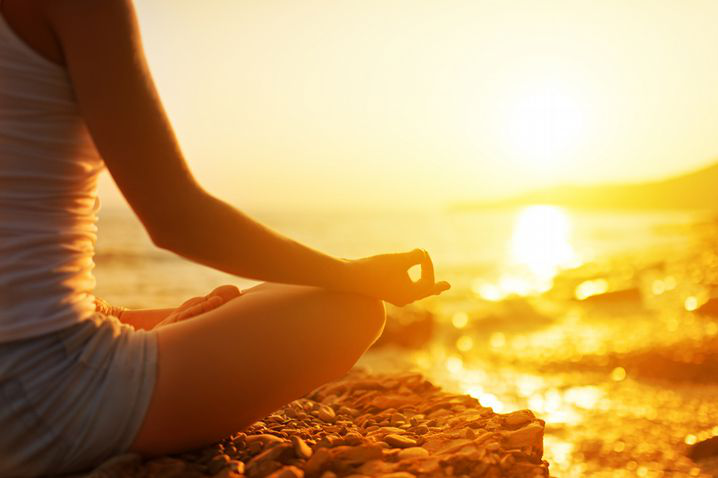 For luxury and wellbeing
A bit of five-star luxury won't go amiss if you're looking to switch off and relax in the sizzling sunshine. So go on, treat yourself to some fine dining at the islands' best restaurants or kick back at one of the islands' countless exclusive beachside hotels.
For healthy, clean living, Ibiza's beach at Niu Blau on the northeast coast is where many people head to for sheer indulgence perhaps after Ibiza's party nights have finally taken their toll. Here you'll find yoga on the sandy beach, detox and spa treatments and a mix of spa and spiritual pursuits. Aguas de Ibiza, a five-star beach resort in Santa Eulalia also combines fitness with detox activities, including relaxing treatments and yoga classes on the beautiful, pine-backed beach.
If you're looking for a little more glamour than you'd find on your average bucket and spade holiday, Illetes on the northern coast of Formentera could fit the bill. This popular area is frequented by the sophisticated jet-set and with its beautiful turquoise waters Illetes is not only fashionable, it's incredibly picturesque too.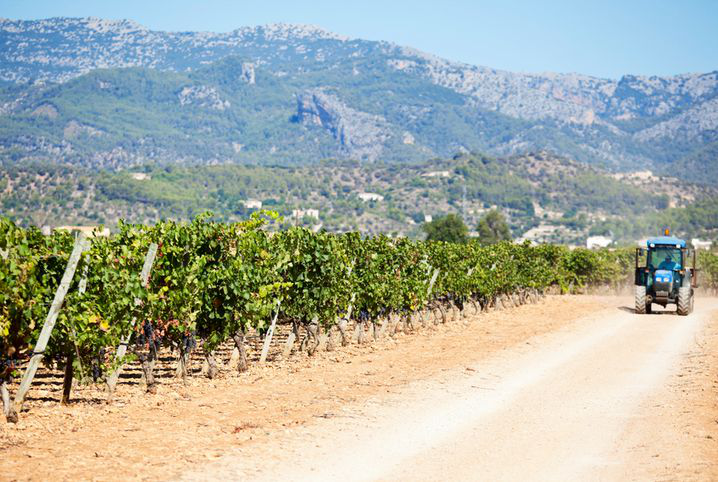 For wine
Many visitors coming to the Balearics for packed beaches and hedonistic clubs are completely unaware of their much celebrated wine producing tradition. The vineyards of Ibiza, Mallorca and Menorca are in fact some of the most picturesque in Spain, clinging to steep terraces on the islands' hills while almond, olive and citrus trees dot the fertile soils.
In Mallorca, make your way to Pla I Llevant in the central/eastern part of the island and Binissalem, on the road between Palma and Inca to try out the island's two main wine appellations: D.O Binissalem-Mallorca and D.O Pla I Llevant. The native grapes are Callet which are mixed with Carnet or Manto Negro for red and rosé wines. For white wine, the island's Moll (Prensal Blanc) grapes produce a light and refreshing tipple. The bodegas (vineyards) can often be toured, with lunches and dinners included. Drop in on Santa Maria del Cami's impressive Bodegas Angel Vineyard, or Binissalem's Celler Albaflor Vins Nadal. Alternatively, the nearest tourist office will give you details.
Ibiza has a smaller wine making community than in Mallorca and has no D.O. appellation but with a handful of wineries in Sant Mateo, Buscatell and Sant Josep, all producing sumptuous Vino de la Tierra wines, it holds its own. To visit some of the wineries, take a look at San Mateo's Sa Cova Winery or Can Maymo Winery; alternatively, drop in on the Can Rich de Buscastell Winery in San Antonio.
Menorca and Formentera, with just 30 hectares of vineyards between them, have some lovely surprises in store boasting Vino de la Tierra status:
Menorca has four wineries and the first red sparkling wine in the Balearics, made by Viñas Binifadet. The wineries mainly work with Chardonnay, Malvasía, Macabeo, Moscatel, Cabernet Sauvignon, Parellada, Merlot and Monastrell grapes. It's a good idea to seek out unique local wines when visiting the more remote parts of the islands – they can often offer superb value and a vibrant, rich fruitiness.
Formentera with its two wineries, produces Cap de Barbaria wines you might also find across Europe. The favourite red, Vi de la Terra de Formentera, is a famous blend of Merlot, Cabernet, Monastreel and Fogoneu local grapes.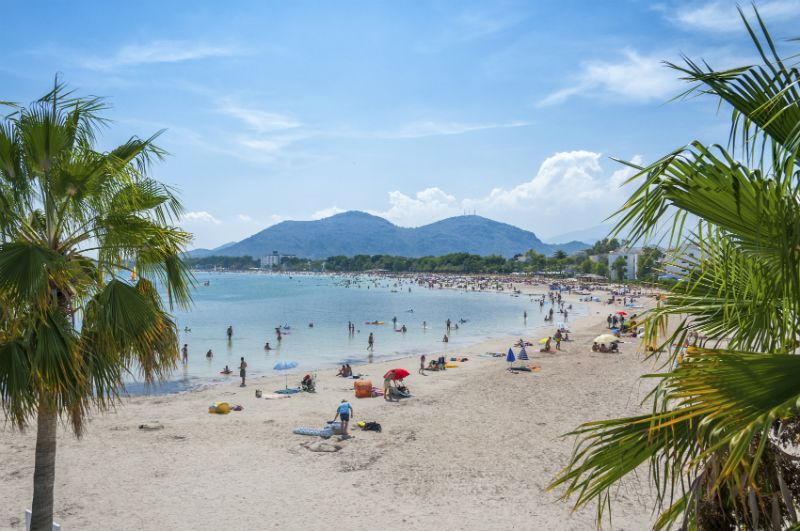 For nightclubs
Ibiza is party-central in the Balearics and its credentials don't look like changing any time soon. But if you feel you are past the party stage of life, you might like to avoid the heavy nightlife areas in favour of quieter parts of the island.
For the ultimate beach party hangout, head for Ibiza's Cala Jondal which still reigns supreme in terms of its hedonistic party spots. It hosts the famously fashionable Blue Marlin Beach Club with its food, cocktails and a continuous party vibe that's hard to beat.
On the other islands, party lovers tend to head for the biggest resort towns which cater well for late night crowds. In Mallorca, this means going to the capital of Palma de Mallorca and the busy beach hubs of Alcudia, Cala Major and Magaluf. In Menorca the liveliest nightlife concentrates in and around Cala N'forcat/Los Delfinnes; however, the island attracts more of a family holidaymaking crowd than Ibiza or Mallorca so don't expect the same heights of hedonism here.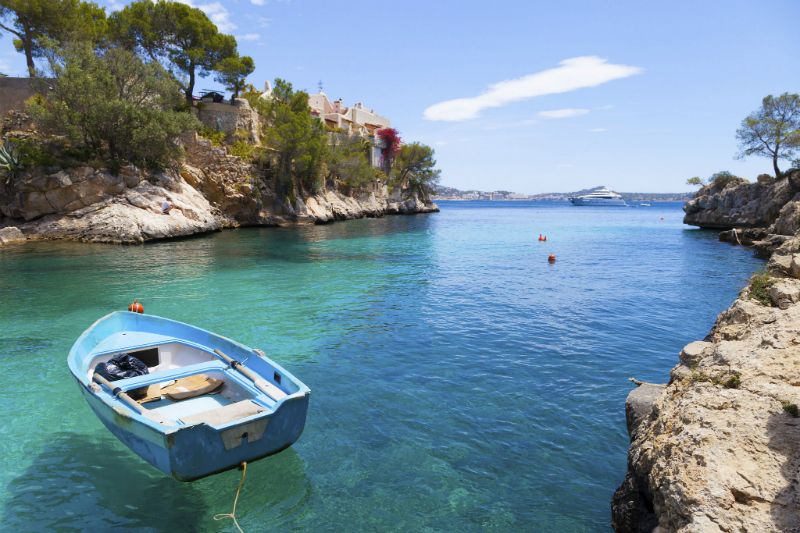 Getting there
It's easy to get to the Balearics from the UK and mainland Spain, thanks to many bargain flights operating during peak summer and Easter seasons. Winter services are more limited and you may well find that Mallorca is the best connected. If you need to reach other islands, you might like to travel onwards via ferry if necessary.
If you're travelling from Spain, fast ferries from Barcelona, Denia and Valencia link with the islands. There are also ferries connecting the islands, though these can get pricey and booked up in summer so book well in advance. Barcelona and Valencia airports also offer direct flights to all the islands.