Five must-see museums in Krakow
You won't be short of history on your trip to Krakow as this is one of the most perfectly preserved old cities in Europe. Home to one of Central Europe's oldest universities, Krakow has always punched above its weight in terms of independent art and thinking. The Old Town reveals a harmonious blend of past and present and is an essential part of your visit to Poland.
Our pick of five must-see museums in the Old Town are all within easy walking distance of each other and when you're not within their walls, you'll be ambling through quiet streets, soaring church spires and Europe's largest market square at the vast Rynek Główny,
Where to start on your discovery of Krakow's Old Town museums? We walk you through five of the best, starting at the Barbican, winding your way down to the Cathedral Museum.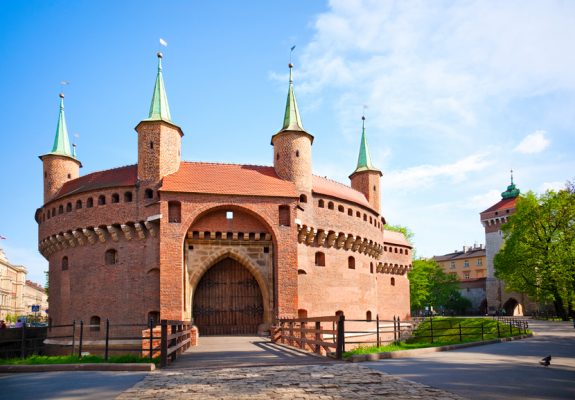 1. Barbican (ul. Basztowa)
Step into the land of fairy tales at the Barbican, the showpiece of the Krakow's medieval defences with its seven elegant Gothic style spires and 130 defensive slots once used by archers and riflemen. This fortress was built at the end of the 15th century to protect the city's main entrance. Enemies would have to brave a heavily guarded drawbridge over the moat that surrounds it. With its 3 metres thick walls, this masterpiece of military engineering proved impenetrable and today it stands as one of the only remaining structures of its kind in all of Europe.
The Barbican is used for special events such as medieval pageants, shows and contests, and transforms itself into an outdoor museum from April until the end of October.
2. 19th century Polish Art Museum (Cloth Hall, Rynek Glowny, 3)
This magnificent historic art exhibition graces the inside of Cloth Hall, the iconic glory-piece to be found at the centre of Market Square. Just like a small slice of Paris's Louvre in Kraków but without the crowds, the collection covers 19th century Polish art with a focus on portraiture and epic historical paintings. The collection is refreshingly small enabling you the luxury of giving your full attention to each exhibit. Almost everything created by Jan Matejko here is considered to be a national treasure, but the collection also includes beautiful works by other historic Polish artists.
Once you've taken in the exhibits, make sure you step out onto the magnificent balcony overlooking the Market Square.
3. Archaeology Museum (ul. Poselska, 3)
An old monastery is the setting for this museum and for many, the highlight is its beautiful garden where you can relax and take in the fantastic views of Wawel in the distance.
Inside, the museum's main claim to fame is the Zbruch Idol, the only existing sculpture of a Slavic god and part of an exhibit on the prehistory of Małopolska. Other permanent exhibits include several pieces of ancient pottery, Peruvian artefacts, and ancient Egyptian shrouds, along with a number of intricately decorated sarcophagi and mummified cats. Audio guides are available to explain their significance). You will also find a permanent exhibition on the history of the museum itself and the monastery that houses it.
4. Bishop Erazm Ciolek Palace (l. Kanonicza, 17)
This early 14th century Bishop Erazm Ciolek Palace opened following renovation works in 2015 and holds three permanent exhibitions: Kraków At Your Fingertips; Orthodox Art of the Old Polish Republic; and Art of Old Poland from the 12th to 18th Centuries. The first showcases local architectural sculpture pieces, while the others contain mostly religious art, the bulk of which came directly out of churches in Kraków's and surrounding areas. A highlight is the eerily beautiful 16th century near life-size wooden sculpture 'Christ Riding a Donkey'. Another noteworthy exhibit is the wooden Madonna from Krużlowa which dates from around 1400.
5. Cathedral Museum (Wawel, 2)
Opened to the public in 1978 by Karol Wojtyła just before he became Pope John Paul II, this fabulous Cathedral Museum features an abundance of secular and religious items dating back to the 13th century, all of which refer to happenings in the Cathedral next door. Among its most valuable exhibits is the sword, deliberately snapped into three pieces at the funeral of King Zygmunt August – the last king of the Jagiellonian dynasty. You will also be able to view all manner of coronation robes along with royal insignias.
Tourist passes
The Krakow Tourist Card is covers two or three day visits and entitles you to free travel on public transport (including the bus to the airport); free entry to 32 museums; and gives discounts on organised tours and at some restaurants.