Medieval walls and mighty bastions as well as the towering Gothic-style Black Church, lively cafes; cobbled Old Town streets, the famous Piaţa Sfatului (Council Square), colourful baroque buildings and Casa Sfatului – now a local history museum means Brasov is jam-packed with history and just as much to please the eye.
According to legend, the Pied Piper re-emerged from Hamelin in Braşov, and it's easy to imagine him, rats in tow, traversing the fairy-tale style cobbled streets amid enchanting turrets and medieval spires. This is a very relaxed Transylvanian city with a maze of streets where stopping off for coffee at the numerous bohemian cafes feels almost mandatory.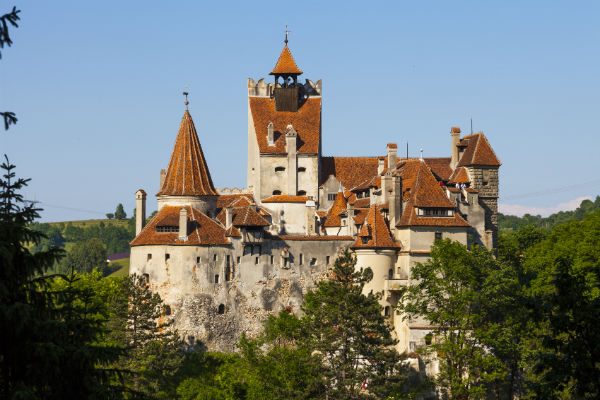 The best of Brasov city
Piata Sfatului
This open-air market square is perfect for a leisurely stroll. It is conveniently surrounded by the most iconic sights of Brasov; Black Church, the former Council House, the Orthodox Cathedral, the Hirscher House, Muresan's House and Rope Street (Strada Sforii) so there's plenty to see.
Black Church
The largest gothic church in Romania, Black Church gets its name from damage caused by the Great Fire of 1689 when flames and smoke blackened its walls. The impressive interior is well kept and its organ is one of the largest in Eastern Europe.
Rasnov Fortress
A magnificent fortress built by Teutonic Knights, the museum here houses a skeleton buried beneath a glass floor, along with some other interesting artefacts. The inner rooms of the fortress are like a maze with wooden ladders linking them and a secret passage to keep you on the go for quite a while.
Catherine's Gate
This medieval gate defended Brasov in its heyday and is the only part of the medieval gates still standing. Today Catherine's Gate houses a well-stocked museum showcasing art and history.
Rope Street
Rope Street is probably the narrowest in Europe at just over a metre wide in places. Built in the 17th century as a convenient corridor for firemen on duty, the alley is a famed 'lover's lane' a favourite with photographers.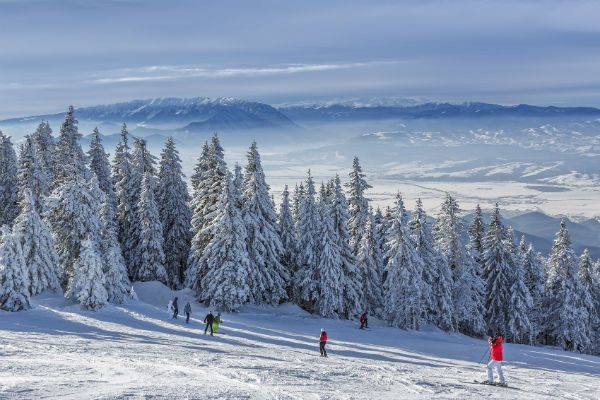 Just outside Brasov
Once you've tackled the city, you'll be ready to enjoy some of its surroundings too:
Skiing
Many people use Braşov as an urban base for skiing holidays in Poiana Braşov, just 12 kilometres from the city. With snow lasting 120 days a year, the resort is well equipped with great restaurants and sport facilities alongside its wide variety of slopes.
Another important mountain resort is Predeal, located some 25 kilometres drive from Brasov. Predeal graces the highest point in Romania (1,033 metres) and is surrounded by five massifs: Bucegi, Baiului, Fitifoi, Postavaru and Piatra Mare. When you're not skiing down the Cioplea and Clabucet slopes, Predeal is the perfect base for taking exhilarating mountain hikes.
Trekking
If you're keen to stretch your legs amid mountains, fresh air and stunning unadulterated nature, head to the Piatra Craiului National Park. The park is set within the Carpathian Mountains in deepest Transylvania and is home to the highest and longest limestone ridge in Romania. Bordered by glacial lakes, it offers sensational views and the two day north-south ridge trail is both challenging and rewarding.
The Carpathian Mountains host one of the largest untouched forests in Europe. You will find hundreds of unique natural species here, along with 60 per cent of Europe's brown bear population. Favourite activities include: caving, rock climbing, mountain biking, hiking and bird watching.
Castles
Romania's fabulous collection of castles illustrates the rich medieval heritage you will find in this country. Perched on a hilltop above Brasov, Bran Castle is perhaps the most famous, being the legendary home to Bram Stoker's Count Dracula, one of the greatest villains to stalk our nightmares. Constructed in the early 14th century, it is open to the public so you can walk its dark corridors and peer into its creaky rooms before buying a creepy souvenir at one of the nearby stalls.
Other castles you might like to include on a day trip are Rasnov (Peasant Fortress) sitting atop a rocky hill 15 kilometres southwest of Brasov with its spectacular views, and Sinaia (Peles Royal Palace), considered by many to be one of the most beautiful castles in all Europe thanks to over 160 rooms influenced by the German Renaissance, Italian Renaissance, German Baroque, Gothic and French Rococo.

Amazing roads in Romania
The Transfagarasan and TransAlpin are two unique thoroughfares crossing the southern Carpathian Mountains and they are known to be some of the world's most amazing roads.
Climbing to an awesome 2,034 metres, it's small wonder that the Transylvanian Highway (Transfăgărăşan Road) is dubbed "the road to the sky". Expect hair-raising hairpin bends and steep descents which are both an attraction and a challenge on this unforgettable stretch of road.
For more adventure and magnificent Alpine scenery, the ancient TransAlpina road winds its way through valleys and plateaus to 2,145 metres, making it the highest mountain passage in Romania. Needless to say, you will be taking in breath-taking views together with adrenaline-filled driving excitement.
Don't forget when planning to head to Romania to consider a European travel insurance budget line.