Japan – something for everyone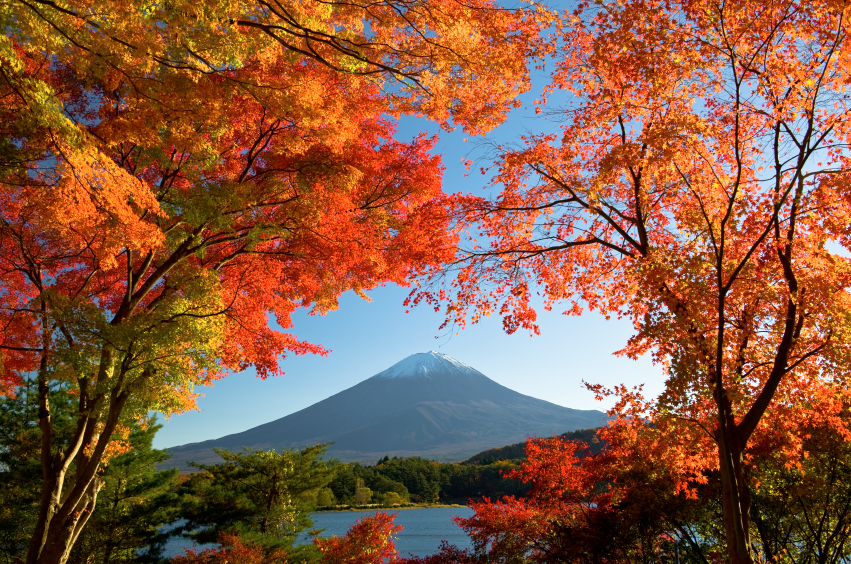 Tradition and modernity mix effortlessly in Japan: ancient temples and shrines sit alongside skyscrapers while bullet-fast shuttle trains whisk you through spectacular scenery to modern cities with world-class shopping and restaurants. This fascinating island nation pioneers in the fields of technology, design and fashion so not only can you set your watch by the trains, you can marvel at cutting-edge fashion and eat the most contemporary food.
Japan's more natural areas are swathed in year-round beauty so you can choose to admire the springtime glory of cherry blossoms, bask on sun-drenched beaches, climb iconic Mount Fuji or ski the slopes of Hokkaido. And wherever you go, fabulous food is standard, from fresh sushi and sashimi to meats with sizzling sauces.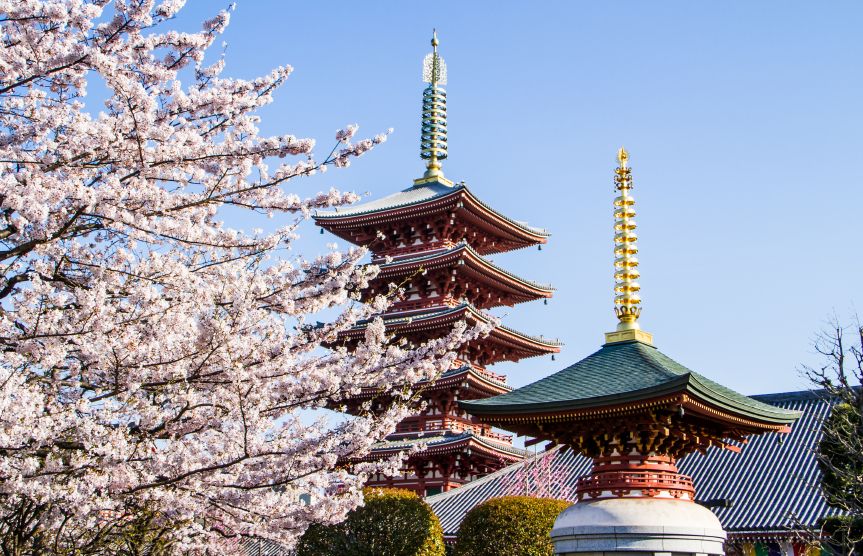 Rich history and culture
The Japanese embrace all that is cutting edge, but they never let go of their age-old cultural traditions and proudly achieved heritage. From the grace of a Kyoto geisha dance to the beauty of a Zen rock garden, Japan boasts so many unique historic things to do and see: Crumbling castles and mystic Buddhist temples like the striking Himeji Castle, Tokyo's opulent Sensoji Temple, and Kyoto's iconic Temple of the Golden Pavilion all await you. There's also dramatic evidence of Japan's recent history to be seen in the cities of Hiroshima and Nagasaki, where nuclear bombs were dropped with devastating consequences during World War II.
In terms of cultural experiences, you might like to immerse yourself in some of Japan's most typical customs. For one thing, seeing the art of sumo wrestling in action is enthralling and immensely popular – all the more so if you book ringside seats – Tokyo, Osaka, Nagoya and Fukuoka run six major tournaments throughout the year. A traditional Japanese tea ceremony has you sitting on a tatami-mat floor in a tranquil setting, notably in Kyoto and Tokyo. Or you might prefer to pack a picnic and join the cherry blossom parties in April and May when the trees are in bloom. Lively parties with family and friends are held beneath their pretty blossoms – head for Ueno Park in Tokyo or Maruyama Park in Kyoto for some of the most famous events. For a break from sightseeing action, why not unwind in a hot spring just like the local Japanese people do? Relaxing in natural hot springs (oronsen) is a way of life in Japan, with favourite soaks to be found at Dogo in Matsuyama; the 3,000 year old Shikoku springs; and Ibusuki, in south Kyushu, famed for its fabulously relaxing hot sand saunas.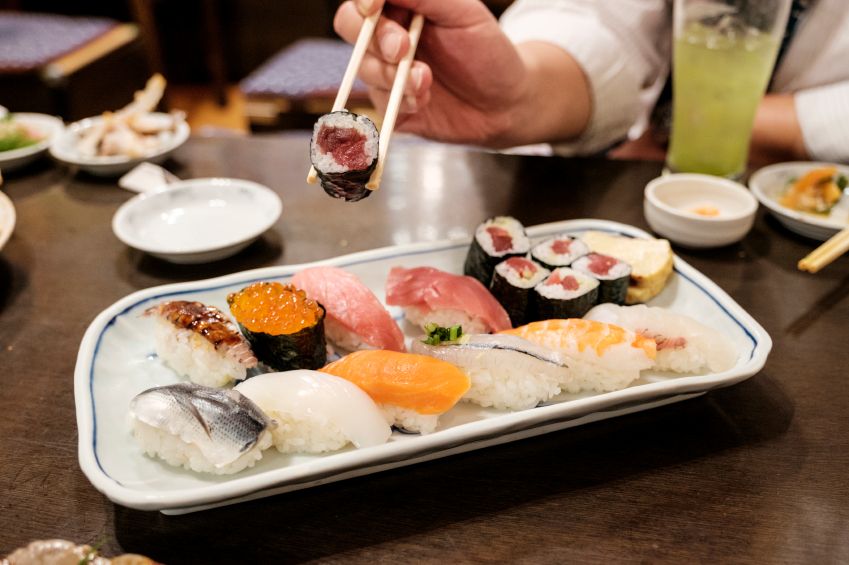 Food extraordinaire
Savouring real Japanese cuisine on its home turf is often reason enough to come to Japan. The Japanese love to eat out and even in the smallest of towns you will find a profusion of culinary options to suit all tastes and budgets. From humble noodle stands and stand up sushi bars to more sophisticated restaurants serving a varied menu of seasonal specialties, one thing's for sure: The Japanese addiction to fresh ingredients and fastidious detail, along with their genius for presentation are likely to completely transform your ideas on what is possible on a plate.
There is so much to savour that many visitors actually plan their Japanese holidays around the food. The nation is divided into distinct geographic regions, each with its own unique culinary traditions so you could easily eat your way around a diverse selection of Japanese regional foods as you move around the country.
One special food experience has to be witnessing the world's biggest fish market at Tsukiji in Tokyo. But no lying in: be ready for the action when the market kicks off at around 4am. As it winds down at around midday, you're likely to have a developed a keen appetite for the freshest of sushi and sashimi feasts which you can enjoy at the atmospheric restaurants alongside the market.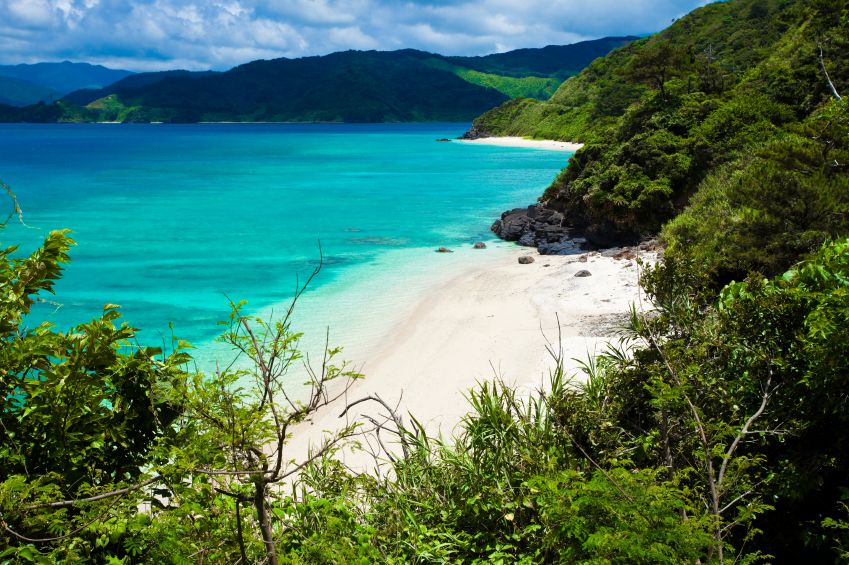 The great outdoors
Japan's natural wonders are among its best kept secrets and world-class skiing, hiking and hot springs (onsen) are never far away, even when you're deep in the city. From February to summer, a series of beautiful blossoms burst open in their fullest glory – plums, cherries, azaleas camellias and wisteria to name but a few – and don't forget the brilliant autumn foliage to be found of November, all of which are sure to get your camera snapping.
Northern Japan
The awesomely photogenic Alps rise sharply near the prefectures of Gifu and Nagano in the north and roll northwards towards Japan's dramatic coast. Hiking in the Japan Alps and on the volcanic, national park-filled island of Hokkaidō is world class and well equipped for several days of glorious hiking.
Come winter, you might like to join the crowds of Japanese hitting the slopes. Top-class ski resorts are sprinkled over the central Japanese Alps and Hokkaido, where the pistes are famed for their powdery snow. Many resorts also have onsen (hot springs), perfect for après-ski relaxation.
In the Kagoshima prefecture, lush forests nestle among the craggy peaks of UNESCO World Heritage listed island Yakushima with its coastal hot springs and sandy beaches. The starfish-shaped Amami-Ōshima also has fine beaches bordering its beautifully intricate coastline.
Central Japan
In the mountains of central Japan, utterly remote, picturesque Shirakawa-go is famed for its Gassho-zukuri farmhouses. These are charming traditional houses with high, narrow thatched roofs. Many are still inhabited, while others and open to visitors giving an interesting insight into traditional rural life.
Southern Japan
This is a great area to discover Japan's stunning forests, waterfalls, tea fields and hot springs. You might like to pull your hiking boots on and follow the Kumano Kodo, an ancient pilgrim route through the mountains of the Wakayama prefecture. This area, now a UNESCO World Heritage site, is also the spiritual heartland of Japanese mythology which uniquely combines Buddhism and Shintoism.
Even further south, you can explore the magnificent coral reefs of the Okinawa islands where you would be forgiven for thinking you're in Hawaii or Southeast Asia – head for the coral-fringed island of Ishigaki and the nearby island of Iriomote-jima with its verdant jungles. Coral reefs also abound in the Yaeyama Islands where you can marvel at mangrove swamps and subtropical jungles. Finally, for spectacular sandy beaches and a laid back vibe, it's hard to beat Miyako-jima.