Top 10 German city breaks to add to your bucket list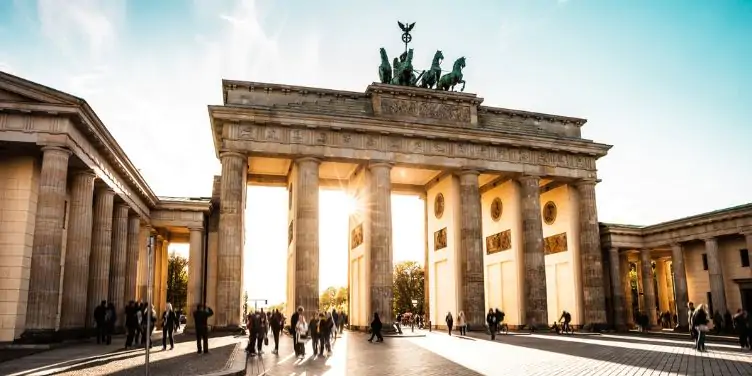 From cultural diversity to historic sights and Bavarian castles, there's something for everyone in Germany.
You can find Munich's baroque palaces, or wander around Hamburg's HafenCity. If you'd rather venture into the capital, Berlin hosts historic sites like the Brandenburg Gate and Berlin Wall, which blends effortlessly with contemporary art galleries.
Here are our top 10 German city breaks to explore…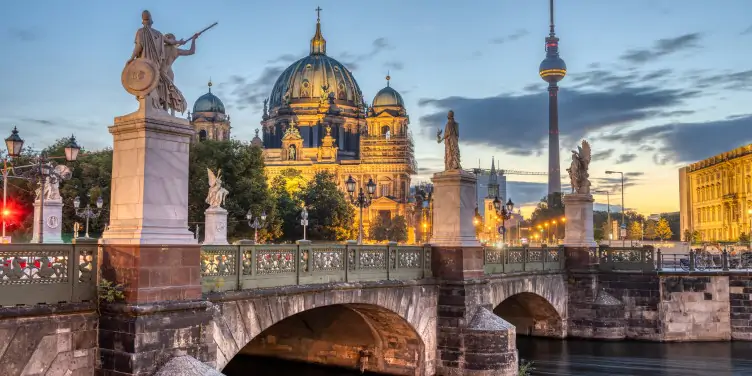 1. Berlin
Over time, Berlin has become a cosmopolitan and exciting city, packed with inspiring art, architecture, and entertainment.
Germany's capital is a great place for a leisurely wander, and walking is the best way to soak up the atmosphere. Every district in and around the city centre has its own unique identity – from Mitte with its must-see sights and markets (including the Reichstag), to Kreuzberg, with its abundance of bars and restaurants.
Tiergarten is dominated by the green park of the same name. While Charlottenburg is a popular retail district and home to Schloss Charlottenburg, the largest royal palace in Berlin complete with beautiful gardens and woodland.
History is an important part of Berlin's identity so don't miss the symbolic Brandenburg Gate and the Jewish Museum which are moving reminders of the Cold War and World War II.
No trip to Berlin is complete without a visit to the Berlin Wall, particularly the East Side Gallery in Friedrichshain-Kreuzberg which features 105 paintings.
Nearest airport: Berlin Tegel Airport (TXL) is located 5 miles from the city.
Top tip: Visit Berlin is packed with useful information for visitors, from events to hotel and travel deals.
Berlin's hidden gem: What was once a hospital has now been converted into a museum and artist's space at the Freiluftkino Kreuzberg. There's even an open-air cinema during the spring and summer, where you can catch a film in this spectacular setting.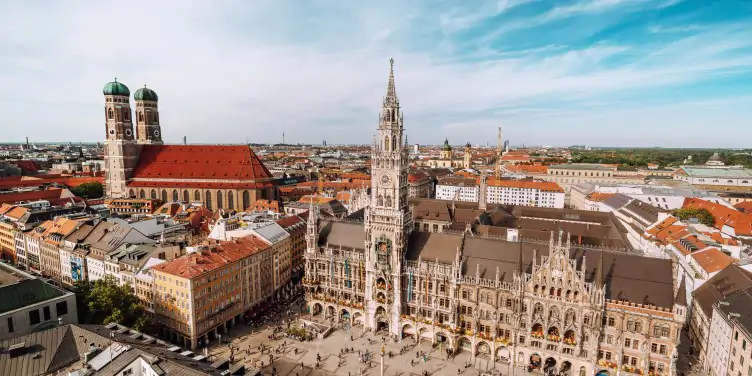 2. Munich
Bavaria's capital is the gateway to the Alps, which makes it an ideal place for a city break before setting off to the mountains.
For a taste of Munich's hospitality and world-renowned beer, a visit in October for the world-famous Oktoberfest is a must. While reservations for the festival are possible, it's easier to get a seat during off-peak times.
Other popular sights include the Deutsches (transport) Museum and the Residenzmuseum, which was home to Bavaria's Wittelsbach rulers from the early 1500s. Art-lovers will love the aptly named Schönheitengalerie (Gallery of Beauties) for portraits, and there's plenty of shopping and dining options in the city too. 
Nearest airport: Munich Airport (MUC) is 18 miles from the city centre.
Top tip: Munich Tourist Information is filled with the best sights, museums and restaurant recommendations.
Munich's hidden gem: Make sure to visit the stunning Japanese Tea House that was donated to Bavaria in 1972. Its philosophy is guided by Zen Buddhism, so expect an incredibly relaxing tea drinking experience.  
3. Frankfurt
Frankfurt is the financial centre of Germany, which explains all the skyscrapers! But this bustling city is historic too.
A cruise down the River Main shows Frankfurt's progression as you pass its modern area and head towards the traditional buildings of the city's Museum Embankment.
Museums include Städel, Historisches Museum, Jüdisches-Museum, Senckenberg Naturmuseum (Museum of Natural History), Geldmuseum der Deutschen Bundesbank to name but a few – while other cutting-edge artistic attractions like the Orfeos Erben independent cinema help define Frankfurt as a modern and innovative city.
The nearby vineyards and spa towns like Wiesbaden are easy to reach, making Frankfurt ideal if you want to stick around for more than just a short city break.
Nearest airport: Frankfurt Airport (FRA) is 8 miles from the city centre.
Top tip: Discover the top sights, events, and places to visit at Best of Frankfurt.
Frankfurt's hidden gem: If you're visiting over a weekend, head to Kleinmarkthalle. Tourists and locals tend to visit this vibrant indoor market on a Saturday to try some unique cuisine and meet friends.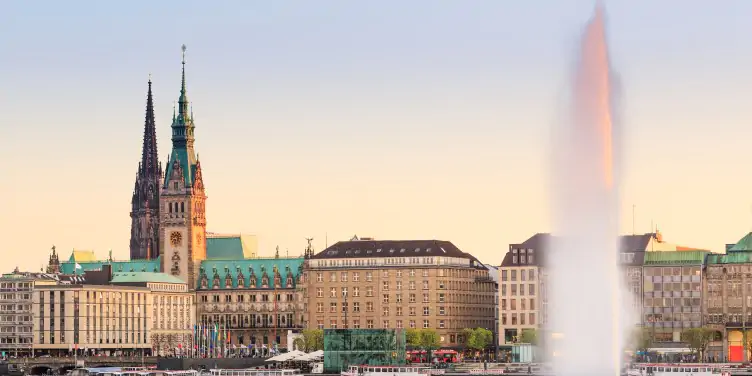 4. Hamburg
Germany's second largest city boasts one of the biggest ports on the planet, earning it the nickname 'Gateway to the World'. It might surprise you to know that Hamburg has more bridges than Amsterdam and Venice put together, thanks to several waterways running through its centre.
Hamburg is the nation's greenest city with two thirds of its area covered by lakes or parkland, which makes it ideal for walking and cycling. 
Head to Planten und Blomen botanical gardens and admire their picturesque fountains, lakes, lawns and flowers. Greenery aside, Hamburg's Reeperbahn, an entertainment district, is where the Beatles played in the 1960s and its live music scene is still renowned today.
You will find UNESCO (United Nations Educational, Scientific and Cultural Organization) wonders in Speicherstadt. Meanwhile, the innovative and sustainable all-wood Wälderhaus (Forest House) is a shining example of Hamburg's environmentally sound outlook.
Nearest airport: Hamburg Airport (HAM) is just 5 miles from the city centre.
Top tip: Explore what the city has to offer before your trip at Discover Hamburg
Hamburg's hidden gem: Why not wander down the winding streets bursting with creativity at Gängeviertel. This UNESCO heritage site has the title of a "site of cultural diversity" and hosts artistic events and live music.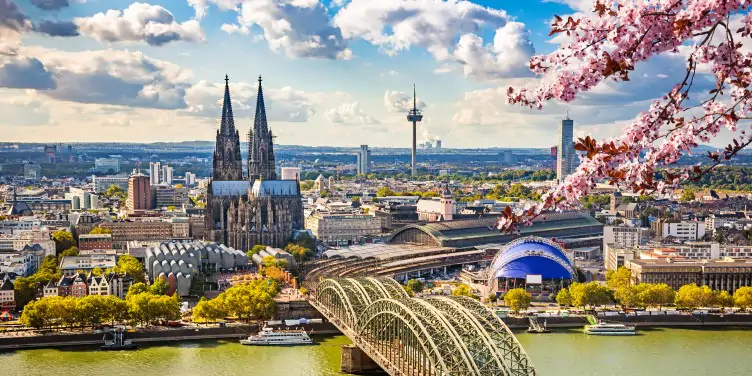 5. Cologne (Köln)
Founded by the Romans, Cologne is one of Germany's oldest cities. The iconic spires of its famous UNESCO-listed cathedral, Kölner Dom, soar elegantly over the city.
From beer gardens and river cruises to Cologne Zoo and Cologne Aquarium, there's plenty to keep you busy.
If you prefer a leisurely stroll through the city, you'll come across the ancient Roman wall and an abundance of medieval churches including the Great St. Martin Church and St. Aposteln.
There's a large choice of museums and galleries too. Chocoholics will love the Chocolate Museum (Schokoladenmuseum), while sports-fans can view over 3,000 exhibits at the German Sport and Olympic Games Museum.
The Roman Germanic Museum, the Cologne Museum of Applied Art, and the Holography Museum are all popular choices too.
Nearest airport: Cologne-Bonn Airport (CGN) is also known as Konrad Adenauer Airport and is 10 miles from the city centre.
Top tip: Koeln.de is full of the latest news and events in Cologne. There's even a calendar for the Easter and Christmas markets in the region.
Cologne's hidden gem: History enthusiasts will be keen to visit Röhrenbunker, the only WWII bunkers still remaining in the city. There's an accompanying audio guide designed to make the experience as authentic as possible.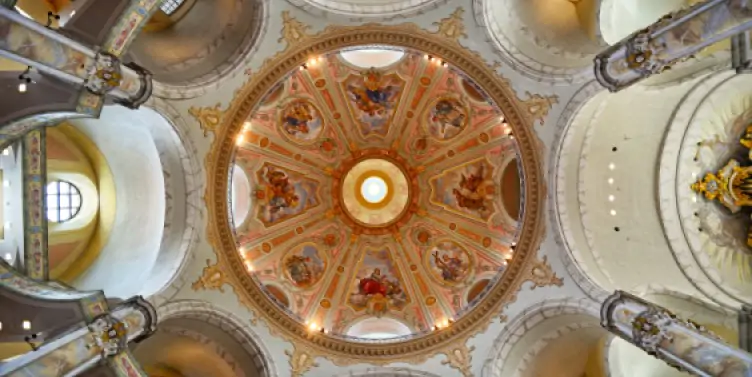 6. Dresden
Otherwise known as 'Florence on the Elbe', Dresden sits majestically alongside the River Elbe.
The city's skyline is full of spires, towers and domes so it's difficult to imagine that it was wiped out during the Allied bombings of 1945. The most famous reconstruction in the city centre is the baroque dome of Dresden Frauenkirche.
The baroque style Old Town (Altstadt) and contrasting New Town help make Dresden a fascinating place to visit. Sightseeing highlights include: medieval Stolpen Fortress featuring a prison and torture chamber; Church of Our Lady (Frauenkirche) dating back to the 18th century; Grünes Gewölbe (Green Volt Museum) the 12th century Residenzschloss (Dresden Royal Palace); baroque Zwinger Palace; and the beautifully landscaped Grosser Garten (Great Garden) and zoo.
Nearest airport: Dresden International Airport (DRS) is situated in Klotzsche, a district 6 miles from the city centre.
Top tip: Welcome to Dresden has the option to book accommodation, group tours, and museum tickets before you head off on your city break.
Dresden's hidden gem: Nestled within an area known as the student district is the Kunsthofpassage.These delightful collection of quirky courtyards are home to the "singing drain pipes", a colourful building covered in gutters that turns into a musical instrument during rainfall. 

7. Leipzig
A favourite for creatives, Leipzig is also a city of significant historical and cultural interest, partly due to its connection with the lives and works of Bach, Wagner, Mendelssohn and Goethe.
One of the world's top classical ensembles (the Gewandhausorchester) and the oldest and finest boys' choir (the 800-year-old Thomanerchor) delight audiences in Leipzig. Meanwhile, for over a decade, the New Leipzig School of contemporary German painting has kept up with the international art world through protagonists like Neo Rauch and Tilo Baumgärtel.
You can easily see the sights in a day or two, but Leipzig is worth a little more time. Linger longer to discover the best beer drinking spots or go antique shopping in Plagwitz. The city is also home to the second oldest Christmas market in Germany, a must-see if your visit falls in December
Nearest airport: Leipzig/Halle Airport (LEJ) is 9 miles from the city.
Top tip:The city's tourism page gives plenty of information on where to go, guided tours and hotel suggestions. 
Leipzig's hidden gem: Head to Karl-Liebknecht Street with the locals on a Friday or Saturday night. It's the perfect place to eat and drink in the vibrant atmosphere.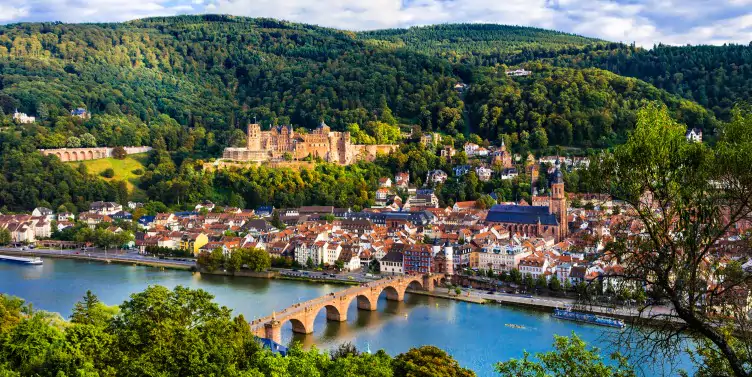 8. Heidelberg
Heidelberg is one of the few German cities that managed to avoid being destroyed in World War II, so its cobbled streets are filled with old world charm.
Take a wander through the streets and squares, packed with cafes and shops and climb the church spire of the Gothic church on the Marktplatz. The ruins of Heidelberg Castle, the country's oldest, most famous university, and its idyllic riverside setting also help make Heidelberg one of the most attractive cities in Germany.
The River Neckar is a perfect getaway from the crowds in town. Make your way to the riverside park for a picnic, stopping near the Theodor Heuss Bridge, a popular spot with the locals.
Heidelberg's rich literary history and thriving contemporary scene which encompasses prominent authors, publishing houses, bookshops, translators, libraries and festivals earned it the title of UNESCO City of Literature in 2014.
Nearest airport: Mannheim City Airport (MHG) is 15 miles from the city. You can also fly direct to Frankfurt which is a 50 minute drive to Heidelberg.
Top tip: Heidelberg's travel guide is filled with ideas for your trip, from where to visit to the city's public transportation.
Hidden gem: The Philosopher's Walk is a beautiful trail known to inspire poets and philosophers. It starts on the opposite side of the river from Heidelberg castle and takes around 30 minutes.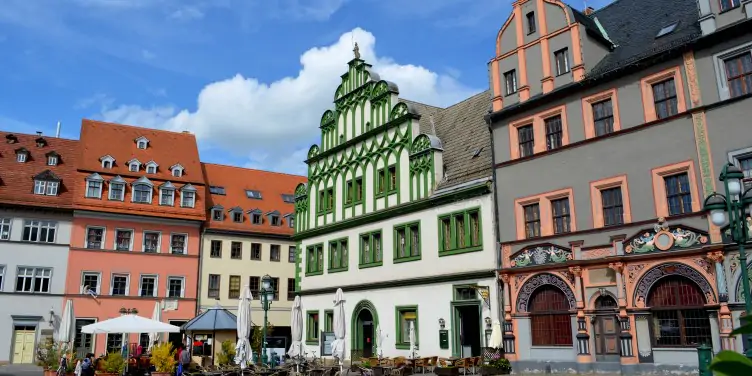 9. Weimar
Weimar was home to many of the nation's thinkers and artists – Goethe, Bach, Schiller, Liszt and Nietzsche to name a few. Many have museums in the city dedicated to their works. Weimar is also where the Bauhaus movement began and revolutionised 20th century art and architecture.
A walk through the Old Town takes you to over ten UNESCO-listed historic buildings from the Classical Weimar period, including the royal stables, the neo-Gothic Town Hall and Baroque Duke Palaces.
Nearest airport: Erfurt–Weimar Airport (ERF) is 30 miles from the city.
Top tip: You'll find everything you need to plan your trip at weimar.de, you can search for accommodation, book tours and see the best places to visit. 
Weimar's hidden gem: The Goethe and Schiller Archive was constructed in 1896 and is one of the city's many UNESCO world heritage sites. It's home to the papers of 60 German writers including Otto Ludwig and Fritz Reuter.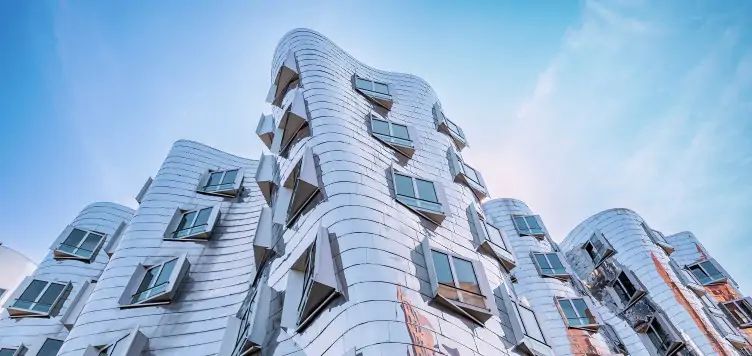 10. Düsseldorf
Düsseldorf won't fail to keep you entertained. From traditional breweries and the Old Town to futuristic architecture by Ghery and Chipperfield, art galleries and luxury shopping – there really is something for everyone.
Stop off for a well deserved drink at Altstadt (the old town). It is dubbed as the 'longest bar in the world'. Or head to the redeveloped harbour area, Medienhafen, that hosts an annual festival of avant-garde architecture. If you can't make it to Düsseldorf's carnival in February, this is the next best thing.
Nearest airport: Düsseldorf International Airport (DUS) is 4 miles from the city centre. 
Top tip: Visit Düsseldorf is full of information on the best hotels and events in the city,
Düsseldorf's hidden gem: Browse modern art in a hidden location at the Kunst Im Tunnel located between the rail line and the streets above. 
What's the best time to visit Germany?
While it might be cold, December is the best time to visit Germany if you're looking to explore the bustling Christmas markets. If you prefer sunnier skies then June, July and August have pleasant temperatures perfect for exploring.
How long does it take to fly to Germany?
It's a relatively short flight to Germany making it the ideal place for a city break. You can be in Cologne in as little as 1 hour 20 minutes when flying from the UK.
Ready to start planning your trip?
Don't forget to buy your travel insurance for Germany.

If you're not sure Germany is for you, here's 10 European old towns for more inspiration.