Top 10 European Old Towns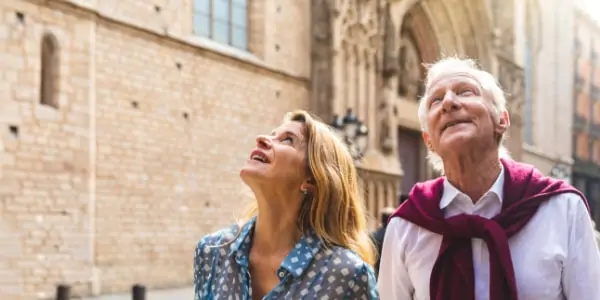 From Portugal to Poland, Europe has some delightful old historic centres that are just waiting to be discovered.
Old Town, Casco Antiguo, Old Quarter or Barrio Gotico – whatever you call them, Europe is full of these medieval centres! Bursting with narrow, cobblestoned streets, historic ruins and architecture from a bygone era, they are always charming and make for a perfect weekend getaway.
Most are well-preserved and offer a fascinating insight into how people used to live hundreds of years ago. What's more, staying overnight allows you to avoid the tourists so you can explore the winding streets and centuries-old architecture in peace. So if you're looking to step back in time on your next European holiday, why not try one of these alluring old towns?


1. Sintra, Portugal
Looking like it has come straight from a fairy tale, this colourful medieval town was awarded UNESCO World Heritage status thanks to its unique architecture. Just west of Lisbon, it originally served as a retreat for Portuguese royalty. It boasts historic mansions, mist-soaked forests, castle ruins and turreted palaces. Make sure you visit the Palacio da Pena – which was built in 1854 and is exuberantly embellished with golden domes and striking pink and yellow towers and turrets.
Nearest Airport:  Lisbon International Airport 28km (17 miles).


2. Bruges, Belgium
Yes you've guessed it, the perfectly preserved medieval centre of Bruges is another UNESCO World Heritage site and received its city charter way back in 1128. Often described as the "Venice of the North" thanks to an abundance of winding canals and romantic bridges, the historic centre is one of the most charming small cities in Europe. And while meandering around the cobbled streets admiring the sites, you can visit the countless chocolate shops and breweries – as Bruges is renowned for its chocolate treats and locally made beers.
Nearest Airport: Ostend-Bruges International Airport 33km (21 miles).


3. Marbella, Spain
Marbella may be world-renowned as a playground for the rich and famous, but a lesser known fact is that its old town, or Casco Antiguo, is one of the most picturesque in Spain. Partly surrounded by ancient Moorish defensive walls from the time of the Muslim occupation of Spain, the centre is a maze of narrow, winding streets. These are filled with an eclectic mix of eateries, tree-lined squares, boutique shops, flower-filled balconies and white-washed buildings. In the heart of the old town is the Orange Tree Square, which dates back over 500 years – an ideal spot to rest after exploring.
Nearest Airport: Malaga Airport, 51km


4. Colmar, France
For those who love to soak up medieval architecture, Colmar is a must stop in the Alsace region of France. The traffic-free historic city centre features eye-wateringly quaint half-timbered houses, bridge-laced canals and cobblestoned lanes ideal for hand-in-hand romantic walks. Close to the border of both Germany and Switzerland, vino lovers should also take note that it's the wine capital of Alsace.
How to get there: Basel-Mulhouse Airport 58km (36 miles) or Strasbourg Airport 68km (42 miles).


5. Prague, Czech Republic
Visiting the Old Town of Prague is like stepping back in time! A great place to start sightseeing is the 12th century Old Town Square, which is the largest in Europe. Around this you'll find plenty of Romanesque, Baroque and Gothic buildings that sprang up over the years and helped the centre become a UNESCO World Heritage site in 1992. Other historical highlights include the Gothic doorway to the Old Town and the world famous astronomical clock, which springs to life every hour with a procession of figures parading across the clock face. Make sure you climb the Old Town Hall Tower for some unbeatable views over Prague.
Nearest Airport: Prague's Václav Havel Airport 19km (12 miles)


6. Ávila, Spain
This magnificent medieval city is located 70 miles northwest of Madrid and was founded in the 11th century to protect the Spanish from the Moors. Old town aficionados will marvel at how it is surrounded by a 12th century wall that is more than a mile and a half long, with some 2,500 battlements, 88 towers and half a dozen city gates. What's more, inside the wall you'll find a historic cathedral, several Romanesque churches and an authentic medieval feel to the city. It's no surprise then that the entire Old Town is a UNESCO World Heritage site.
Nearest Airport: Madrid Airport is 120km (75 miles).


7. Amsterdam, Holland
Amsterdam is a must on anyone's weekend getaway list and its medieval Old Town will certainly not disappoint. The Dutch capital is criss-crossed by 165 canals and has more bridges than Venice, helping to make it one of Europe's most alluring and unique cities. Highlights include the New Church, the Royal Palace, Chinatown, the infamous Red Light District and the Amsterdam History Museum. And after all that sauntering around, one of the best things to do is stop at a canal side café and people watch as the world goes by.
Nearest Airport: Amsterdam Airport Schiphol 18km (11 miles).


8. Gruyères, Switzerland
Gruyères is a picture-perfect medieval town that's well-known for producing Switzerland's most famous cheese. The village is entirely car-free and consists of a cobblestoned main street flanked by beautifully preserved buildings that are towered over by its 13th century castle – the Château de Gruyères. Despite its small size, there are plenty of bars and restaurants and the La Maison du Gruyère, where you can learn all about the fine art of cheese-making. And to top it all off, you are surrounded by some of the most breath-taking views in Switzerland!
Nearest Airport: Geneva Airport 120km (75 miles).


9. Vienna, Austria
The heart and soul of Vienna is of course its old town, which is often referred to as an open-air museum due to its imperial past and incredible architecture. Lose yourself in its winding streets where you'll find such historical treasures as St Stephen's Cathedral (the oldest building in the city), the house where Mozart wrote his famous opera "The Marriage of Figaro", the Vienna Opera House, the Plague Column and much more. Surrounded by the splendid boulevard, "The Ring", Vienna's historical centre is another UNESCO World Heritage site.
Nearest Airport: Vienna International Airport 20km (12 miles).

10. Krakow, Poland
Krakow was once the capital of Poland and as such it has an old town that is a historic and visual gem. The heart and soul of the Stare Miasto is the Market Square, which is one of the largest medieval public squares in Europe. Another UNESCO World Heritage site thanks to its numerous historical houses, palaces and churches, make sure you don't miss the Underground Museum on the Main Square for a state of the art multimedia exhibit on what life was like in Krakow's medieval Old Town.
Nearest Airport: John Paul II International Airport 15km (9 miles).