Does life begin at 50? New research reveals it does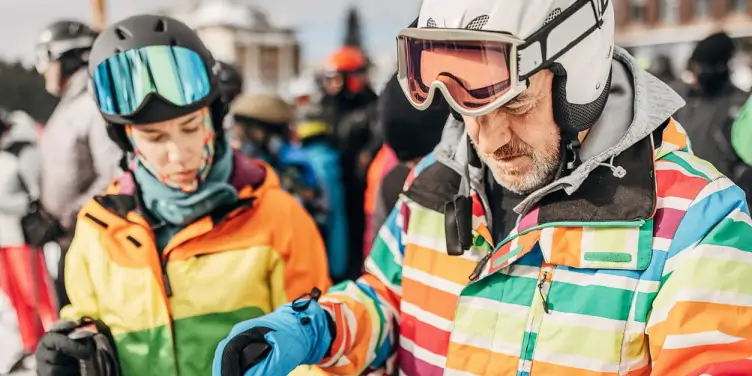 We've all heard the phrase 'age is but a number' but how do over 50s actually feel about getting older? And, is it true that life begins at 50?
We surveyed 2,000 people in the UK aged 50 and over to learn about their life goals and feelings about embracing adventure. Here's what we found.
We're only as old as we feel
Sometimes, common phrases really do ring true, and that's exactly what we found in our research. 2 in 3 people (66%) say they're only as old as they feel, and over half (52%) believe age is just a number.
With that in mind, it's inspiring to hear that 67% of people over 50 still feel they have time to fulfil ALL of their life goals!
Age is certainly not an obstacle for the over 50s we spoke to, who seem to be in a great position to live a fulfilling life and achieve their ambitions. This is a sentiment echoed in the U-shape of The Happiness Curve – a theory that life actually gets better after you hit 50.
'To travel more' is the most popular goal for over 50s
Having more time on their hands is what 62% of those people believe will help them to embrace life after 50. 
The number one thing that people said they want to do is travel more, which 39% of people agreed on. You can find out exactly why people love to travel so much in another study we did in 2022. 
Travel is also hugely beneficial to our health. Research shows it can help to keep our bodies moving and our minds active. Age shouldn't be a barrier to a great holiday, and having a tailored travel insurance policy that takes into account any medical needs can really help people to embark on exciting adventures.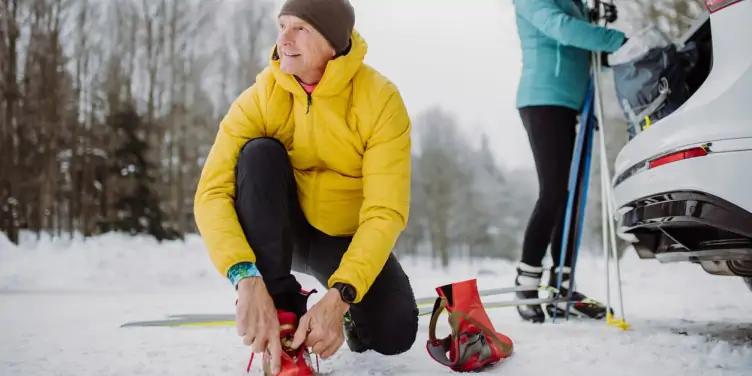 Life is short, it's all about embracing adventure
It was interesting to hear that most people (62%) we spoke to said they need to embrace life more than they currently do. This sentiment is shared more commonly among women (68%) than men (54%) but tells us that reaching the big 5-0 usually doesn't dampen our good intentions. 
In fact, 52% of women and 42% of men say they have actively adopted a 'life is too short' attitude since turning 50.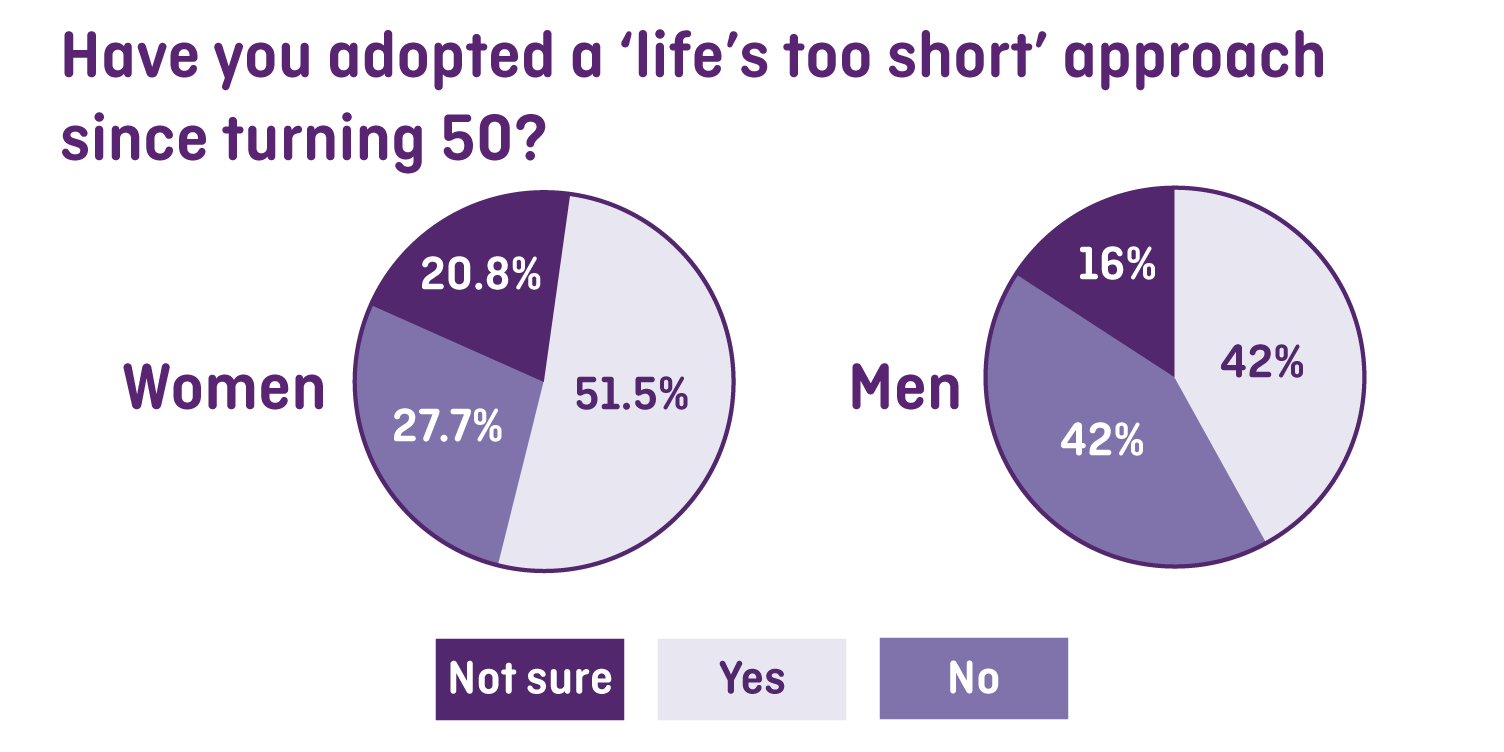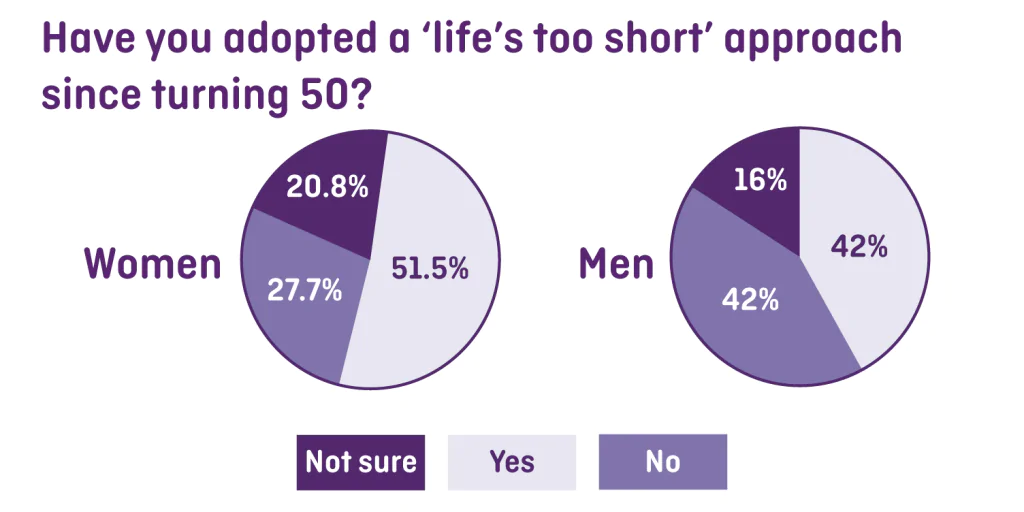 So, it's clear that many of the people we spoke to are still raring to go, but how will they actually go about it? 
Top 10 life goals for over 50s
We already know that travel is the at the top of the list of priorities for our over 50s, but what else makes up the top 10?
After focusing on career goals in earlier life, and realising now that life is too short, over 50s are ready to invest time in things they really care about.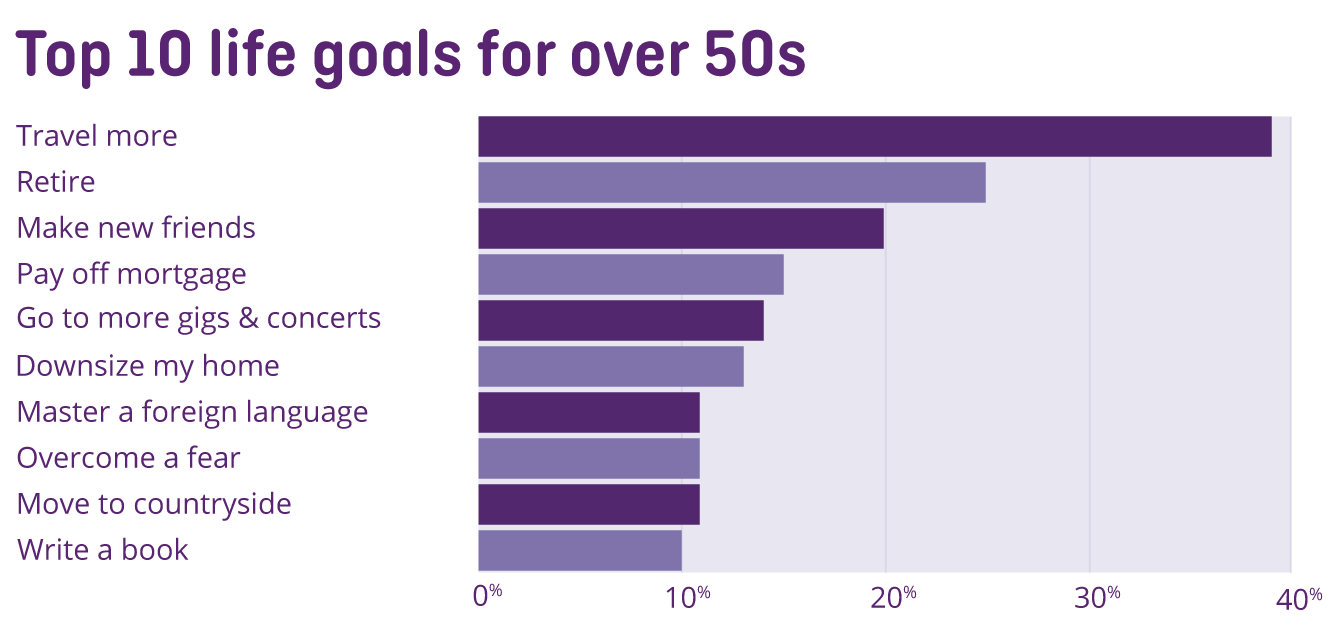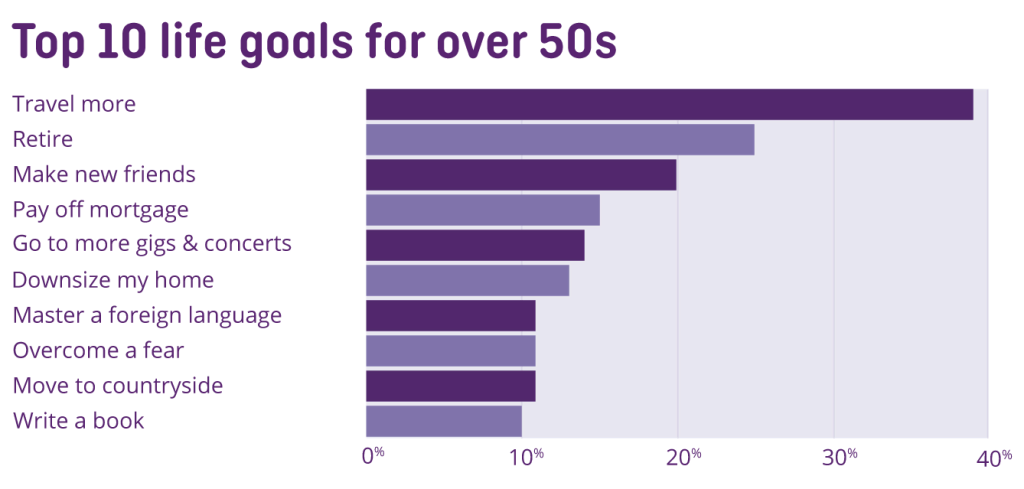 As we touched upon previously, most over 50s want to spend their time travelling more (39%). Others are aiming to become financially secure by paying off their mortgage (15%), while 1 in 10 would love to master a foreign language or take the time to write their own book.
What's more adventurous than winter sports?
One of the most adventurous things you can do on your travels is to hit the slopes! 
Of the people surveyed, it was refreshing to hear that nearly half (43%) over 50s don't feel there's an age limit when it comes to winter sports. And 31% of keen skiers and snowboarders said that winter sports makes them feel young again. 
So, if we're not too old and it helps us to feel young, what's stopping us from embracing life and learning to ski at 50?
Life goals are key
No matter what your life goals are, nearly 3 in 4 people (73%) agree that it's important to have them beyond 50 as they give you something to aim for. 
And, with 62% saying they have more time to achieve their ambitions, is there a better time to focus on what matters? 
Over half (54%) went so far as to say these life ambitions help them feel more alive. A thought most shared by people aged 70 or over. This could be because older people especially want to seek purpose after they stop working.


A lot of people highlighted the importance of life goals, and many over 50s achieved most of theirs in their 20s, 30s, and 40s. Their life ambitions may have shifted as they got older, but they're still an essential part of a fulfilling life.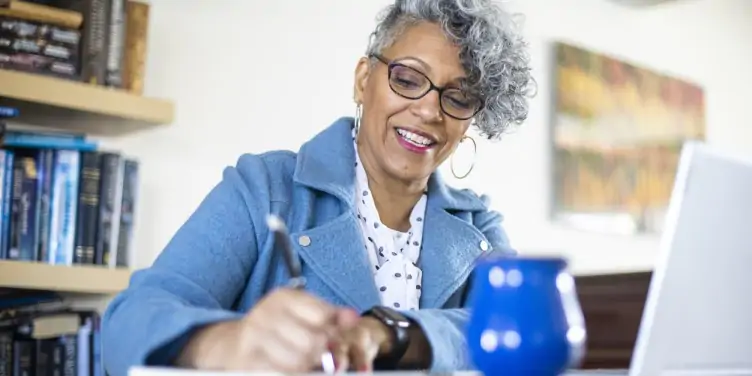 Why is it important to have goals in life?
According to the people we surveyed, getting older means you have achieved a number of your goals from earlier in life, which means you look to find new priorities after that midlife transition.
An important part of finding those new goals, that new purpose, is the positive effects they can have on our physical and mental health. 
Studies have shown that purpose helps us stay healthy well beyond our 50s. From maintaining grip strength and walking speed to improved happiness and sleep.
Having something to work towards helps us to continue healthy habits for longer, maintaining quality of life and potentially helping people live longer.
Why can't life begin at 50?
Life goals are clearly massively important, whatever your age. But despite the best of intentions, pursuing a fulfilling life after 50 isn't always plain sailing.  
Unsurprisingly, the number one reason given for not reaching their life goals is money, which 48% of people agreed with. 
Being set in your ways is something else that can be a challenge for over 50s embracing adventure. 56% of the people we spoke to are happy in their comfort zone and aren't keen on leaving it. 
This is despite the fact that nearly half (45%) of people, including 51% of women and 38% of men, are inspired by people who embrace life and try new things. 
Obstacles are natural, but our group over 50s seem to be motivated to overcome them. Perhaps the key is to simply reframe those challenges to become more achievable.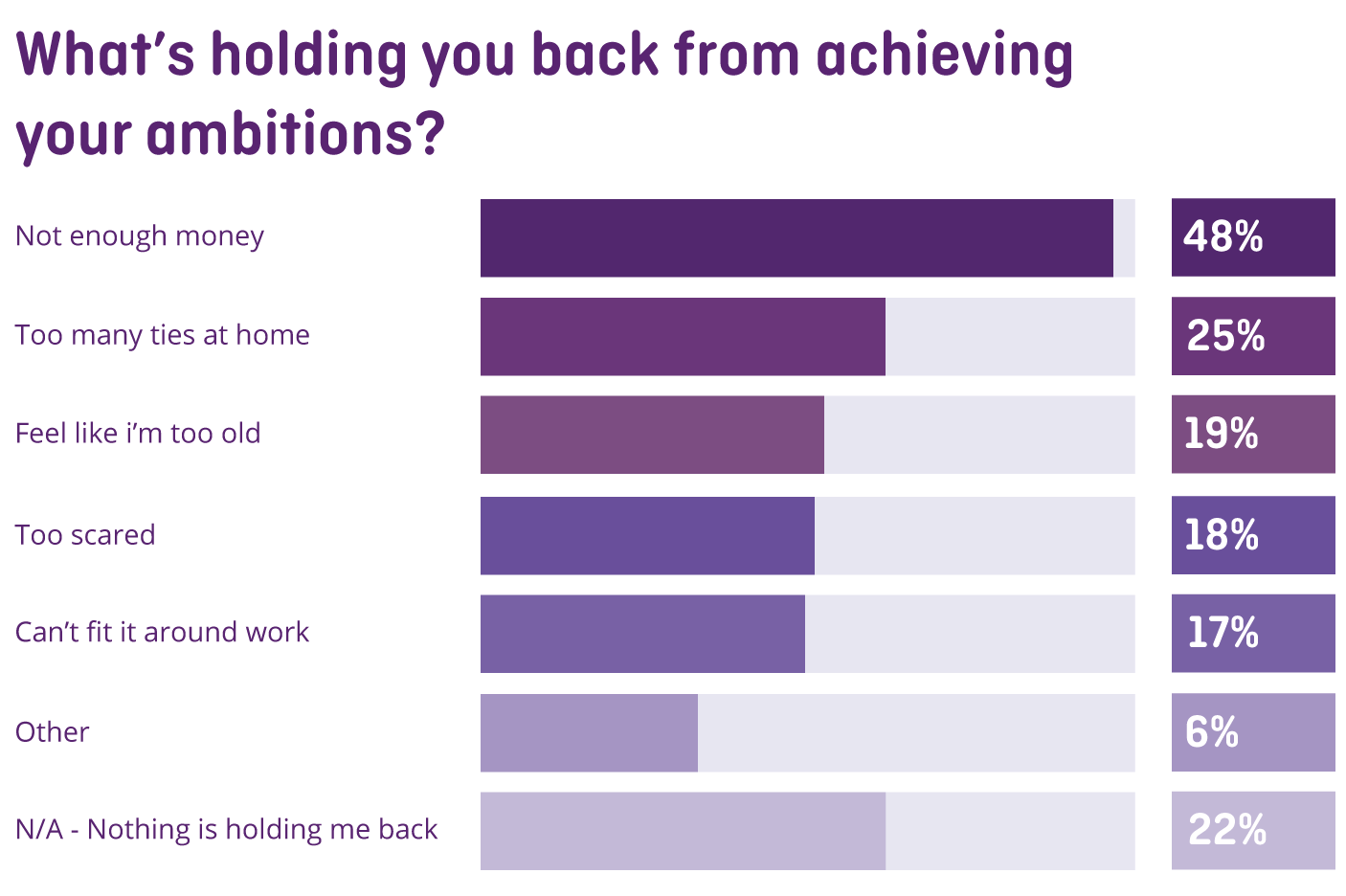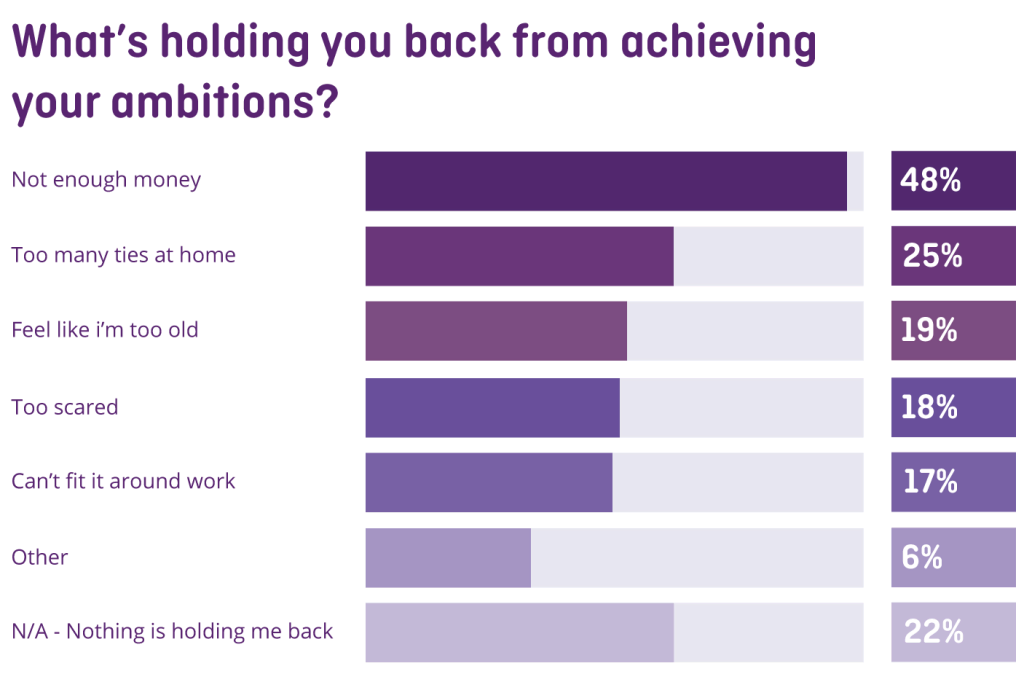 Achieving life goals and finding purpose in life after 50
With 1 in 4 people (25%) still driven by trying new things, how can people achieve goals and find purpose in life after 50?
Many of us can relate to the desire to go on new adventures but not having the finances to follow those dreams. Travel doesn't have to be lavish. For example, why not book a mini-break or a staycation? Still all the excitement of a holiday, but less impact on your wallet.
And, if your goal is just to find a new zest for life, this can be as simple as trying a tasty new recipe or joining a new exercise class. Little, often (and cheap) pick-me-ups are a great way to stay happy and healthy as we get older.
Is travel insurance the missing piece of the puzzle?
With the most popular life goal being to travel more, and one of the common barriers being stepping out of their comfort zone, the key to embracing adventure for over 50s could be travel insurance.
Travel insurance for winter sports can also be there for those interested in ticking skiing off their bucket list.
With peace of mind, over 50s are free to redefine their comfort zones, grab life with both hands and really embrace adventure.