No More Free Ryanair Hand Luggage – What this Means for You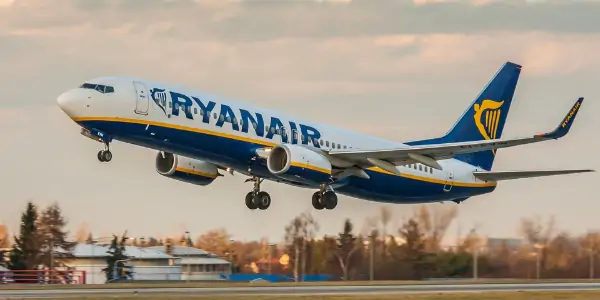 Budget airline Ryanair have updated their cabin baggage allowance policy for the second time this year.
The new policy means that people can only carry one small personal bag for free on board.
To carry on larger luggage, passengers would now need to upgrade to priority boarding for £6.
The new rules come into effect on 1 November 2018.
Why have they changed the rules?
Ryanair have changed the rules on baggage allowance to try and combat flight delays.
Along with the new baggage rules, they have also introduced a new lower payment band for hold baggage with a 10kg option – half the limit of their current 20kg standard baggage allowance for less than half the price (10kg now costs £8, 20kg option costs £25). Ryanair anticipate that they won't profit from the changes.
How big is 'One small personal bag'?
Ryanair states that the free carry-on bag must be able to fit under the seat in front of them and be no larger than 40 x 20 x 25cm.
This means that if you're planning on taking a wheelie case, or anything larger than a small rucksack, handbag or laptop bag, you'll now need to pay to put it in the hold.
How can I keep my luggage cost down with Ryanair?
When flying with Ryanair, you may not always want to check in a large 20kg suitcase.
Sometimes, you'll be packing light for a short city trip away, rather than a two-week-long holiday.
Ryanair have introduced an extra called 'Priority & 2 cabin bags', which means you can carry on both a small bag and a cabin bag weighing up to 10kgs.
If you have priority 10kg cabin baggage – which costs £6 – it should still have the maximum dimensions of 55 x 40 x 20cm.
Check in your 10kg bag
What if you don't want to carry your 10kg bag with you on the plane?
Here, you have the option to choose a 10kg check-in bag for £8.
10kg check in baggage should have the same maximum dimensions as carry-on cabin baggage of 55 x 40 x 20cm.
Remember, if you're looking to keep costs down, it's best to pre-book your baggage allowance when you're booking your flights – even if you're planning on putting it in the hold. Paying at the airport will mean that you'll be charged more than if you booked at the same time as your flight.
Why would I pay more to put my 10kg luggage in the hold?
It may seem counterintuitive that Ryanair passengers now have to pay more to put lighter luggage in the hold rather than in the cabin.
But there are benefits. For starters, you won't need to pull your luggage around the airport.
Nor will you have the pain of having to store your luggage in the overhead lockers. For some, it can be difficult to reach – especially if you're lifting a 10kg weight above your head.
Storing your luggage in the hold instead of in the cabin also means that you will be able to pack liquids that have more than 100ml. This would mean that you wouldn't need to take them out of the bag for security.
But one of the major drawbacks of having to put your luggage in the hold remains the same: waiting at the baggage carousel at your destination.
With all things considered, it's worth weighing up the option that best suits your needs.
What about 20kg luggage? Has that changed?
The rules around 20kg luggage remain the same and it costs £25 to check in a bag.
What does Ryanair say about the changes?
Ryanair have estimated that this change will affect 40% of Ryanair passengers. They believe these customers will either switch to priority boarding, will travel with one small carry-on bag only, or choose the lower cost 10kg check-in bag.
In a statement about the new rules, Ryanair Kenny Jacobs said: 'Main benefits of this new policy will be reduced flight delays and cheaper checked bag option. Pack more liquids into a 10kg checked wheelie bag. Walk to the boarding gate "hands free".'
Sources: https://corporate.ryanair.com/news/new-bag-policy-from-november-will-cut-check-bag-fees-reduce-boarding-delays/