Living with Coeliac Disease and Food Intolerances: Travel Tips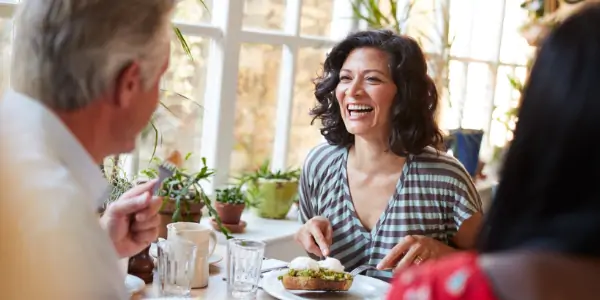 Do your intolerances and allergies make you feel anxious at the thought of travelling? You're not alone.
In 2018, Allergy UK carried out a survey of over 700 people on the topic of flying with allergies. Over a third of those surveyed said that their allergy stopped them from flying as often as they'd like, 17% had experienced an allergic reaction while flying and almost 75% felt that airlines' policies around allergies are unclear.
The truth is that with a little extra planning, your allergies needn't get in the way of your travel plans.
Anaphylaxis on a plane
The recent tragic death of Natasha Ednan-Laperouse, who had an anaphylactic reaction to sesame in an inadequately labelled Pret a Manger sandwich, has brought in-flight allergic reactions to the forefront of our attention.
Although airplanes have emergency equipment on board, including oxygen and defibrillators, the last thing any of us would ever want is to be in the situation where we would need to use them.
Fortunately, such events are uncommon, but it is best to be as informed and prepared as possible for your flight and holiday.
Do you have an allergy action plan?
Everyone with an allergy should have an allergy action plan. Make sure yours is up to date, that you take any medical alert jewellery with you and wear it when flying and on holiday.
If you are travelling with others, ensure they know how to recognise an allergic reaction and explain to them what is in your allergy action plan.
Take enough medication (and documentation)
If you need to have an adrenaline autoinjector (i.e. Epipen), you should bring at least 2 with you and always carry them on your person, in pharmacy labelled packaging, together with your prescription.
Tablets are fine to take in your hand luggage, as are medical syrups over 100ml, but the same as for adrenaline autoinjectors, make sure you have a prescription.
A letter from your doctor detailing your medications and allergies can be helpful for both  the flight and also if you need any medical treatment while abroad.
Getting lost in translation
If you have a food allergy, consider preparing some food allergy cards or get some from Allergy UK. They will help you to get around any language barriers that might make explaining your food allergies difficult. 
Along the same lines, you can prepare cards in advance for any other allergies that you might need to communicate while abroad.
Eating out while abroad
If you can communicate directly with the person responsible for preparing your food (as opposed to via a waiter), do so. This way you will be certain as to what is going in to it or what else might come in contact with your food while it is being prepared.
Sticking to unprocessed food is best and it is often advisable to avoid sauces (unless you know for sure that it is free of the thing that you are allergic to).
It is also a good idea to research the typical cuisines found in the country where you are going and what ingredients are commonly used, although never assume that every restaurant prepares a nation's favourite dish the same way.
If you're ever unsure what is in the food you are served, it is better to be on the side of caution and avoid it altogether. Many people with food allergies will choose accommodation that includes a kitchen and so prepare their own meals or take packed lunches for out and about.
Travelling with coeliac disease
Coeliac disease is not an allergy but an autoimmune condition where the body's immune system attacks itself when a person eats food containing gluten, such as food made with barley, rye or wheat.
When flying it is worth checking whether your airline provides gluten-free food and snacks. If the information is unclear (or to play it safe) pack your own meal and snacks for travelling. Remember to consider there could be delays, so pack a little extra.
Don't let coeliac disease put you off eating abroad as most healthy foods are naturally gluten free, including meat, fish, fruit and vegetables, cheese, rice, potatoes and lentils.
Much as the advice given above, try to speak directly to the person preparing your food when eating out.
Don't forget to declare any allergies
It is important to declare any allergies on your travel insurance so that you are covered for any emergency help you might need when away.
Make sure you know how to get medical help
In case you might need any emergency or medical help, it is vitally important to know where your local emergency department is and what number to dial if you need emergency care in the country where you are travelling.
Please note: The materials in this post are in no way intended to replace the professional medical care, advice, diagnosis or treatment of a doctor. The article does not have answers to all problems. Answers to specific problems may not apply to everyone. If you notice medical symptoms or have questions on the topics raised in this article, please consult your doctor.