10 Spain city breaks to add to your bucket list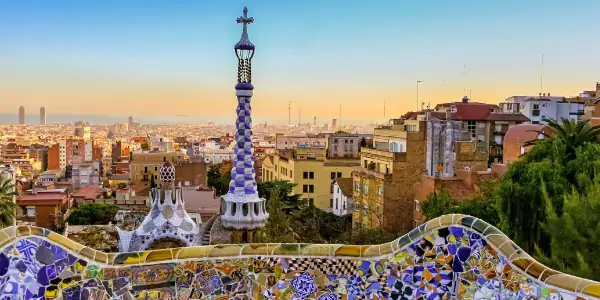 From Barcelona to Seville, Valencia to San Sebastian, Spain is full of cities that will capture your heart. 
With great beaches, excellent weather and quality food, there's so much more to one of Europe's top travel destinations than purely lounging by a pool.
A rich cultural heritage, excellent gastronomic scene and some of the world's finest architecture is all readily available throughout Spain. But which destination is the best for a city break?
Here are our top ten 10 best city breaks in Spain…
1. Barcelona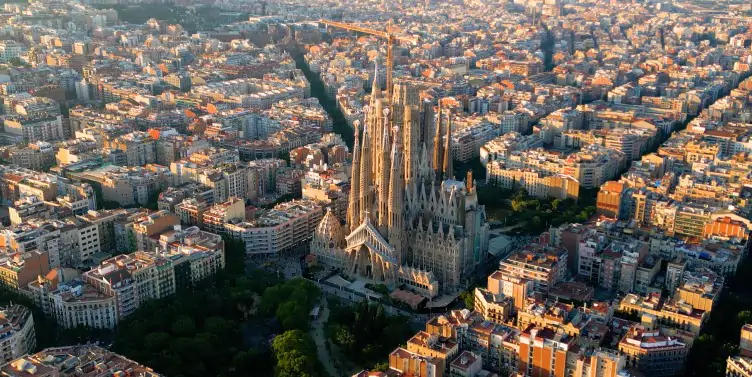 Famous for iconic architecture and excellent food, Barcelona is a vibrant seaside city packed with excitement.
La Rambla is the city's beating heart, filled with Michelin starred restaurants, shops and entertainers. Head through La Rambla to the must-see mediaeval Gothic Quarter, which brims with beautiful churches, narrow streets and grand, palm-tree filled plazas.
No visit to Barcelona would be complete without visiting Gaudi's famous La Sagrada Familia Basilica. The masterpiece has been under construction since 1882 and is not expected to be completed until 2041.
Airport: The Barcelona–El Prat Airport is 8 miles from the city centre.
Top hidden gems in Barcelona: Monestir de Pedralbes is a gothic monastery and regarded as one of the best hidden gems of Barcelona, so one to visit if you prefer those quieter tourist attractions. 
2. Toledo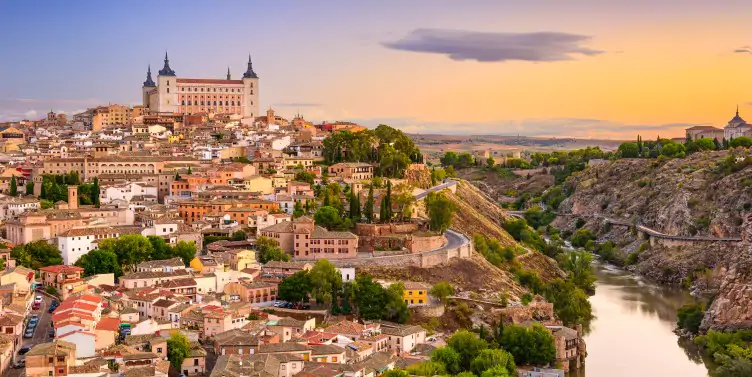 Toledo is a diverse and compelling city, home to some of Spain's finest monuments. It was known as the 'city of three cultures' in the Middle Ages when Muslim, Christian and Jewish communities lived peacefully together for centuries behind its impressive city walls.
The result of this rich multicultural heritage is a treasure chest of an old town full of churches, palaces, fortresses, mosques and synagogues, earning it the reputation of an open air museum and a UNESCO Heritage Site award in 1986.
Surrounded by the River Tajo on three sides, Toledo sits atop a gorge and is small enough to explore on foot, although one of the best ways to discover the city is to wander aimlessly around the city's mediaeval streets while seeking out the works of famous artist, El Greco. 
Airport: Barajas Airport in Madrid is 48 miles away and well connected by Spain's high speed trains.
Hidden gems in Toledo: To fully immerse yourself into the culture of this Spanish city, take a private guided tour to discover the true Essence of Toledo.
3. Seville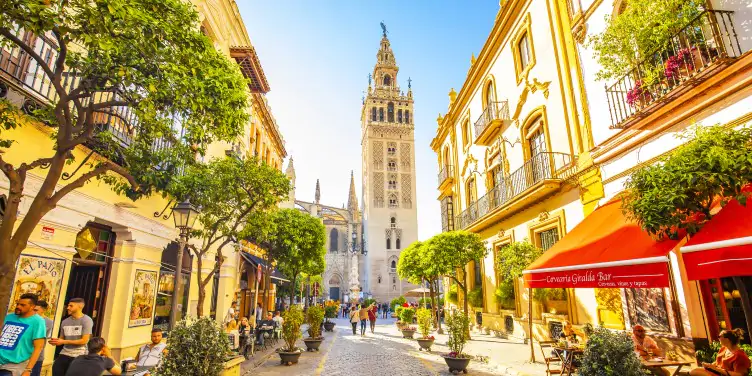 Seville is known as the frying pan of Spain, but it's cool city vibe, Moorish architecture and ancient streets make it a perfect Spanish city to explore over a few days.
To further indulge the senses there's the excellent Cathedral of Saint Mary, Plaza de Espana, the Alcázar palace as well as the Jewish Quarter of Santa Cruz, a beautifully preserved Jewish District.
Airport: Seville International Airport is 7 miles from the city centre.
Top hidden gem in Seville: A Rooftop Terrace experience is the way to go. Dive into culture with this paella cooking workshop, tasting the fine Spanish cuisine first hand.
4. Valencia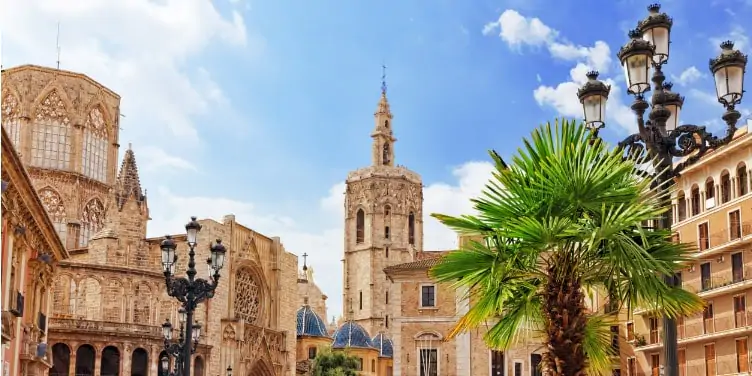 Valencia has so much to offer, from fabulous Modernist architecture and elegant art nouveau buildings, to great museums and a characterful old quarter.
History lovers and culture vultures can head to the UNESCO World Heritage site La Lonja de la Seda (Silk Exchange), the Valencia and Mercado Cathedrals and the Museo de Bellas Artes.
Gourmet cuisine is one of the great pleasures of Valencia — long lunches and dinners are a must. The coastal city is surrounded by fertile, fruit-and-vegetable growing farmlands and is famed for its rice dishes like paella.
Airport: Valencia's Manises Airport is 5 miles from the city centre.
Top hidden gems in Valencia: Visit the narrowest building in Europe, La Estrecha. You may think it's an extension from the establishment next to it, but it is in fact a building of its own!
5. San Sebastian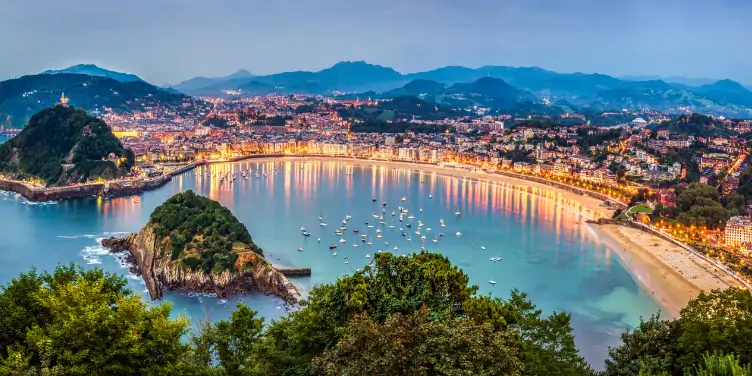 San Sebastian is one of Northern Spain's more trendy destinations attracting film buffs, beach-lovers, jazz fans and foodies alike.
The city, which lies in Spain's Basque region, is a cultural heavyweight, hosting internationally-acclaimed film and jazz festivals including the Heineken Jazzaldia, which brings some of the jazz's biggest stars to one of Europe's oldest jazz festivals.
For anyone who likes to indulge in dining experiences while holidaying, San Sebastian is arguably Europe's premier food destination and frequently comes out top on lists of the world's best places to eat. Michelin-starred restaurants abound and for more humble flavours, make sure you try its famous pintxos (tapas) bars.
For one of the best city beaches in Europe, head to the laid-back Playa de la Concha, while Playa de Gros is a livelier option and great for surfers.
Airport: Biarritz Airport (France) is 29 miles from the city centre.
Top hidden gem in San Sebastian: Book yourself onto a tour of six family-run Tapas bars. It's a great way to taste acorn-fed Iberian ham, local beef, award-winning cheesecake, wine, cider and more!
6. Salamanca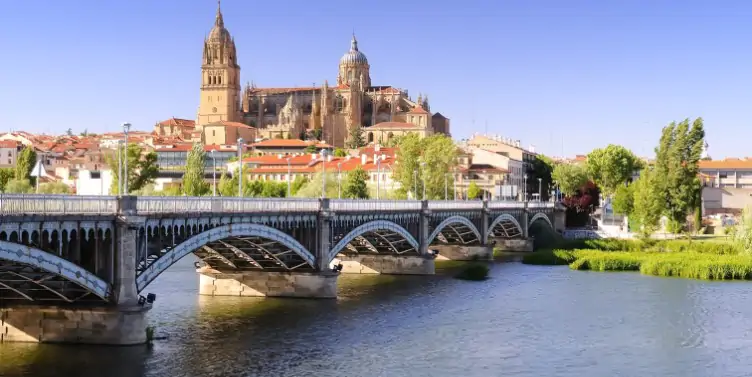 Salamanca is one of the most beautiful cities to visit. Listed as a UNESCO World Heritage Site, it's home to one of the country's most elegant city squares,The Plaz Mayor. Illuminated at night, it's one of the city's more unforgettable highlights.
The renowned university, which is thought to be the third oldest in Europe, was founded in 1218 and is well worth a visit. It is one of the many architectural wonders built from local sandstone which over the years have acquired a soft glow, giving rise to Salamanca's moniker: the 'Golden City'.
For iconic city views, head to a rooftop bar or restaurant to see both the old and new cathedrals of Salamanca.
Airport: Valladolid Airport is 78 miles to the city centre.
Top hidden gem in Salamanca: Enter the medieval cave of Salamanca, where legends say the devil used to teach black magic!
7. Malaga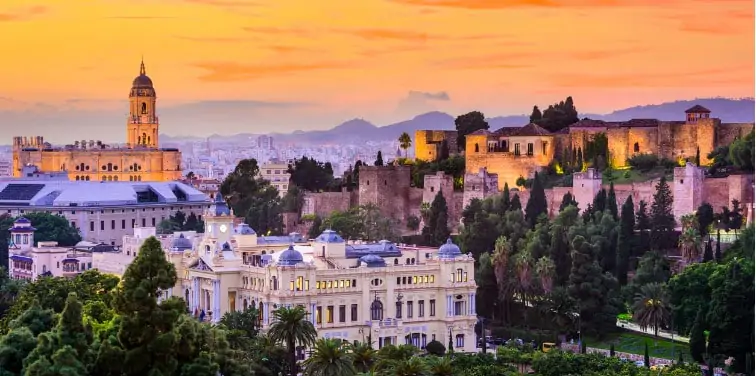 Malaga is a stunning, arty and culturally rich city you won't want to miss. Perfect for art lovers, it's packed with museums, theatres and monuments to discover, including several art museums dedicated to the city's most famous son: Pablo Picasso.
Wander around the atmospheric historic centre and stop off at the stunning cathedral or amble through the historical botanical gardens before heading to one of the many tapas bars.
For a bit of retail therapy, discover one of Spain's most elegant shopping streets, the marble-lined Calle Marques de Larios which is worth a visit for the architecture alone.
Airport: Malaga Airport is 5 miles away from the city centre.
Top hidden gem in Malaga: Grab a drink whilst taking in the amazing views of Malaga from the Alcazaba rooftop bar.
8. Cordoba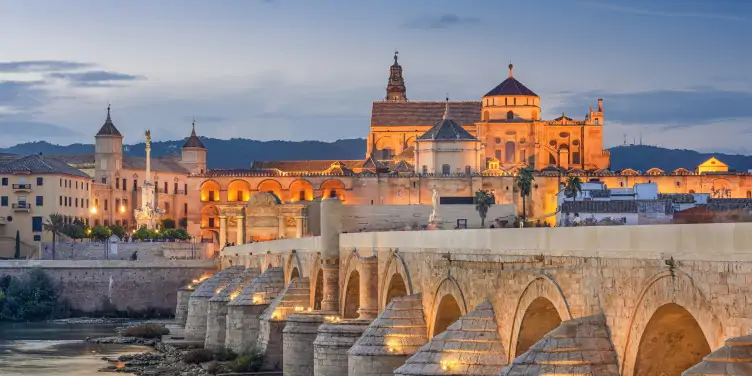 Cordoba was the capital of the Muslim occupied Iberian Peninsula and home to one of the grandest mosques, the magnificent Mezquita of Cordoba.
The Mezquita is widely regarded as one of the world's greatest pieces of Islamic architecture. It was made more exceptional by the cathedral which was built at its heart many years after the Christian conquest of the city in 1236.
The city is perfect for those who like to explore on foot or by bike as the streets surrounding the Mezquita are filled with beautiful plazas, narrow side-streets bustling tapas bars and old, moody wine bars.
Airport: The nearest airport is in Seville, 82 miles away.
Top hidden gem in Cordoba: Museo Arqueologico Cordoba gives you the chance to see and learn more about this ancient mediaeval city.
9. Granada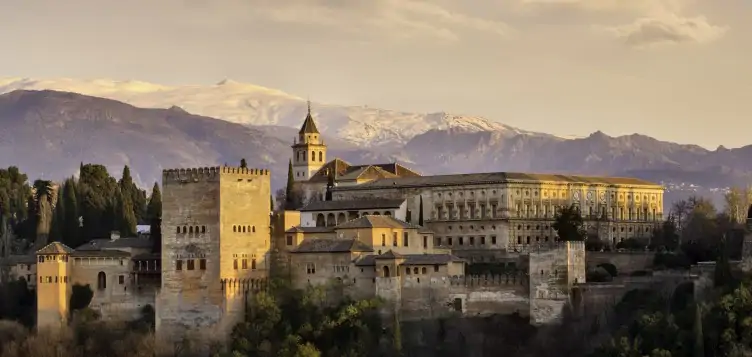 This Andalusian city is breath-taking. Granada, the final stronghold of the Islamic occupation in Spain, boasts a fascinating blend of Moorish and Spanish heritage.
Set against the backdrop of the snow-capped Sierra Nevada mountain range it's home to a stunning old town filled and Spain's most visited building, the Alhambra Palace.
Romantics can enjoy watching the sun set over the Alhambra Palace from the Mirador de San Nicolas in the Albaicin Quarter. After exploring the maze-like streets, head to one of the bustling bars where the tapas are still free with every drink order– a must for foodies.
Airport: The Federico García Lorca Granada-Jaen Airport is 12 miles away from the city centre.
Top hidden gem in Granada: Visit Casa de Zafra, for a chance to see inside a true Granada House.
10. Santiago de Compostela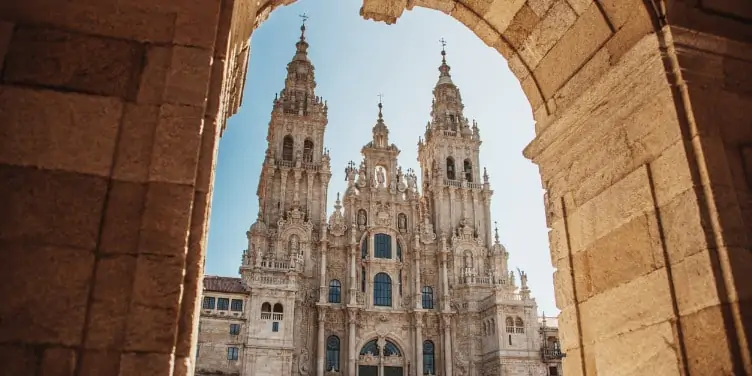 Conquer the cobblestone streets of Santiago laced with gothic buildings, which are, according to locals, at their best when it rains.
Galicia's capital is the final stop in the Camino de Santiago pilgrimage , also known in the UK as the Way of St. James. But a more sedate stroll is recommended, as the streets of the gothic quarter take on an old world vibe after dark.
Head to the Rua do Franco towards the cathedral for a wonderful dining experience; the tapas bars and taverns here are legendary. 'Galician-style octopus' goes down very nicely with the local Albariño wine.
Airport: Santiago's International Airport is 15 miles to the city centre.
Top hidden gem in Santiago: One to add into your route around Santiago de Compostela is Colegiata del Sar. A 12th century Spanish church, a perfect stop during an afternoon walk. 
What's the best time to visit Spain?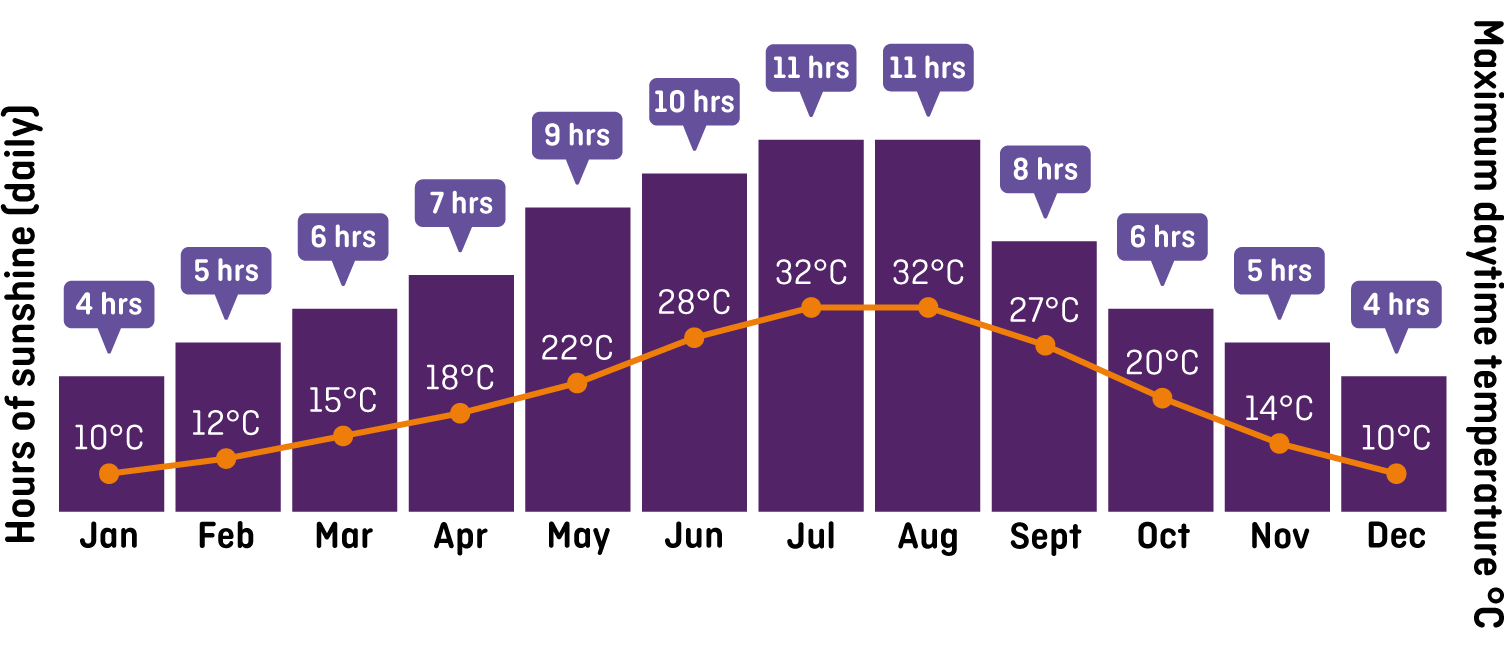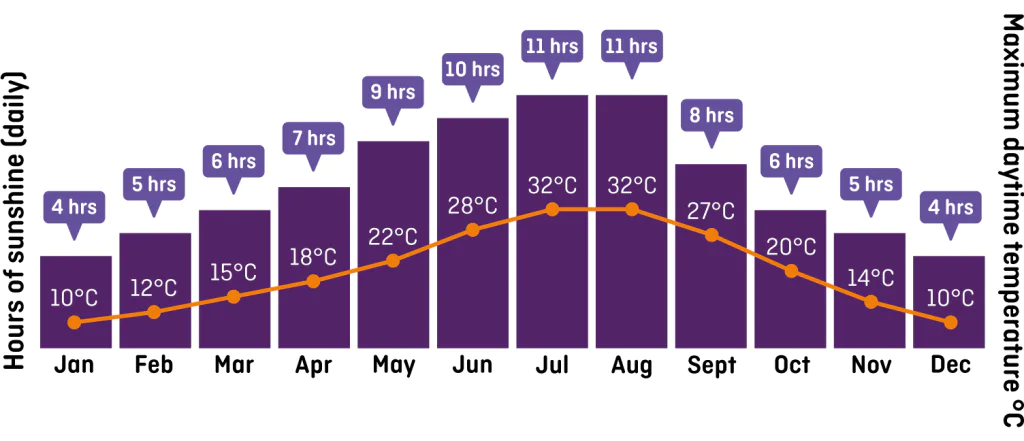 The best time to visit Spain is in late spring (April to May) if you prefer weather where you can explore. If you're a sun seeker, July or August are guaranteed to be hot – perfect for soaking up the beaches of Malaga and San Sebastian. Early autumn offers pleasant temperatures and lighter crowds, but a higher chance of rainfall. 
How long does it take to fly to Spain?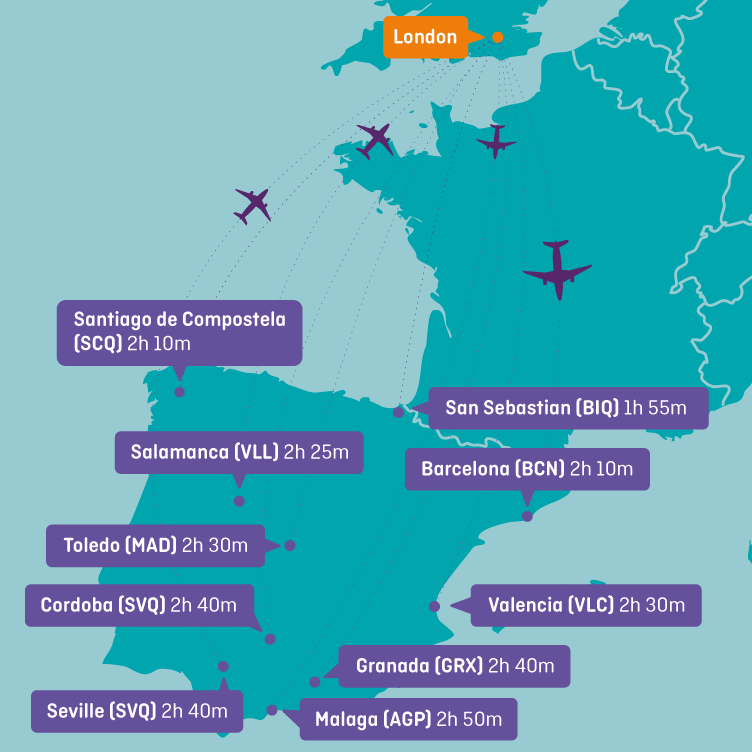 Flights to Spain are short, making it the perfect place for a weekend break. Depending on where exactly you decide to travel to, the flight times vary. The average flight time from London to Barcelona is around 2 hours 10 minutes, but if you are looking to travel further south, it will take slightly longer. 
Ready to plan your trip to Spain?
Check your passport is in date
Book your holiday
More travel inspiration
For more travel inspiration, check out our guides to city breaks in Italy and France.