How to Fly Safely with Asthma: Travel Tips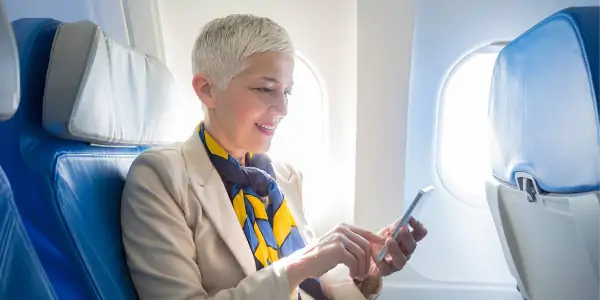 One in five households in the UK is home to someone with asthma according to the NHS. Like anyone with a long-term medical condition, there is a bit more to think about when travelling abroad than the standard holiday maker.
However, if you love travelling you shouldn't let asthma keep you at home. With the correct planning and preparation in place, you can eliminate potential problems early on and concentrate on enjoying yourself.
Preparing for your trip
You should visit your GP who can advise you on any extra medication you may need to take with you and the best ways to deal with the condition while you're away. As well informing you of any vaccinations that you may need to have prior to travelling.
It's also a good idea to get a signed letter from your GP confirming you have asthma along with the name of the drugs you take. Most drugs have different names in different countries, so it's important the doctor in your local destination knows what you're on.
It may also be worth taking extra medication with you, and check they are all within their use by date. This will cover you for any unexpected delays you may find yourself in.
If you have severe asthma, the reduced air pressure in an airplane cabin can be a problem. Speak to your GP or asthma nurse who may ask you to do a 'fitness to fly assessment' or refer you for a 'hypoxic challenge'. This will predict how well you can cope with the conditions in an aircraft cabin, and your GP may advise that you need in-flight oxygen as a result.
Aside from visiting your GP, there's plenty you can do to help ensure you have a relaxing holiday:
Make sure you have an asthma attack card and a personal asthma action plan in place, as it helps you to recognise deteriorating asthma and alter your treatment accordingly.
Consider the weather of your destination and what your asthma triggers are. Some find the cold a trigger, others humidity and so on.
Research the pollen seasons of your desired destination, it's likely to be different than in the UK and there may be pollens present that aren't found in the UK.
It is worth avoiding countries where you will experience high air pollution which can lead to breathing difficulties and often asthma attacks. Take a look at some of the worst countries for air pollution here.
When finding accommodation try booking a non-smoking room with air conditioning in place, if being exposed to feather pillows makes your condition worse, it may be worth either taking your own or contacting the hotel to ensure they have a non-feather alternative available.
During the journey
Your medication is likely to be your biggest priority when travelling to your destination.
Can you take an inhaler on a plane?
The answer is yes, inhalers are safe on airplanes and you should definitely take your reliever (plus a spare) with you on the plane. Pack all your medicines into a clear plastic bag in your hand luggage and have a copy of a prescription for each of them in case you are questioned at security. Inhalers are usually around 15-20ml, so are well within the 100ml allowance, and therefore can be taken into the cabin.
You can carry essential medicines on board which exceed 100ml, however you will need prior approval from the airline and airport backed up by a letter from your GP or a prescription.
When packing asthma medication for your holiday:
Take a copy of your regular prescriptions, including the generic names of medicines, in case you need assistance during your trip or you need to replace it.
Carry all your asthma medication as hand luggage in case your checked luggage goes missing or is damaged in the baggage hold, and bring spare inhalers.
All asthma medication taken on board must be in its original packaging, with the prescription label and the contact details of the pharmacy clearly visible.
What happens if I have an asthma attack on the plane?
Flight staff are specially trained to respond quickly to medical emergencies, so should the rare event occur that you have an asthma attack aboard the plane – there are protocols in place to deal with this.
Remember that flight staff are not trained healthcare professionals, so it is important you are aware of your triggers and also what the early symptoms of an asthma attack are for you.
You should have an emergency action plan from your nurse or doctor on how to manage an asthma attack. If you aren't sure about this or what you would need to do if experiencing the early symptoms of an asthma attack, please speak to your doctor or nurse before planning to fly.
Equipment
Depending on how you manage your asthma, you may need to take certain equipment with you on holiday. Asthma UK offers the following advice when it comes to flying with asthma equipment:
If you use a peak flow meter take it with you so you can monitor your symptoms while you're away. When flying, pack it in your checked luggage unless you're only taking hand luggage in which case you may need to get the airline's permission in advance to take a peak flow meter into the cabin.
While most people with asthma don't require a nebuliser those that do need to remember that differing power points and voltages abroad will mean you'll either need an adaptor, or a battery-powered nebuliser. You'll also need to talk to the airline before you board if you're likely to need to use your nebuliser while flying. Some airlines require printed information on the flight safety of a device, which the manufacturer can provide, and you won't be able to use a nebuliser during take-off and landing.
When you arrive
Once you've arrived at your destination it's time to relax and keep in mind a few final pointers:
Think about your asthma and altitude when planning your days out. If your asthma is triggered by the cold, the lower temperatures at high altitudes may be a problem and the extra exercise involved in climbing at high altitude might trigger asthma in some people.
Physical exertion can be a trigger for asthma, so if you're thinking about doing anything that might fall into the 'extreme sports' category, such as scuba diving or skiing, Asthma UK recommends discussing your plans with your GP first.
Please note: The materials in this post are in no way intended to replace the professional medical care, advice, diagnosis or treatment of a doctor. The article does not have answers to all problems. Answers to specific problems may not apply to everyone. If you notice medical symptoms or have questions on the topics raised in this article, please consult your doctor.