5 most beautiful regions in Portugal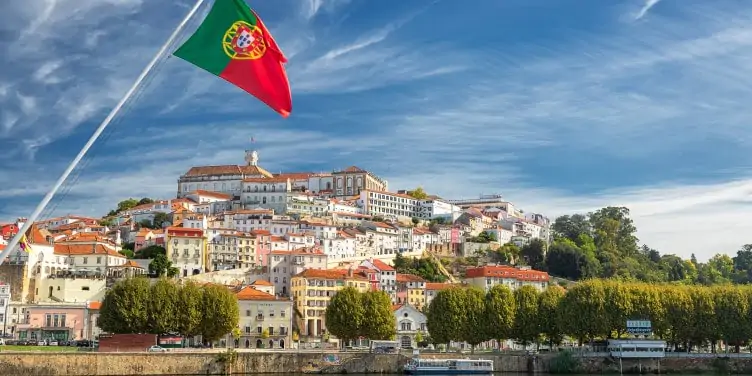 Looking to explore the best regions and find out what to do in each area of Portugal?
As one of Europe's top holiday destinations, Portugal has plenty of beautiful locations dotted across the country.
Find out where they are below, to help plan your next trip.
1. Algarve
The Algarve is one of the best regions to visit in Portugal if you're looking for a sunshine-filled beach break.
Stretching from Monte Gordo in the east to Costa Vicentina Natural Park in the west, the coastline is a mix of wild, deserted bays, long swathes of golden sand and beach towns with plenty of nightlife.
If you're looking for peace and quiet with natural beauty, head to the westernmost corner of the region, where you'll find rocky coves and beaches backed by sandstone cliffs.
For a livelier beach holiday, the seaside towns of Albufeira and Lagos have buzzy marinas, bars and restaurants serving fresh local seafood.
This region has plenty more to offer besides beaches. There are captivating Moorish cities and towns like Silves, with its terracotta-roofed houses and red-brick castello perched on a hill.
Tavira is home to azulejos-filled churches and a maze of cobblestone streets you can get lost in. Faro, with its tiny mediaeval centre, pretty squares and pavement cafes, is also worth a trip.
Things to do in the Algarve: 
The miles of walking and cycling trails make the Algarve an ideal destination for anyone seeking an active break*. Hike or cycle along the coast between small towns and fishing villages where tourists are barely seen! 
Top tip: If you love golf, you'll find more than 40 courses to choose from.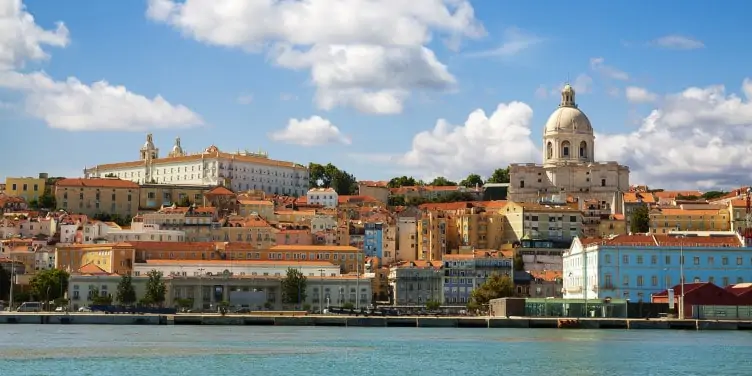 2. Lisbon and the Tagus Valley
Lisbon is the most varied of Portugal's regions. Whether you're into culture, history, food, wine or nature, Lisbon is a must-do. 
As well as the cosmopolitan capital city, there's the royal town of Sintra, the beach resorts of Cascais, Estoril and Ericeira featuring nature reserves, vineyards and more. 
The capital should be your first stop. Catch an impromptu fado session in the old neighbourhood of Alfama, stroll along the lively waterfront and take in city views from a miradouro at sunset, with a drink in hand!
Only an hour from Lisbon by train is Sintra, the summer holiday resort of Portugal's kings, where you can explore extravagant nineteenth-century palaces.
Things to do in Lisbon and Tagus Valley: 
Travel west along the coast and you'll reach Estoril and Cascais, popular seaside resorts with wide sandy beaches to enjoy. 
Further along the Atlantic coast is Ericeira, a beach town with pretty whitewashed houses and fresh seafood aplenty.
Lisbon is fabulous for foodies. The capital is full of great places to eat, serving modern Portuguese cuisine to typical tabernas serving petiscos (small tapas-style dishes) and cevicherias.
Costa Azul (the blue coast) is home to mouthwatering seafood restaurants, golf courses and miles of beaches.  
This area also has two natural reserves. Sado Estuary Natural Reserve is a marshy wetland that is home to 250 bird species. Arrabida Natural Reserve is a hilly coastal park with hiking trails and sheltered coves perfect for snorkelling and diving*.
Top tip: To the north and west of the city you'll find a growing number of vineyards. Fancy a visit? Why not taste some of the wines and explore the vineyards yourself on a vineyard tour.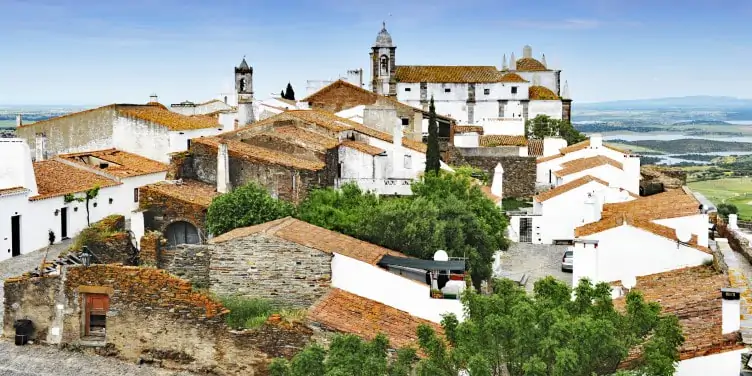 3. Alentejo
Alentejo is the rural heart of Portugal, filled with wheat fields, olive groves, pastures and vineyards. Foodies love this region for its hearty soups, meaty casseroles and cheeses.
Many towns have their own specialities – in Almeirim, try sopa de pedra, a rustic soup with beans, potatoes and cured meat. Don't forget to try sericaia, a dessert of egg custard with sugar plums, in Elvas.
Wine lovers can follow the Alentejo Wine Route north from Beja to Vidigueira, Evora and Estremoz to sample the region's aromatic whites and full-bodied reds.
Alentejo's towns and villages are worth exploring too. Marvao and Monsaraz are romantic fortified villages with breathtaking views over the surrounding rolling hills into Spain. 
Things to do in Alentejo: 
Historians might enjoy the world heritage cities of Elvas and Evora, with chapters of history going back centuries to discover.
Extending from Costa Vicentina Natural Park to the Sado River estuary, Alentejo's coastline is perfect for hiking, birdwatching, with many wild beautiful beaches and authentic fishing villages. 
Top tip: The Alqueva Dark Sky Reserve is the go-to spot for walking, canoeing and horse riding trips under a blanket of stars.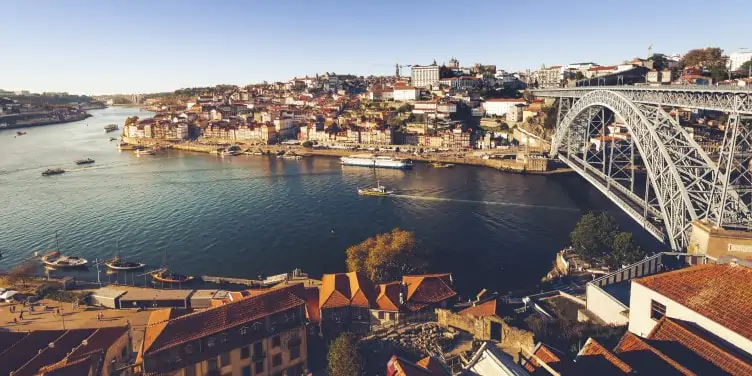 4. Porto and Northern Portugal
Northern Portugal was the birthplace of the Portuguese nobility who ruled the country for almost 900 years, making it the perfect place for history lovers. 
Home to Peneda-Geres National Park, one of Europe's top national parks, this region also offers plenty in the way of outdoor adventures too.
Things to do Porto and Northern Portugal: 
Delve into Portuguese history in the towns and cities of the north. Porto is a shipbuilding city with more than 1,700 years of history. Guimaraes was the first capital of Portugal, and has a well-preserved mediaeval centre. While Braga is an ancient Roman town filled with churches, palaces and mansions.
Tour the wine-producing villages of the Douro Valley, where port wine comes from. Originally, wine was transported down the river to Porto where it was aged in the wine cellars of Vila Nova de Gaia. It's best to visit between September and October, during the grape harvest.
The mountainous north is fantastic for outdoor activities. Peneda-Geres National Park is home to four mountain ranges, where you can hike, bike, swim in natural pools and soak in thermal springs*. 
Arouca Geopark, an area of mountains, deep gorges and fast-flowing rivers, is where to go for canyoning, canoeing, river-rafting and mountaineering*.
Top tip: Don't miss the region's many architectural gems, from the baroque palaces of Minho to modern landmarks like the Casa da Musica in Porto, designed by Rem Koolhaas.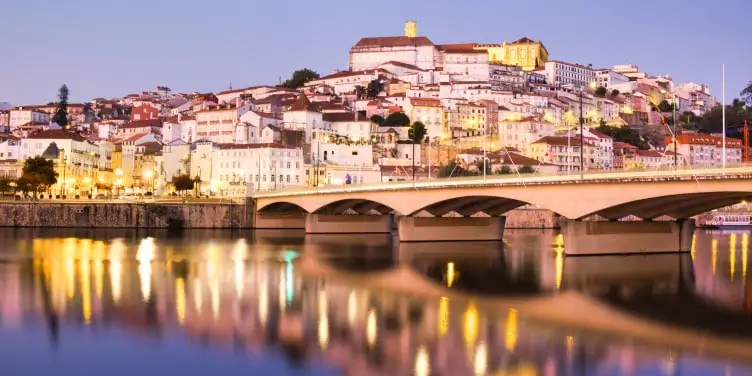 5. Central Portugal
Central Portugal is perhaps the least known but most authentic region of Portugal. From relaxing on Carreiro do Mosteiro beach or venturing into the history of São João Baptista, there is plenty to fill your days. 
Throughout the whole region, you'll find bakeries selling cakes, pastries and sweets that originated in local convents and monasteries.
The windswept Atlantic-facing coast has many authentic fishing towns, where boats bring in the local catch and restaurants dish up mouthwatering seafood casseroles and shellfish soups. 
Things to do in central Portugal:
Dive deep into history with a visit to Tomar. Its 850-year-old monastery that was once the headquarters of the Knights Templar, a place historians will love.
Visit Nazare, where top surfers tackle enormous waves, or Ilhavo, a cod fishing port and an excellent place to try the famous Portuguese salted cod dish, bacalhau.
For hiking, head to Serra da Estrela, Portugal's highest mountain range, where you can follow miles of marked trails through beautiful valleys concealing mediaeval villages made entirely of schist and slate. 
The Ria de Aveiro Estuary, Tagus International Natural Park and Sao Jacinto Dunes Natural Reserve are all excellent spots to go birdwatching.
When's the best time to visit Portugal?
If you want to soak up the sun without the busy beaches, visiting in March, April, May or September could offer a quieter, more relaxing holiday. 
July and August sees temperatures soar to around 30 degrees, but as it's the school holidays you're likely to see busier beaches and tourist-filled streets.
How long does it take to fly to Portugal?
Flying from the UK to Portugal will take between 2.5-3 hours depending on which airport you fly from and into.
Looking to plan a trip to Portugal? Travel insurance for Portugal has you covered.