Best things to do in Greece during low season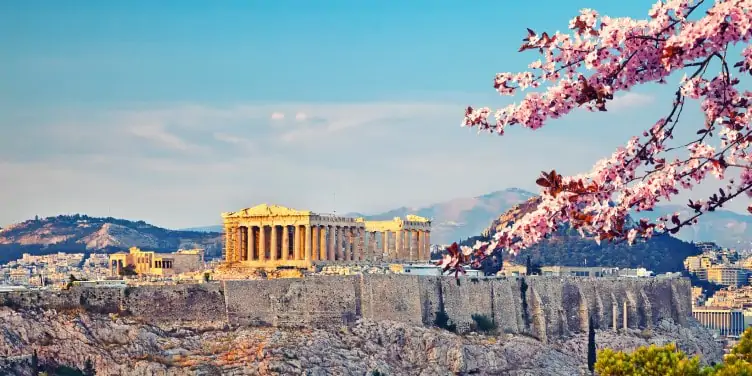 Think of Greece and long stretches of sandy beaches with azure seas more than likely spring to mind.
Greece is a popular summer holiday destination for its islands and long, sunny days.
But the country is just as beautiful with a variety of places to explore in low season, where you can truly enjoy the distinctive Greek hospitality and be at one with the locals.
These unique destinations showcase the best of Greece, proving it's a country to enjoy all year round.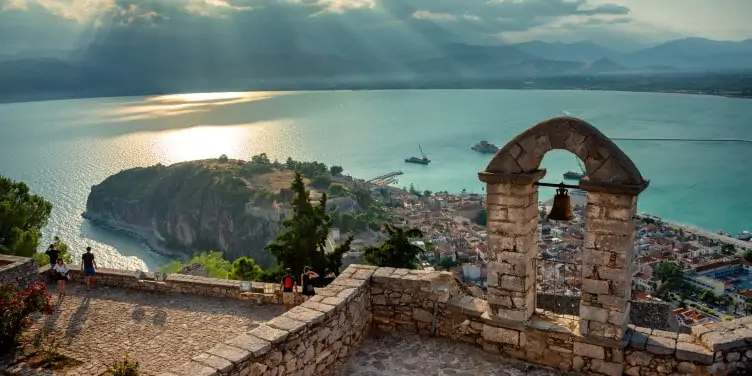 Discover the mythology of the Peloponnese region
You've explored Greece's capital city, Athens, but less than two hours by car and you're in the Peloponnese region and Greece's original capital city, Nafplio.
The Peloponnese itself is worthy of a road trip as it's surrounded by water on three sides, connected to the mainland by the Corinth Canal or the Rio-Antirion Bridge – one of the world's longest multi-span cable bridges.
The southernmost tip at Cape Tainaron, with its bleak, arid landscape inspired the belief that it's one of the world's many entrance points to hell. The sea caves beneath it, guarded by Cerberus, the three-headed dog of Clash of the Titans fame.
With cobbled and bougainvillea strewn streets, nestled with a backdrop of mountains and the Argolic Gulf peninsular, Nafplio was Greece's capital between 1828 and 1834. It's guarded over by the imposing castle of Palamidi from above, offering some of the best city views if you can bring yourself to climb the 1,000 steps.
A boat trip out to the Venetian castle of Bourtzi, set on an island just off shore and the residence of the executioner of prisoners of war between 1865 and 1935, offers another unique perspective of this quaint coastal town.
The Peloponnese in general, and Nafplio, is a popular autumn destination for Athenians, either as a day trip or for weekend breaks.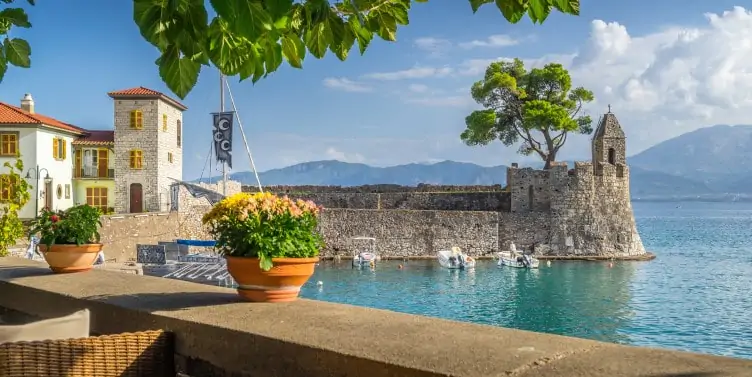 Battle of Lepanto celebrations in Nafpaktos
Nafpaktos is a coastal castle town with a medieval Venetian port, oozing traditional charm and relatively untouched by international tourism. Just under three hours from Athens, it makes a perfect autumn or winter Greek getaway. Stroll along the main beach, walk around the castle, eat roasted chestnuts and if you're fortunate enough to be there on 7 October, take part in the yearly Battle of Lepanto celebrations.
The town comes alive during this time. There's a re-enactment of the battle that took place in 1571 when the Christians fought to take back control of the region, the Gulf of Lepanto from Ottoman rule.
Expect fireworks, street parades and whole generations of families congregating outside and rustling up home cooked dishes to be enjoyed by all. It's a fantastic opportunity to become part of the community.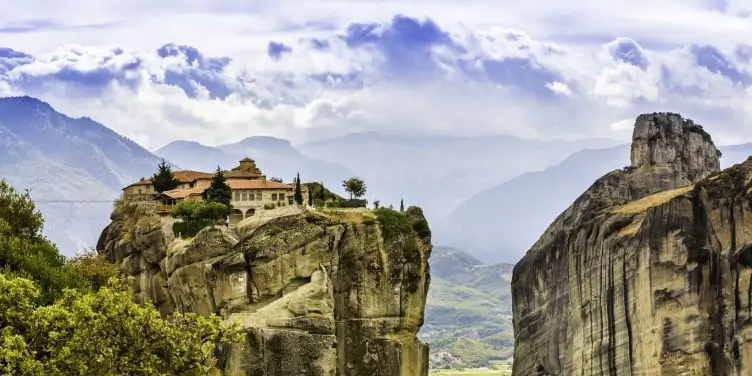 Majestic Meteora
You don't need to be a fan of religious architecture to appreciate the other worldliness of the Meteora rocks and the six monasteries perched above them!
Formed over 60 million years ago and moulded into their current form throughout the years by weather and earthquakes, low season in autumn and winter is the perfect time to visit Meteora. Trek and hike the surrounding undiscovered countryside, climb the rocks or simply marvel at one of the magnificent monasteries still inhabited by monks and nuns.
Originally, 20 monasteries were built throughout the 14th century, but after years of various invasions and destruction, only six now stand. Such is their size, you'll be left wondering how they were constructed.
Take note: women will need to cover their legs with a long wrap skirt (provided), even if wearing trousers, and their arms with a shawl.
Fun fact: The 1981 Roger Moore Bond film For Your Eyes Only filmed several scenes here.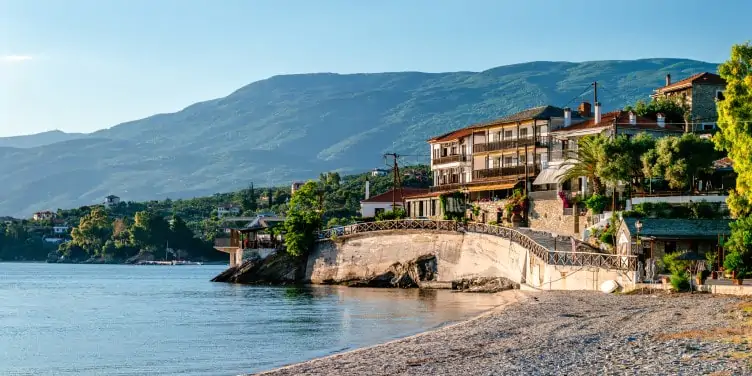 Relax in Pelion
Mythology, traditional stone villages, mountain scenery and hidden beaches and coves await you on the south-eastern slopes of northern Greece.
In mythology, the mountain of Pelion is thought to be home to the centaurs – half human half horse creatures that protect the region. And, whether you believe in mythology or not, the region is a beautiful one to explore.
Its many villages have traditional stone houses, picturesque churches, cobbled streets and squares where the locals gather by fountains to drink their coffees in the cafés dotted around.
Winter can be a particularly atmospheric time to explore the region. It invariably snows up here and as most accommodations have fireplaces in the rooms, it's the perfect place to light a fire and cosy up with magnificent views.
Unusually for Greece, there is also a small ski resort in the village of Agriolefkas. Sitting at just under 4000ft on the mountainside, sit's home to seven miles of ski runs and views all the way down to the coast.
Fun fact: The tiny port and beach of Damouhari is where the Dancing Queen scene from Mamma Mia was filmed.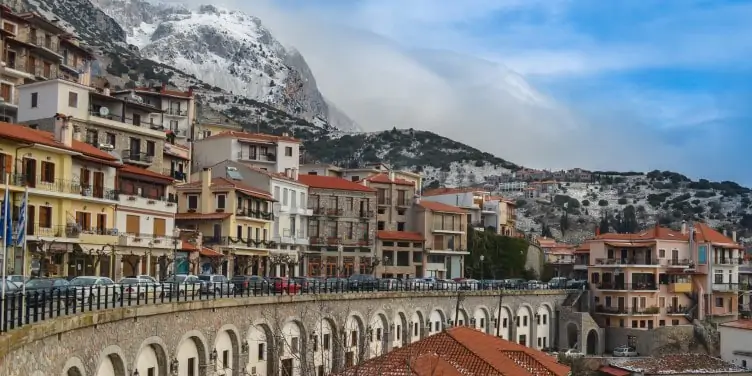 Mount Parnassos
It's highly unlikely you'd think of Greece as being a ski destination. And yet, as with Pelion, ski resorts do exist.
Parnassos and the village of Arachova in central Greece is one such place, a very popular winter destination for Greeks and only two hours by car from Athens.
Mount Parnassos is a 35,000 hectare National Park with hidden limestone caves, an abundance of wildlife (foxes, eagles and even the occasional wolf) and a ski centre with 19 ski runs of varying levels.
The nearby village of Arachova comes alive in the winter. It's nicknamed the 'Mykonos of the mainland' as many Greek celebrities come to spend their days skiing and the evenings celebrating in the Greek way – with good food and company into the early hours!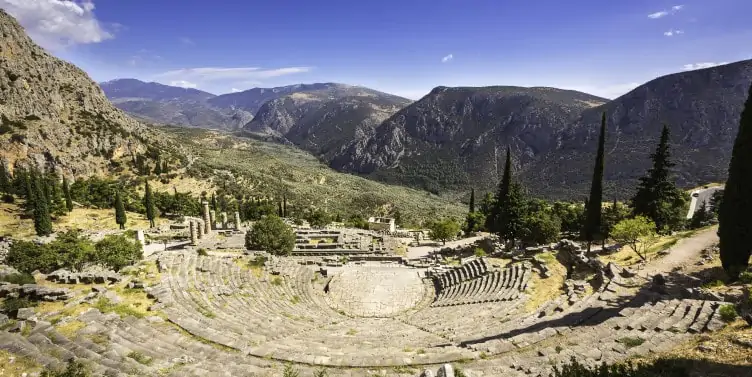 If ancient Greek history interests you, you'll find the archaeological site of Delphi at the foot of the mountain. Known as the navel (centre) of the universe and home of the first Olympic Games, it's well worth spending a few hours exploring. Here you'll be met with sweeping views across pine forests down as far as the distant Aegean sea.